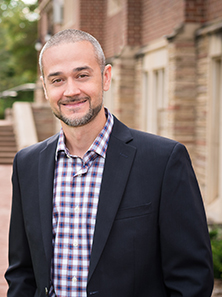 Anthony Lawrence Rocco Fulginiti
Associate Professor
303-871-2938 (Office)
Craig Hall, 2148 South High St. Denver, CO 80208
What I do
Revealing something about oneself that may be stigmatizing, such as having made a suicide attempt or considered suicide, can be a highly stressful endeavor. And sometimes the most difficult things to say are also the most difficult things to hear. This is a simple but critical realization for reframing suicide prevention as something that extends beyond the individual experiencing a crisis. As a social worker, I am passionate about working with individuals, families and communities to cultivate safe spaces for sensitive disclosures. In my view, doing so is an empowering way to both combat stigmatization and promote help-seeking, key steps for increasing inclusivity and well-being.
Specialization(s)
mental and behavioral health, research methods, suicide and suicide prevention
Professional Biography
Assistant Professor Anthony Fulginiti is broadly interested in understanding and developing ways to leverage social connections to prevent and relieve the suffering associated with experiences of suicidal thinking and behavior among vulnerable populations. His work is built upon the core belief that a strong practice and research partnership is invaluable to effective, innovative and sustained suicide prevention efforts.

The major purpose of Fulginiti's current research is to shed light on the process of disclosure decision-making around suicidal thoughts and behavior, as well as other stigmatized statuses. He relies upon a number of methodological strategies, including the use of social network analysis, to determine how characteristics of individuals, their relationships and larger social networks interact to affect disclosure processes. Other current areas of interest include identity development around suicide survivorship, testing the viability of network-informed prevention approaches, and follow-up care post crisis-line engagement.

Fulginiti is a clinical social worker who has nearly a decade of professional experience with adults and young adults in psychiatric care (inpatient and emergency room settings) and oncology care (inpatient and outpatient settings). His teaching interests primarily focus on mental health assessment and diagnosis, research development and evaluation and statistical analysis.
Degree(s)
Ph.D., Social Work, University of Southern California, 2016
MSW, Social Work, University of South Florida, 2005
BA, Psychology, University of Tampa, 2001
Licensure / Accreditations
Licensed Clinical Social Worker (LCSW)
Professional Affiliations
Other
Other
Society for Social Work Research (SSWR)
Presentations
(2017)
.
Peer-based programming for managing suicidal thoughts? A social network study exploring the promise of peers as confidants for suicide-related disclosures
.
American Association of Suicidology
.
Pheonix, AZ
.
.
(2015)
.
Disclosure of suicidal thoughts: Examining individual and relational factors for getting help
.
19th Annual Meeting
.
New Orleans, LA:

Society for Social Work and Research (SSWR)
.
.
(2015)
.
Safety in the middle of the fringe? A social network analysis of network position and exposure on suicidal ideation among homeless youth
.
Annual Meeting & Exposition
.
Chicago, IL:

American Public Health Association
.
.
(2017)
.
Why reveal or conceal suicidal thoughts? An exploratory study of motivation for disclosure and non-disclosure among people with serious mental illness
.
Society for Social Work and Research (SSWR), 21st Annual Meeting
.
New Orleans, LA:

SSWR
.
.
(2016)
.
The Dangerous Side of Social Ties: The Influence of Peer Depression on the Risk of Suicidal Ideation Among Homeless Youth
.
20th Annual Meeting
.
Washington, DC:

Society for Social Work and Research (SSWR)
.
.
Awards
Center for Artificial Intelligence in Society (CAIS) Summer Fellowship, University of Southern California
Graduate Student Researcher Fellowship, National Data Archive on Child Abuse and Neglect (NDACAN) Summer Research Institute
Kenneth Lutterman Award , American Public Health Association (Annual Meeting & Exposition)
Provost Fellowship, University of Southern California
Hamovitch Summer Research Fellowship, University of Southern California