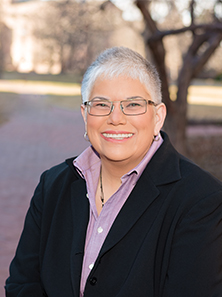 Deb Marie Ortega
Professor and Director, University of Denver Latino Center for Community Engagement and Scholarship
Faculty
Diversity and Equal Opportunity
303-871-3359 (Office)
Craig Hall, 2148 South High St. Denver, CO 80208
What I do
Social work is not something you do; social work is who you are.
Specialization(s)
culturally responsive practice, disparities, families and family systems, latina/latino populations, LGBTQIA, marginalized populations, race and ethnicity, racial justice, research methods, social justice
Professional Biography
Professor Debora Ortega is the founding director of the Latino Center for Community Engagement and Scholarship, a consortium of interdisciplinary faculty dedicated to creating and advancing knowledge that gives voice to the history, politics, culture and legacies of Latino communities. She joined the faculty of the University of Denver Graduate School of Social Work in 2005. Prior to her appointment at DU, she was a faculty member in the School of Social Welfare at the University of Kansas.

Ortega's funded research includes grants from the U.S. Department of Health & Human Services's Administration for Children and Families and a number of state and foundation grants.

Ortega's research and scholarship focuses on improving services to families involved in the child welfare system, structural inequities across a variety of clients's systems, immigration, health disparities and the effects of everyday racism on the Latino community.

She is proud to be a part of the community of first-generation Latino college students.
Degree(s)
Ph.D., Social Welfare Research, University of Washington, 1999
MSW, Social Work, Portland State University, 1988
BA, Religious Studies, University of San Diego, 1984
Licensure / Accreditations
Licensed Clinical Social Worker (LCSW)
Professional Affiliations
Council on Social Work Education (CSWE)
Society for Social Work Research (SSWR)
Research
Dr. Ortega is trained as a quantitative and qualitative researcher. Her current focus is on the ways that every day white supremacy affects Latinx communities.
Areas of Research
marginalized populations
race and ethnicity
racial justice
research methods
social justice
Key Projects
United Neighborhoods Initiative - Social Emotional Learning Evaluation for McElwain Elementary
Interfaith Youth Core
Awards
University of Denver Out Through the Mind Award, University of Denver Center for Multicultural Excellence
Excellence in Mentoring Doctoral Students, University of Denver Graduate School of Social Work
Outstanding Faculty Award, University of Denver Greek Life