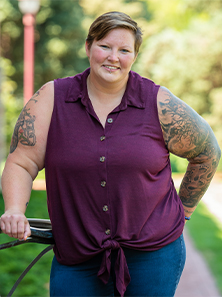 Erin Nicole Harrop
Assistant Professor
303-871-2769 (Office)
Craig Hall, 2148 South High St. Denver, CO 80208
What I do
I use art, story-telling, and mixed methods research to tell patient-centered stories about healthcare experiences. I elevate the voices of marginalized people in the healthcare system, including people living with eating disorders and substance use, those with multiply marginalized identities, and higher-weight folks facing weight stigma. I partner with patients, clinicians, healthcare centers, and advocacy-based agencies to develop compassionate, inclusive health interventions that increase wellbeing and decrease distress.
Specialization(s)
eating disorders, weight stigma, medical social work
Professional Biography
Erin Harrop, LICSW, PhD, is an assistant professor at University of Denver and a licensed medical social worker. Erin's research focuses on eating disorders, weight stigma, adolescent health behaviors, and patient-provider communication. Their dissertation featured an arts-based mixed-methods longitudinal study of individuals with atypical anorexia. They approach their research and clinical work from an intersectional social-justice-informed, fat liberation, and Health at Every Size® lens. Erin's clinical work also involves trainings at the provider level, introducing interprofessional clinicians to weight-inclusive practices that honor patients' unique intersecting identities.
Degree(s)
Ph.D., Social Welfare, University of Washington, 2020
MSW, Social Work, University of Washington, 2014
BS, Psychology, University of Washington, 2010
Licensure / Accreditations
Licensed Independent Clinical Social Worker (LICSW)
Certified Prevention Professional
Professional Affiliations
Other
Other
Council on Social Work Education (CSWE)
Society for Social Work Research (SSWR)
Other
Areas of Research
eating disorders
weight stigma
arts-based research methods
longitudinal qualitative research
substance use
medical social work
mindfulness
GLBTQ+ health
intervention development
prevention science
social justice