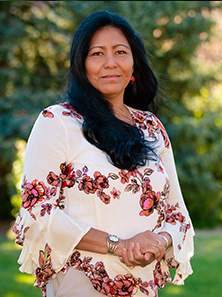 Janelle F. Doughty
Associate Professor of the Practice of Social Work and Program Director of the Four Corners MSW Program
Craig Hall, 2148 South High St. Denver, CO 80210
What I do
The Director position has three major functions: 1) oversee the educational mission of the program and coordinate with the main campus, and 2) supervise program staff, support faculty teaching in the program, administer the field program and 3) collaborate with and build community partners for the benefit of the program.
Specialization(s)
N/A
Professional Biography
Janelle Doughty is an enrolled member of the Southern Ute Indian Tribe and Navajo from the Red Running into the Water Clan. Janelle graduated from New Mexico Highlands University and earned her Master's Degree in Social Work from University of Denver. She is also a graduate of the State of New Mexico Police Academy. In April 2009, Colorado Governor Bill Ritter appointed Ms. Doughty to a three-year term on the Colorado Commission on Civil Rights Commission. Ms. Doughty has held senior leadership positions with the Southern Ute Indian Tribe over more than a decade of public service. These include serving as the Tribe's Crime Victim's Advocate; its Executive Officer, Director of the Tribe's Department of Justice & Regulatory, and until October 2015 as the Director of the Ute Mountain Ute Indian Tribe's Social Services Department.
Degree(s)
MSW, University of Denver, 2004
Research
N/A
Areas of Research