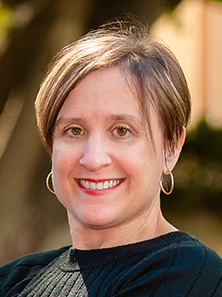 Jessica Zaslav
Assistant Professor of the Practice, Field Faculty; Associate Director of Field Ed
303-871-2663 (Office)
Craig Hall, 2148 S. High St. Denver, CO 80208
What I do
I believe that effective social workers begin as students who are open to embracing discomfort, sitting with uncertainty and experiencing vulnerability. My passion lies in supporting students with their field education, not only to link theory and practice, but most importantly to grow self-awareness to become powerful agents for change.
Specialization(s)
field education, housing and homelessness, poverty, mental and behavioral health, clinical social work, marginalized populations, social justice, trauma, violence
Professional Biography
Assistant Professor of the Practice Jessica Zaslav earned her masters degree in Social Work from Arizona State University and is a licensed clinical social worker in the state of Colorado. She has worked in a variety of clinical settings with high-risk youth, adults and families. Her professional experience has focused in trauma, particularly with survivors of interpersonal violence, grief/loss and homelessness. In addition to being a clinician, Jessica has expertise in program and curriculum development, training and advocacy. She is passionate about working with social work students in educational and mentoring capacities. Prior to serving her current role, she was a field instructor, field liaison and adjunct faculty member at GSSW.
Degree(s)
MSW, Arizona State University, 2005
Licensure / Accreditations
Licensed Clinical Social Worker (LCSW)
Professional Affiliations
National Association of Social Workers (NASW)
Awards
Kay M. Stevenson Faculty Citizenship Award, University of Denver Graduate School of Social Work