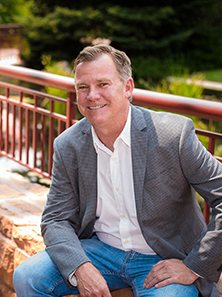 Kevin Morris
Research Associate Professor
What I do
The health of humans and other animals are intertwined. I conduct collaborative research with a diverse set of stakeholders to understand the impacts of the many intersections we have with animals.
Specialization(s)
children and youth, criminal justice, economic development, environment, health and wellness, human-animal connection, intervention research, research methods, social justice
Professional Biography
Dr. Kevin Morris is the American Humane Endowed Chair and a research associate professor within the Graduate School of Social Work at the University of Denver where he serves as the director of research for its Institute for Human-Animal Connection. Trained as a molecular biologist, he spent 20 years conducting preclinical and clinical cancer research before adapting the focus of his work to improving animal health and welfare through scientific understanding of the human-animal bond. Dr. Morris' research portfolio currently focuses on measuring the clinical efficacy of animal-assisted interventions and on documenting the reciprocal impacts between companion animals and communities. He also serves on the Board of Directors for the Alliance for Contraception in Cats and Dogs and on the Core Scientific Advisory Board for the Michelson Prize and Grants. The overall goal of his efforts is to raise the health and welfare of both people and other animals within the One Health framework.
Featured Publications
(1970)
.
Potential psychosocial drivers behind improved in-prison outcomes for inmates participating in dog training programs.

The Prison Journal
.
.
(2019)
.
Temporal trends in intake and outcome data for animal shelters in Colorado, 2000 to 2015.

Journal of the American Veterinary Medical Association
,

254

(3)

,

363-372
.
.
(2018)
.
Efficacy of an animal-assisted therapy as an adjunct to intensive family preservation services among Child Protective Services-involved families: A randomized controlled trial.

Child Maltreatment
.
.
(2017)
.
Ethnicity is not a primary determinant of willingness to spay or neuter pets dogs and cats
.
Journal of Applied Animal Welfare Science
.
.
(2018)
.
Factors informing outcomes for older cats and dogs in animal shelters
.
Animals
.
.
Awards
Faculty Career Champion, University of Denver
Faculty Career Champion, University of Denver
Research, Scholarship, and Creative Work Dean's Recognition, University of Denver