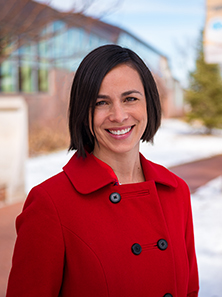 Kimberly Bender
Professor, Associate Dean for Doctoral Education
What I do
I'm passionate about partnering with young people facing adversity, and the commuity-based agencies that serve them, to make life more hopeful and society more just.
Concentrations
Specialization(s)
addictions and substance use, children and youth, civic and community engagement, housing and homelessness, intervention research, marginalized populations, mental and behavioral health, social innovation and entrepreneurship, social justice, evidence-based practice/implementation science
Professional Biography
Professor Kimberly Bender is passionate about developing and testing interventions to empower young people to reach their full potentials. The majority of her work partners with young people experiencing homelessness to understand their needs, engage them in social change projects and develop skills that can prevent adverse experiences.

Bender serves as co-PI on a six-state multi-site research project with youth experiencing homelessness through shelter, drop-in and transitional housing services to better understand risk and protective factors in this population. She also serves as principle investigator on a three-year randomized trial of a mindfulness-based cognitive intervention to prevent victimization and substance among youth residing in emergency shelters funded by the National Institute on Drug Abuse.

More recently, Bender has published in the area of youth participatory action research with youth experiencing homelessness – an approach she finds rewarding and meaningful. Her extensive publication record in the area of adolescent and youth risk earned her the university-wide Distinguished Scholar Award. She has also been designated Public Good Faculty of the Year in acknowledgement of her outstanding commitment to the public good through community-engaged research.

Bender prioritizes training students as research team members on her community-engaged research projects and has been recognized with several student-nominated awards, including the Excellence in Mentoring Doctoral Students Award and the Excellence in Teaching Award.
Degree(s)
MSW, Colorado State University
PhD, University of Texas at Austin
Media Sources