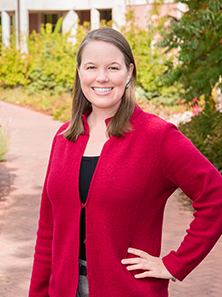 Leslie Hasche
Associate Professor, Associate Dean for Academic Affairs
Faculty
Student & Career Services
What I do
Our society has never faced the size, complexity or diversity of our aging population. Through my teaching and research, I hope to motivate more social workers to take leadership roles in developing and offering services that promote quality of life and social engagement of all older adults.
Concentrations
Specialization(s)
aging and gerontology, intervention research, mental and behavioral health, social justice
Professional Biography
Associate Professor Leslie Hasche focuses on clinical social work practice related to aging and mental health. Her research aims to understand how community-based services may best promote older adults' mental health, independence, safety, quality of life and overall wellness. She enjoys integrating her research and previous mental health practice experience into teaching theory-based and contemporary issue courses related to social work, aging and intergenerational justice.
Hasche serves as the coordinator for the Aging Services and Policy concentration at the Graduate School of Social Work and is an advisory group member of University of Denver's Knoebel Institute for Healthy Aging. Current research projects involve partnering with Colorado's Adult Protective Service agency on how to assess and intervene on issues of elder abuse, neglect and financial exploitation. Her scholarship has been funded by the U.S. Department of Health and Human Services, the National Institute of Justice and the John A. Hartford Foundation.
With over 20 publications, her research has been shared through journals, such as The Gerontologist, The American Journal of Geriatric Psychiatric and the Journal of Gerontological Social Work. In 2015, the Association for Gerontology Education in Social Work recognized Hasche's early career accomplishments with the Faculty Achievement Award.
Degree(s)
MSW, Washington University in St. Louis, Brown School
PhD, Washington University in St. Louis, Brown School
Media Sources