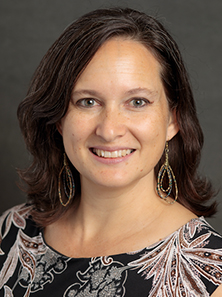 Lisa Reyes Mason
Associate Professor
303-871-6033 (Office)
Craig Hall, 2148 South High St. Denver, CO 80208
What I do
I partner with people, communities, and organizations to create a healthy and thriving world, in pursuit of climate and ecological justice.
Specialization(s)
community organizing and community development, environment, health and wellness, public policy, race and ethnicity, social justice
Professional Biography
Associate Professor Lisa Reyes Mason is a social worker, scholar, and advocate for climate justice. Through engaged and collaborative research, she has studied urban water insecurity, weather extremes and health, social aspects of green infrastructure, and a just transition away from fossil fuels.

Mason is passionate about speaking, writing, and teaching about the nexus of social work and the climate crisis. She co-edited the book "People and Climate Change: Vulnerability, Adaptation, and Social Justice" and co-leads the Grand Challenge for Social Work to "Create Social Responses to a Changing Environment."

Mason draws inspiration and dedication to people and planet from her biracial (Filipina and White) heritage - from her maternal roots in the Philippines and her paternal roots in rural California. She is also a Returned Peace Corps Volunteer, having served in Guinea, West Africa, from 1998-2000.
Degree(s)
Ph.D., Social Work, Washington University in St. Louis, 2013
MSW, Washington University in St. Louis, 2003
BA, University of Pennsylvania, 1998
Media Sources