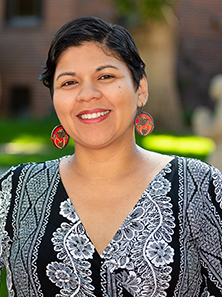 Miriam Georgina Valdovinos
Assistant Professor
What I do
As a professor, I hope my students' learning shifts from a confined notion of memorization to a space of promise and possibility to learn something new about self and society, as well as actively addressing ongoing social justice commitments and anti-racist objectives in their social work practice.
Professional Biography
Assistant Professor Miriam Valdovinos' educational training in social welfare, psychology, public health, and gender studies informs her research addressing intimate partner violence (IPV) experiences in Latinx families and the exclusion of Latinx undocumented immigrants (those without legal authorization to reside in the U.S.) from social service provisions. Her practice experience in various domestic violence agencies and the juvenile probation system inspire her dedication to investigate interpersonal violence issues affecting Latinx immigrant women, children and families. A primary goal of her research is to develop multi-pronged (individual, family and community-based) culturally-responsive intervention programs that address the effects of IPV on Latinx immigrants, while considering systemic constraints such as institutional racism and poverty. As a Chicana indigenous feminist social welfare scholar, Valdovinos' teaching commitments are rooted in providing ethically relevant and critical theoretical perspectives to her students as future social work practitioners. She asks her students to engage with critical lenses of analysis that incorporate skills and frameworks relevant to their social work careers. Her pedagogy combines various perspectives interrogating biases within systems of domination (racism, sexism, colonialism). She also aspires towards a social work education that focuses on social change that builds an awareness and engagement in local and current issues.
Degree(s)
Ph.D., Social Welfare, University of Washington, 2016
MA, Psychology, CSU, Fullerton, 2007
BA, Psychology, CSU, Fullerton, 2002
Key Projects
Hispanic Health and Behavioral Health Services Utilization. A Mixed Methods Study Using Experimental Vignette Survey, Qualitative Methods, and Pilot Testing of an Electronic Fotonovela Intervention