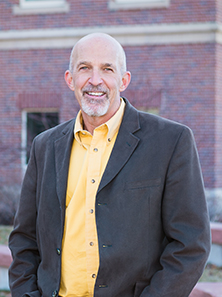 Philip Tedeschi
Clinical Professor, Executive Director – Institute for Human-Animal Connection
What I do
Animals provide some of our most reliable, uncomplicated and valued relationships. Understanding the contributions animals make to our health and well-being is a vital part of educating tomorrows social workers.
Specialization(s)
violence, human-animal connection, environment, Youth and Children, clinical social work, poverty, social justice
Professional Biography
Some of Philip Tedeschi's best friends are animals. He studies and teaches on the intricate relationship between people, domestic and wild animals, and the natural world. Tedeschi is the executive director of the Institute for Human-Animal Connection and a clinical professor at the Graduate School of Social Work. He is globally recognized for expertise in the clinical methods of animal-assisted Interventions and coordinates the school's animal-assisted social work certificate program for master of social work (MSW) students, as well as the animals and human health global professional development certificate program. He received his MSSW degree from the University of Wisconsin-Madison, where his specialization was the bio-affiliative connection between people and animals.

Tedeschi's research, scholarship, presentations, training and community practice work have focused on human-animal interactions, conservation, human ecology, causes of violence toward people and animals, environmental social work, experiential therapy and forensic social work practice. Tedeschi is a certified Master Therapeutic Riding Instructor, former course director and instructor with Outward Bound, wilderness medical technician, forensic evaluator and has many years of experience in non-traditional therapeutic approaches with children, adults and families. He specializes in the therapeutic potential of human-animal interaction, trauma informed methods and intervention in interpersonal violence, including assessment and intervention with animal abuse.
Degree(s)
Other, Northeastern University, Boston, School of Criminal Justice, 1986
BS, University of Wisconsin, Madison, 1985
Other, University of Chicago Laboratory School, 1979
Licensure / Accreditations
Wilderness Emergency Medical Technician (WEMT-B)
Wilderness Emergency Medical Technician (WEMT-B)
Other
Anicare Child and Adult Evaluator and Treatment Provider
Certified Equine Facilitated Mental Health Practitioner
Certified Animal Cruelty Evaluator/Treatment Provider- Anicare Adult and Anicare Child
Colorado Sexual Offender Management Board – Listed Treatment Provider/Forensic Evaluator- Youth
Certified Sexual Offense Evaluator
Certified Animal Cruelty Evaluator
Colorado Sex Offender Management Board-Listed Treatment Provider/Forensic Evaluator – Adult
Licensed Clinical Social Worker (LCSW)
Master Certified Therapeutic Riding Instructor
Certified Master Therapeutic Riding Instructor
Cheff Center for the Handicapped – Professional Equine Therapeutic riding Instructor
Professional Affiliations
Other
Other
Other
National Association of Social Workers (NASW)
Council on Social Work Education (CSWE)
Research
my expertise in innovative and evidence-based clinical applications of animal-assisted interventions (AAIs) allow effective leadership of the Institute for Human-Animal Connection, its academic applications and it's research agenda. My research and scholarship interests in the bio-affiliative connection between people and animals began more than 27 years ago with my graduate training in social work and a specialized course of study on human-animal interactions (HAI) at the University of Wisconsin. At the University of Denver, I am the founder and coordinator of the Animal-Assisted Social Work Program for Master of Social Work (MSW) students, as well as the Animals and Human Health Professional Development Certificate Program. These programs are now nationally and internationally regarded as leading academic curricula of study for HAI and AAIs. In my capacity as Clinical Professor at the Graduate School of Social Work and as the Executive Director of the Institute for Human-Animal Connection at the University of Denver, I am professionally recognized nationally and internationally for developing new AAI methodologies and implementing and adapting these methods for a variety of clinical settings. My work in this area includes the development of AAIs for trauma recovery, for children in child welfare with attachment deficits, for at-risk youth, and for Post-traumatic Stress Disorder. I also develop ethical frameworks for AAI. I disseminate my findings globally to diverse audiences through publications, presentations, trainings, community practice, professional development distance learning programs and curricula development.
Key Projects
AAI with Denver Community Programs Serving People Experiencing Homelessness
IHAC and Denver Homelessness and Pets
Menmon Dog Training Program Consultation Agreement
Featured Publications
(2018)
.
Efficacy of an animal-assisted therapy as an adjunct to intensive family preservation services among Child Protective Services-involved families: A randomized controlled trial.

Child Maltreatment
.
.
(2017)
.
Ethnicity is not a primary determinant of willingness to spay or neuter pets dogs and cats
.
Journal of Applied Animal Welfare Science
.
.
(2018)
.
Fostering a More Humane University Environment Through Course Work, Service-Learning, and Animal-Assisted Interventions and Activities.

American Psychological Association Division 17
,

Human-Animal Interaction Bulletin/special-edition-human-animal-interaction-interdisciplinary-centers-and-institutes.
.
.
Presentations
(2019)
.
Understanding human-animal-environment interventions within a complex environment: The Green Chimneys research project
.
International Association of Human-Animal Interaction Organizations Conference
.
Brewster, New York:

International Association of Human-Animal Interaction Organizations
.
.
(2018)
.
The Intimate Bond: Scientific Models and Practice Methods for Animal Assisted Interventions in Correctional Settings,
.
Israeli Prison Service-Hermon
.
Hermon Prison- Northern Israel:

IPS and Menmon LTD
.
.
(2018)
.
2017 In Consideration for Legal and Ethical Standing for other Animals
.
Tel Aviv University Law School, Tel Aviv, Israel:

Tel Aviv Law School Environmental Clinic
.
.
(2018)
.
Animals on the Mind 3.0- Extraordinary Connections: Illuminating neurodiversity in human-animal relationships
.
Animals on The Mind
.
University of Denver:

IHAC
.
.
(2018)
.
Best practices for Pet Prescriptions of Emotional Support Animals: Clinical Benefits of Human-Animal Connection
.
Interconnected Webinar Series
.
Denver:

Colorado Link Project
.
.
Awards
Prof. Grant Award, Univeristy of Denver
Faculty Career Champions Nominee, GSSW students
Excellence in Teaching for an Appointed Faculty, Graduate School of Social Work