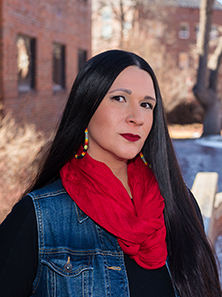 Ramona Beltran
Associate Professor
What I do
Diseases are stories etched into our lands and bodies. Even if they are our inherited legacies, they can be rewritten.
Concentrations
Specialization(s)
community organizing and community development, culturally-responsive practice, environment, gender, health and wellness, indigenous and native peoples, Latinx populations, racial justice, research methods, social justice
Professional Biography
Associate Professor Ramona Beltran, MSW, PhD, is a Xicana of Yaqui descent and dancer/activist/scholar. Her scholarship is committed to interrupting legacies of historical trauma that affect Indigenous communities. She focuses on disrupting the problem-focused approach to understanding health and well-being that is profuse in mainstream research. Beltran does this by centering culture, resilience, resistance, healing and arts-based and storytelling methods in collaborative knowledge production with and for Indigenous communities.
Degree(s)
MSW, Portland State University
PhD, University of Washington