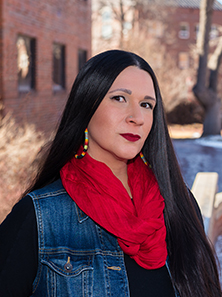 Ramona Beltran
Associate Professor
Acting Associate Dean for Research
303-871-3371 (Office)
Craig Hall, 2148 South High St. Denver, CO 80208
What I do
I listen to stories. Diseases are stories etched into our lands and bodies. Even if they are our inherited legacies, they can be rewritten.
Specialization(s)
community organizing and community development, culturally responsive practice, environment, gender, health and wellness, indigenous and native peoples, latina/latino populations, racial justice, research methods, social justice
Professional Biography
Assistant Professor Ramona Beltrán, MSW, PhD, is a mixed race Xicana of Yaqui and Mexica descent and dancer/activist/scholar. Her scholarship is committed to interrupting legacies of historical trauma that affect Indigenous communities. She focuses on disrupting the problem-focused approach to understanding health and well-being that is profuse in mainstream research. Beltrán does this by centering culture, resilience, resistance, healing and arts-based and storytelling methods in collaborative knowledge production with and for Indigenous communities.
Degree(s)
Ph.D., University of Washington, School of Social Work, 2010
MSW, Advanced Clinical Practice, Portland State University School of Social Work, 2005
BA, Major: Sociology; Minor: Spanish, Willamette University, 1998
Research
Our research is exploring the role of storytelling in disrupting the impacts of historical trauma on outcomes in Indigenous communities.
Key Projects
AOD and HIV Needs Assessment in Urban Mexican American Indians
Featured Publications
(2016)
.
As/Us Issue 6: Dedicated to women of color and gender non-conforming people of color in higher educa
.
(R. E. Beltran, T. Winder, & C. Lopez, Eds.)
.
Albuquerque, New Mexico, USA:

As/Us
.
.
Performances
(2019)
.
The source of the wound
.
Denver, CO
.
.
Presentations
(2019)
.
Our stories are our medicine: Centering culture, resistance, healing and art in research with Indige
.
Second annual symposium on community action and research
.
Ann Arbor, MI:

University of Michigan School of Social Work
.
.
Awards
Distinguished Teaching Award, Academic Year 2016-2017, University of Denver, Office of the Provost
Race, Inequality and Social Change Faculty Excellence Award, Interdisciplinary Research Incubator for the Study of (In)Equality
Excellence in Doctoral Mentorship, University of Denver Graduate School of Social Work
Excellence in Mentoring MSW Students, University of Denver Graduate School of Social Work
CSWE Council on the Role and Status of Women in Social Work Education Mentor Recognition Program, CSWE Council on Role and Status of Women in Social Work