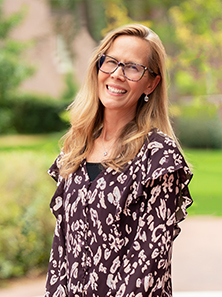 Sarah Bexell
Clinical Associate Professor; Faculty Director, Center of Sustainability
What I do
We cannot ignore the interweaving of life on Earth. The human induced Sixth Mass Extinction is bringing immense suffering and threatening human survival. I aim to help students and society participate in the global movement to protect life on Earth.
Specialization(s)
civic and community engagement, environment, higher education, human-animal connection, international social work/global practice, K-12 education, social justice, animal protection
Professional Biography
Clinical Associate Professor (GSSW) and Director of Humane Education (IHAC) Sarah Bexell conducts research on the efficacy of humane and sustainability education in motivating intervention participants to adopt more humane and sustainable behaviors at the micro, mezzo and macro levels of society. She conducts work in Denver and Chengdu, China. In China, she partners with Sichuan University and the Chengdu Research Base for Giant Pandas.
Degree(s)
Ph.D., Early Childhood Education/Science & Conservation, Georgia State University, 2006
M.Ed., Science Education, Georgia State University, 1998
MA, Biological Anthropology, Northern Illinois University, 1995
BA, Biology/Environmental Studies, Augustana College, 1991
Professional Affiliations
Other
Other
Society for Social Work Research (SSWR)
Featured Publications
(2019)
.
Children and animals: The importance of human-other animal relationships in fostering resilience in children
.
In

P. Tedeschi & M. A. Jenkins (Eds.)

,

Transforming trauma: Resilience and healing through our connections with animals
(pp.

217-240

)
.
Lafayette, IN:

Purdue University Press
.
.
(2015)
.
Reflexive development: A model for helping social workers contribute to a sustainable global future. .

Social Work Education: The International Journal
,

1-14
.
.
(2013)
.
The effects of a summer camp program in China on children's knowledge, attitudes and behaviors toward animals: a model for conservation education.

Visitor Studies
,

16

(1)

,

59-81
.
.
Presentations
(2019)
.
An emerging research and training agenda in humane education
.
Sixth Annual Oxford Animal Ethics Summer School
.
Oxford, England:

Oxford Center for Animal Ethics
.
.
(2019)
.
An analysis of inclusion gaps in sustainable development themes
.
Speaker for Organized Session: Assessing Scholarship on Social Work and the Environment
.
San Francisco, CA, USA:

Society for Social Work Research Annual Conference
.
.
(2018)
.
Environmental literacy and nature experience in Chengdu, China
.
Giant Panda Annual Meeting
.
Chengdu, Sichuan Province, China:

Chengdu Research Base of Giant Panda Breeding
.
.
Awards
2018-2019 Excellence in Teaching Award, Graduate School of Social Work