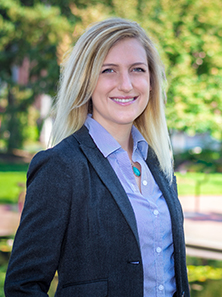 Shannon Sliva
Assistant Professor
What I do
Social work has an important and historic role in the critique and betterment of criminal justice policy and practice which attends to social justice and promotes peace for victims, offenders and communities.
Concentrations
Specialization(s)
civic and community engagement, community organizing and community development, criminal justice, public policy, violence
Professional Biography
Assistant Professor Shannon Sliva conducts national and local research on the impacts of criminal justice policy, with an emphasis on innovative justice alternatives. She tracks state-level restorative justice legislation across the U.S., and is currently partnering with Colorado practitioners, policymakers and advocates to document the impacts of leading-edge restorative justice laws and develop recommendations for policy transfer.
Most recently, Sliva was funded by the National Institute of Justice to evaluate the impact of victim offender dialogue on victims of serious, violent crimes in Colorado. Sliva works with other social work researchers on the national Smart Decarceration Grand Challenge for Social Work, coordinating research and advocacy efforts to promote justice reinvestment. Sliva teaches macro practice, policy and restorative justice courses at GSSW.
Degree(s)
MSW, University of Texas at Arlington
PhD, University of Texas at Arlington
Media Sources