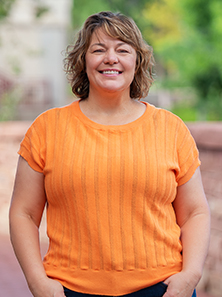 Michelle Clinch
Senior Program Associate, Online Learning Lead
Specialization(s)
child welfare
Professional Biography
Michelle spent 12 years working in media and marketing, and she developed a passion for mentoring interns during that fun-filled time. She headed back to university to earn a master's degree in adult education and has spent the last 13 years writing curricula, training and producing online learning. While these two careers may seem rather different, she will quickly tell you that marketing and learning are both about getting people to remember the message!
Michelle knows that learners are stretched for time and want to learn on demand, which is why she uses technology to support formal and informal learning. As a self-proclaimed nerd, she will be more than happy to tell you all about the learning ecosystem she has been helping the National Child Welfare Workforce Institute develop since 2011.
During the weekends, you'll always find her surrounded by family and friends. She loves watching football (especially when the Broncos are winning), camping trips, playing games and listening to books.
Degree(s)
MSEd, Adult Education, Portland State University
BA, Business Administration, Western Washington University
Licensure / Accreditations