Community Cats and Social Workers in Animal Welfare
An Interview with Peter Wolf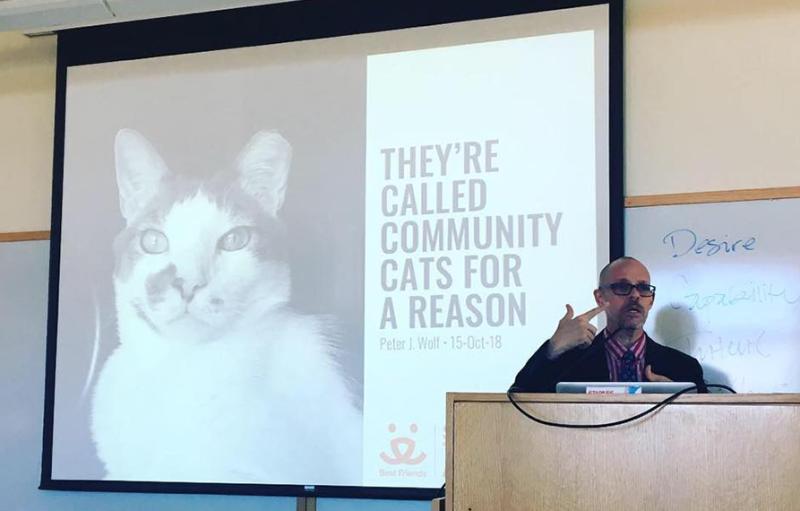 Peter Wolf is a research and policy analyst with Best Friends Animal Society, a nonprofit animal welfare organization that focuses on outreach to promote pet adoption, animal shelters that minimize euthanasia and spay-and-neuter education. He visited the Graduate School of Social Work in October of 2018 to lead a discussion on community cats. Peter, like many we have talked to in the animal welfare field, came to his work with community cats by a somewhat unconventional route. Growing up in the suburbs of Detroit, he did not have pets in his home but was always fascinated by and bonded with community cats. 
Peter moved from Michigan to Arizona to pursue a Master's in Engineering and later became a professor. Around 2010, he started a blog, Voxfelina, to explore current research about community cats and began to identify issues with current programs, including Trap-Neuter-Release (TNR) programs. He continues to use the information from his blog to work towards improving programs for community cats. His dedication and keen observations led to his position as research and policy analyst with Best Friends Animal Society. Peter is an advocate for TNR and the Red-flag cat model. The later allows shelters to flag community cats that come in, so workers can discover new colonies for tracking and TNR services.
Peter sees great value in involving social workers within the animal welfare field. There is a strong human element to animal welfare, and social workers are well positioned to engage with others for improving animal, human and community health. Peter discussed the importance of getting out in communities, showing empathy and  building trust with not only individuals who care for these cats, but also those who are seeking solutions. Social workers have the skills needed to build relationships with diverse community members and to lead an integrated approach to community health and well-being.
Peter has also recognized the strong bonds people forge with community cats. We often think of our pets as family members, but may not consider what other animals, such as community cats that do not live in the home, mean to those who care for them. When working with clients, social workers have considerations for everyone  involved in clients' lives. Peter argues that this should also extend to the animals present in people's lives. These relationships can influence the decisions they make.
There are also opportunities for social workers to incorporate community cats into their practices and the spaces in which they work. For example, Peter contemplated how powerful it could be to have colonies of cats present at places such as nursing homes. This could be a mutually beneficial relationship where the cats are looked after, and the residents can build meaningful relationships during a time in life where they may experience loneliness and depression.
Considering social workers' strong interpersonal skills, experience working with communities and commitment to social justice, Peter thinks our profession can make significant contributions to the animal welfare field. Peter encourages social workers to take notice of animals as another part of an individual's social environment and believes that it could lead to positive change for communities as well as the human and non-human community members that live there.
Written By Amanda Olguin, IHAC Intern 2018-2019