Graduating PhD student Andrew Steward's research seeks to understand and respond to ageism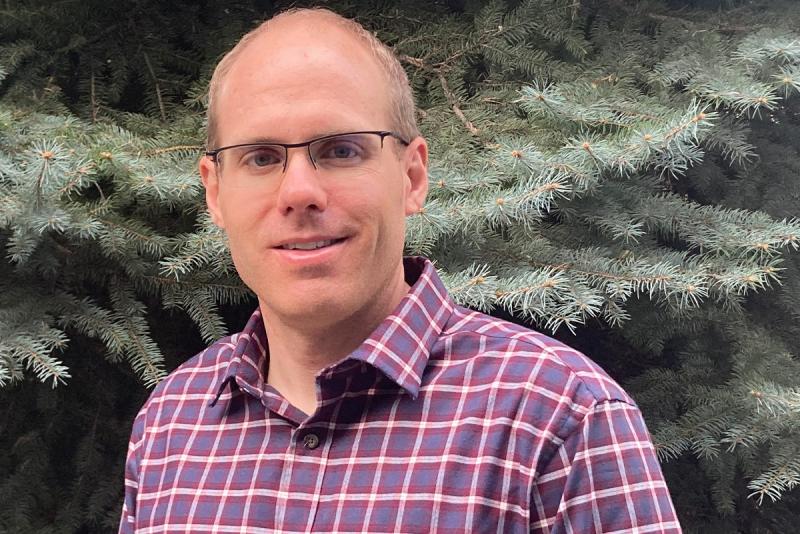 Although his father was a social worker, the profession wasn't part of Andrew Steward's plan when he started looking for colleges. The University of Denver wasn't on his list, either. A flutist who grew up in New Mexico, Steward applied to music schools nationwide; he was attending a regional audition near DU when he wandered into the Lamont School of Music on a break. He ended up sending Lamont an audition tape and enrolling. 
It was music that ended up leading Steward to social work. As an undergraduate music student, he volunteered at a hospice agency, where he got to know some of the social workers and developed an interest in becoming one, too. After earning his BA in music in 2012, Steward relocated across campus to the Graduate School of Social Work. He earned an MSW in 2014 and will graduate this spring with a PhD in social work and specialty in aging. 
Steward's interest in aging and working with older adults extends back to high school: His first job was in a nursing home, where he worked as a dietary aide. Since, his work has included everything from providing therapeutic flute music in health care settings (he is an LCSW and Certified Music Practitioner) to developing an intergenerational lifelong learning initiative recognized by the International Council on Active Aging as one of North America's most innovative wellness programs for older adults. 
"I've always enjoyed working with older adults. I enjoy listening to them and learning from them and supporting them," Steward says. "There are a lot of needs related to aging in a lot of different ways — needs in health care settings, healthy aging initiatives. Aging as a field has so much potential and so many different avenues." 
One of those avenues is combatting ageism, which Steward explored in his dissertation research. "Social work is very focused on social justice, and it was very apparent to me that ageism is a social justice issue that isn't talked about much," he says. "The more I learned, the more I realized it is a really prevalent issue that affects all of us." 
His dissertation project — "Exploring Gaps in Understanding and Responding to Ageism: A Conceptual Model, Psychosocial Health, and Racialized Ageism" — sought to fill gaps in our understanding of ageism. The ambitious three-part project included development of a conceptual model for potential interventions to reduce internalized ageism and improve psychosocial outcomes as people age. At the micro level, Steward identified physical activity, volunteering, technology use and stress management as promising intervention targets. Potential meso-level interventions include intergenerational programs, education and narrative reframing. At the macro-level, he says, anti age-discrimination legislation and workplace policies may help combat internalized ageism and promote improved psychosocial well-being for aging adults. 
For the second part of his project, Steward partnered with the nonprofit Experience EngAGEd to study how volunteering affects internalized ageism and social connectedness. This three-year community-engaged project demonstrated that volunteering was associated with increased internalized positive age stereotypes, which were associated with increased social connectedness. "For older adults who are experiencing loneliness or struggling with the aging process, volunteering is one activity that may help," Steward says. In addition, he says, his research emphasizes the need to combat negative stereotypes of aging by highlighting the positive contributions of older adults in our communities. 
The final component of Steward's research was a qualitative study of lived experiences of the intersectionality of ageism and racism. Steward worked with a team of MSW and PhD students to conduct and code in-depth interviews with 20 racially diverse older adults. In analyzing the interviews, the team found that ageism is sometimes racialized through stereotypes such as mental incapability, which can be both ageist and racist. Examples of racialized ageist microaggressions, profiling and intersectional violence in public settings such as shopping centers highlight the need for intentionally anti-ageist and anti-racist interventions in advocating for older adults, Steward explains. 
In social work education, Steward says, ageism is often left out of conversations about social justice, but it's critical that social work consider age alongside other intersecting identities and experiences of marginalization and oppression. Steward points to the way older adults have been cast aside during the COVID-19 pandemic, along with hate-filled hashtags trending on Twitter (such as #grandmakiller and #boomerremover) as clear examples of ageism. Steward suggests that aging may be a difficult topic to discuss because ageism has been defined as "a prejudice toward our feared future self." At the same time, he says, it's important to highlight how perceptions of aging affect health in profound ways. For example, Steward notes, one study found that people who embrace more positive views of aging live longer by about 7.5 years. Another study found that those who embrace more positive aging stereotypes were less likely to develop dementia even if they are genetically predisposed. 
"We need to bring ageism into social justice conversations in a nuanced and critical way," he says. "We need to design intentionally anti-racist and anti-ageist initiatives that talk to each other." 
This fall, Steward will continue his work on aging, social justice and intersectional identities at the University of Wisconsin-Milwaukee Helen Bader School of Social Welfare, where he'll join the faculty as a tenure-track assistant professor working with the Office of Applied Gerontology and teaching in the school's new online MSW program.