Advancing Justice through Human–Animal–Environment Research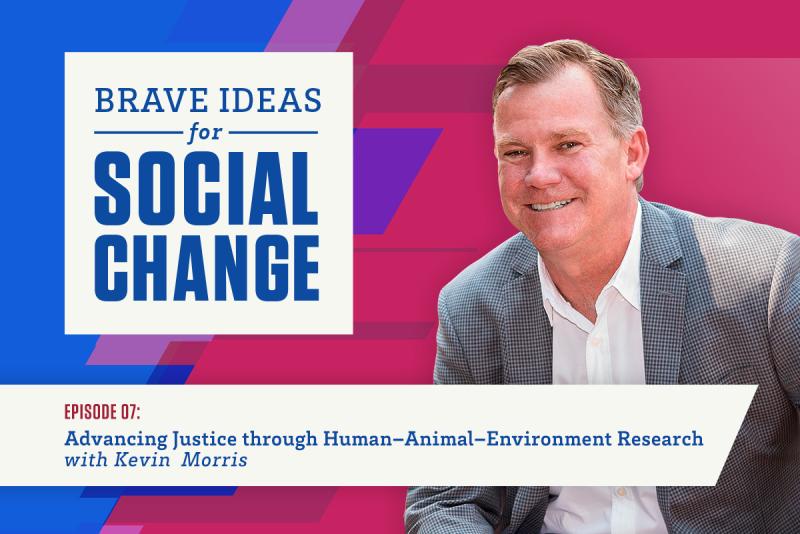 Brave Idea: Research Professor and American Humane Endowed Chair Kevin Morris, executive director of the Institute for Human–Animal Connection, works to improve human and animal health and welfare through scientific understanding of the human–animal bond. His research focuses on measuring the clinical efficacy of animal-assisted interventions and on documenting the reciprocal impacts between companion animals and communities. The overall goal of his research is to improve the health and welfare of both people and other animals within the One Health framework. 
Listen: 
Transcript:
Amanda Moore McBride: 
Welcome to episode seven of the Brave Ideas for Social Change podcast series, produced by the University of Denver Graduate School of Social Work, which is celebrating its 90th anniversary this academic year. The series draws on GSSW faculty expertise for fast moving discussions on emerging research, practice and policy innovations to spur social change. Dr. Morris' research portfolio focuses on measuring the clinical efficacy of animal assisted interventions and on documenting the reciprocal impacts between companion animals and communities.
Dr. Morris spent 20 years conducting preclinical and clinical cancer care research before adapting the focus of his work to improving human and animal health and welfare, through a scientific understanding of the human-animal bond. As executive directer, he oversees the research and education programs of the Institute for Human-Animal Connection. His research portfolio focuses on measuring efficacy of animal assisted interventions and on documenting the reciprocal impacts between companion animals and communities. The overall goal of his efforts is to improve the health and welfare of both people and other animals within a One Health framework, through innovative, in-depth research and education. We are so honored he is on the faculty and serves in this leadership role. Kevin, thank you so much for being here today, and I look forward to you sharing about your work.
Kevin Morris: 
Thanks for having me, Amanda.
Amanda Moore McBride: 
Let's ground our listeners, especially given that they may not be familiar with the Institute for Human-Animal Connection. Tell us about this home for your research and training.
Kevin Morris: 
Sure. The Institute for Human-Animal Connection works to elevate the value of the inter-relationship of human, animal and environmental health and welfare. We accomplish this through both education and research. Our educational programming includes supporting the Graduate School of Social Work's Human-Animal-Environment Interactions in Social Work certificate, that students here at DU can earn as part of their MSW degree. The Institute also has four online professional development programs that focus on animals and human health, equine assisted mental health practitioners, canine assisted intervention specialists and humane education practitioners. Our research, which is conducted with a wide variety of organizations and academic partners across the US, focuses on how our interactions with other animals drive individual and community-wide health and welfare outcomes. All of our research includes students here at GSSW. These students benefit from the opportunity to engage in how a rigorous, evidence base is established for human-animal-environment interactions and social work practice in general.
Amanda Moore McBride: 
Thanks for those details. I'm so impressed with IHAC's span of work and you or leadership of it. Let's keep going with this grounding. One of the things about social work, we think of ourselves as the, "People, people." And yet, non-human animals and the environment are deeply connected to the people enterprise, to human health, to human wellbeing. So tell us more, why should the social work profession take a more holistic approach, including the human-animal-environment triad?
Kevin Morris: 
Well, there's a growing body of research connecting human, animal and environmental health and welfare. While these connections have always been appreciated by indigenous cultures around the world and is known as traditional ecological knowledge, it was more recently academically articulated as the One Health framework. With our partners at the Humane Society of the United States' Pets For Life Program, we've been researching the ability of programming focused on one component of this One Health triad. In this case, creating access to veterinary care and other pet supportive services within severely underserved communities, to also improve human and environmental health and welfare in those communities.
To do this, we had to develop specific instrumentation to measure these effects. We benefited greatly from input from residents in a Pets For Life community here in Denver, who shared how they perceive access, as well as individual and community health and welfare. Our preliminary findings from this four year study indicate that perceptions of access to both veterinary and human healthcare are increased by this animal focused program. That is, by focusing resources on breaking down barriers to accessing pet supportive services, similar barriers to accessing human healthcare appear to be coming down. Obviously, we have a lot more research to do to understand the mechanisms behind this shift in perceptions. But we are starting to make the case that just like you said in your question, we need to address community health holistically. This concept that the health and welfare of humans, other animals in the environment are linked, has major implications for social workers, as well as public health professionals and policy makers.
Amanda Moore McBride: 
Let's take it a few steps forward with examples. How is the research that you and other colleagues are doing at IHAC, actually growing and improving practice and social work and the related field of animal welfare?
Kevin Morris: 
Sure. Our research at IHAC is focused many of the same human populations that are served by other fields of social work. For example, youth facing severe psychosocial challenges who are receiving animal assisted interventions, incarcerated individuals participating in prison based dog training programs, people experiencing various forms of trauma who are working with service animals and residents in communities that experience historic and ongoing oppression, illustrated by a lack of pet supportive services and over enforcement of animal laws. While we look at these issues through the lens of our interactions with other species, the focus of IHAC studies and the data we collect are all on the human side of the human- animal bond equation.
For example, we have a comprehensive research program at a residential treatment at a special education facility in Brewster, New York called Green Chimneys. Green Chimneys is internationally recognized for its incorporation of a wide variety of animal assisted interventions, as well as other nature based programs, into its standard of care treatment. While they have over 300 animals within their equine, farm animal, wildlife and canine programs, all of the data we are collecting are on the students themselves. We're doing no studies of the animals at this point. We're applying some of the most cutting edge theoretical frameworks in social science, like the Five C's Model of Positive Youth Development and research technologies like behavioral coding from video recordings, to understand the impacts of animal based programs have on these student outcomes.
Another example is our research with Pets for Life, where we're working with some of the most historically marginalized and underserved urban and rural communities in the US, to understand how to improve community health, using a broad approach through animal welfare issues. The work with Pets for Life is a model for how IHAC conducts its community based research, including community participation and interactions with cultural humility and confidence. Like all social work, especially at GSSW, social justice is a defining value in our research, both in the populations we are doing research with and the approaches we use in our studies.
Amanda Moore McBride: 
Kevin, thanks so much for those examples. I can almost just see the research being implemented. I'm also really glad that you mentioned social justice. Not only is this a major focus of the School of Social Work overall, which you referenced, but I do appreciate that this has been a critique of human-animal research. And yet, that's where you lead from. I would love for you to tell us more about how your research is advancing justice for humans and for non-human animals.
Kevin Morris: 
Sure. A critical, underlying hypothesis for IHAC's research topics and designs is that social justice for both humans and other species, and for the entire ecosystems we all share for that matter, are linked. A need to critically test that hypothesis is, perhaps, the strongest driver behind our work. Do youth benefit from interactions with other animals? Do incarcerated individuals benefit from participating in dog training programs? Do entire communities benefit from having companion animals, experiencing improved health and welfare? And just as importantly, is it ethical to intentionally include other animals in these environments? We assume we don't know of the answers to these questions, which allows us to conduct objective studies that often challenge pervasive assumptions.
For example, the first study we ever published from IHAC's research tested an assumption that certain racial and ethnic groups are resistant to spaying and neutering their pets, that has been prevalent within the animal welfare and veterinary fields for decades. We analyzed data on over 80,000 households Pets for Life had contacted in almost 40 communities across the US, and found that the rates of utilizing Pets for Life services were the same across all racial and ethnic groups. Further, using acceptance of a voucher for these services the first time it was offered as a measure of eagerness, we found that households that identified as Latinx were the most eager to have their pets sterilized. So not only did we challenge the existing assumptions, we turned them on their head with this study.
Another example of how animal welfare issues can highlight how communities face active discrimination, comes from our study of Denver's breed specific legislation, better known as its pit bull ban. We found that when Animal Control moved to a complaint-based system several years ago, enforcement of the ban became more heavily biased against communities of color that were experiencing gentrification. This is just another example of how these communities, right here in our own backyard, face ongoing challenges of marginalization from their new neighbors.
Finally, we recently published the findings of a study in which we used instrumentation developed for use in human healthcare environments, to test whether cultural competency, as perceived from both the animal welfare program provider and their client's perspectives, affect program outcomes. And similar to human healthcare, we found that higher cultural competence correlates with higher program utilization. Further, the best predictor of program utilization was higher alignment between provider and client perspectives. All of these specific examples from our research, and these are just a few, highlight IHAC's overall dedication to building off social justice concepts for both humans and other species.
Amanda Moore McBride: 
Kevin, this work is so important. The evidence you're gathering, it clearly challenges common myths and stereotypes. I also love how it's informing policy. What can we as a society, as individuals, do with this knowledge? Let's get into application, what are your ideas?
Kevin Morris: 
I've recently been thinking about this work in the context of my earlier career within the drug development sector. And what I've been starting to realize, is that our interactions with other animals both in controlled environments like Green Chimneys or in our homes with our own pets, has therapeutic benefits across a wide variety of populations and context. Our research at IHAC is just starting to touch the surface of how these interactions improve outcomes for a wide variety of populations. And more so, we're just starting to test specific mechanisms by which these interactions may drive outcomes. But I can think of no medical intervention that seems to be efficacious across so many physical, emotional and social challenges, as our interactions with other species. As researchers, we're trying to understand the scope and magnitude of how other animals, and more broadly nature, affect our health, our family's health and our entire community's health.
Amanda Moore McBride: 
I'd love for us to just think about the larger field of social work. Because when I hear you talk about this, it sounds like understanding and leveraging human-animal-environment interactions should clearly be a much bigger part of social work than it currently is.
Kevin Morris: 
Well, if I take a step even further back and think about the many challenges as we face as a society, I think including the perspective of our relationship with other animals and the environment is critical. While I certainly don't claim that the human-animal bond can completely address all of our challenges, I do believe that the perspective IHAC brings to social work is an important component of addressing them holistically and sustainably. We share the impacts of many of the most pressing issues with other species. For example, not only are other species impacted by climate change, they're usually the most vulnerable to its impacts. Applying social work systems approaches to addressing these problems, means we have to look beyond our own species and think of entire ecosystems. So I'm challenging the field to broaden its systems understanding to take on these big issues of our time.
Amanda Moore McBride: 
This body of work promises to really move the needle and our vision for realizing human potential, creating thriving, sustainable communities, and embodying equity across all communities. Kevin, I'm so grateful for your leadership and so impressed with this body of work. Thank you for sharing about your research today.
Kevin Morris: 
Thank you.
Amanda Moore McBride: 
Subscribe to Brave Ideas for Social Change, our podcast, for more conversations just like this. Learn more at socialwork.du.edu/change. For more information on the history of GSSW and what the next 90 years may have in store for the school and the profession of social of work, visit socialwork.du.edu/next90. Thanks for joining us.