Alumni Gerontology Awards
Aging and Policy MSW graduates recognized for promoting quality of life and independence for older adults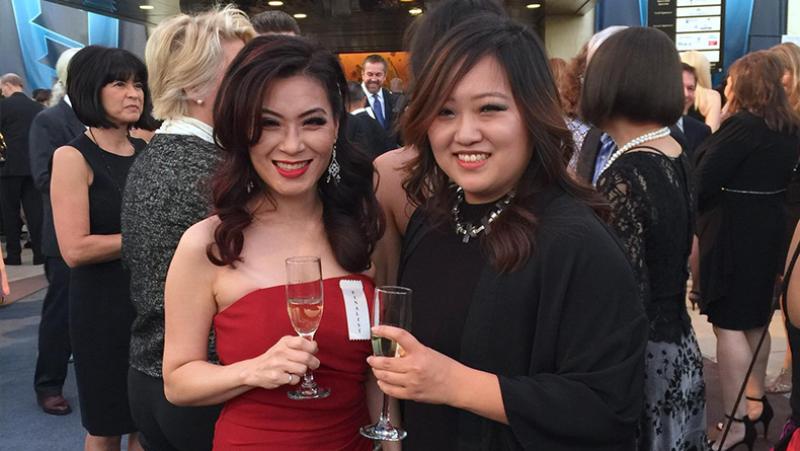 Alumna Jean Sunwoo (left) was an Outstanding Social Worker finalist for California's 2018 Senior Care Hero Awards.
Alumni of the University of Denver Graduate School of Social Work (GSSW) MSW Concentration in Aging and Policy share something in common: A passion for promoting quality of life and independence for older adults. For three graduates, that passion was recognized with recent professional honors.
In December 2018, the Colorado Gerontological Society honored two GSSW alumni for their commitment and professional contributions to the field of aging.
On behalf of Latino Age Wave Colorado, Daniela Young, MSW '10, LCSW, accepted the Corporate Award in Aging, which is given to organizations and agencies that have demonstrated leadership and commitment to helping Colorado's senior population continue to live independently and healthily and who embody the passion and caring that aging requires. Young is the program manager for Latino Age Wave — a program of the Latino Community Foundation of Colorado — where she supervises community-led work and directs the development and dissemination of Opening Doors Wider, a training to increase awareness of and opportunity to better serve Latino older adults and their family caregivers in service settings.
"What started as a community listening session two and a half year ago has evolved into a menu of community-based activities where Latino older adults can come together for social connection and to receive important information," Young says. "Monthly activities, such as Mexican Bingo and a coffee and craft group, provide a space to communicate important information and connect people to available resources." In the coming year, Young says, the program will support older adults in advocating for improved access to social opportunities, transportation options, and medical, dental and vision services.
Nanae Ito, MSW '17, LSW, received the Young Professional in Aging Award, which recognizes individuals under age 50 who are "enthusiastic advocates" for older adults and who bring energy, fresh ideas and new projects to the aging field. Ito is director of case management at Senior Support Services, a day shelter for adults 55 and older who are experiencing economic instability or homelessness. The shelter provides meals, shelter, clothing and connections to resources for 150–250 people a day. Ito supervises a team of case managers, interns and volunteers who work with members on their goals, whether it is toward permanent housing, shelter for the night, substance abuse treatment, or holding space for conversations about grief and loss. She also manages special programs, such as a horticulture group whose members plan, plant and harvest a garden of flowers, veggies, fruits and herbs. In addition to providing nutritious food, Ito says, the program provides an opportunity to connect with members naturally through play and work and to outreach to individuals who have never engaged in case management.
"My passion stems from a lifelong gratitude for the wisdom and stories that the older adults in my life carry and have offered to me as I settle into adulthood and my career," says Ito, who for five years volunteered at a hospice. That experience of being present with individuals and families at the end of life inspired her to pursue a social work degree. "My career allows me to walk alongside older adults as they journey through their ups and downs and as they navigate complex systems to gain access to basic needs."
In October 2018, another GSSW alumna was recognized for her work in aging services. Jean Sunwoo, MSW '12, was an Outstanding Social Worker finalist for California's Senior Care Hero Awards. Sunwoo's belief that "everybody needs to have hope in something" led her to a career as a care manager at St. Jude Medical Center in Fullerton, California. At any one time, she works with 11–19 patients (ranging in age from 18 to 97) who have experienced a traumatic event such as a brain injury, amputation or paralysis and are coping with a new diagnosis.
As a member of a collaborative team that also includes medical doctors, therapists and nurses, Sunwoo provides a wide range of services and support for patients and their caregivers, including psychosocial assessments, crisis intervention, team/family conferences, counseling, advocacy and education on issues such as insurance. She provides utilization reviews to insurance companies for further authorization of a patient's admission, facilitates discharge planning, coordinates outpatient services and home health, and helps patients and their families to navigate complex systems, such as long-term care planning and referrals to outside agencies and skilled-nursing facilities.
Sunwoo helped one older patient with a diagnosis as an incomplete quadriplegic to set goals — first to stand, then to walk. By the time of the patient's discharge, the patient surprised doctors by being able to walk a significant distance. In Sunwoo's award nomination, a board member of the organization Senior Serv wrote, "This miraculous and remarkable story epitomizes the powerful outcome of eliciting hope in those that may be temporarily hopeless. This is what makes Jean a true hero to those that she serves. She can connect with people in their darkest of places, whether it be due to illness or accident, and build rapport, trust and a connection so strong that they leave St. Jude with hope and a positive outlook on the future in front of them."
April 4, 2019
Advance Long and Productive Lives
Population aging has created challenges that undermine the ability of older adults to lead productive and meaningful lives. What can we do to shape social policies and improve the quality of life of older adults? Join Colorado state and local leaders to discuss and develop policy efforts to promote long and productive lives. Attend in person or online!
1:00 p.m. - 6:00 p.m.
Craig Hall Community Room