Connecting Four Corners Communities
For nearly two decades, Wanda Ellingson has helped define social work practice for an entire region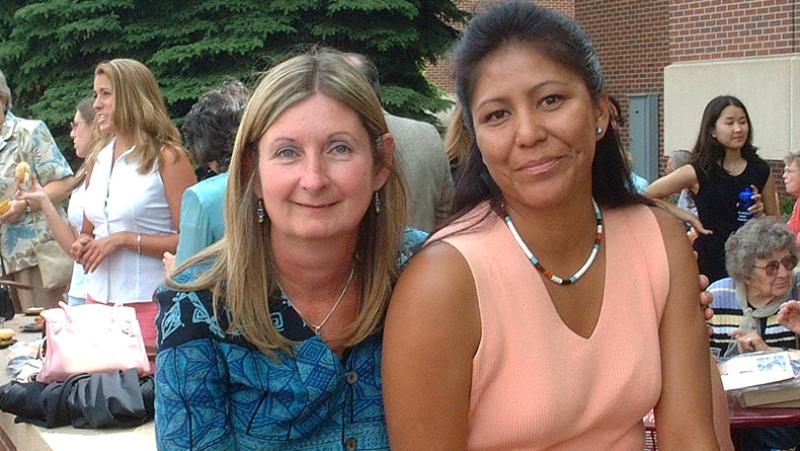 Wanda Ellinson (left) with Janelle Doughty, GSSW alumna and next director of the Four Corners MSW program in Durango, Colorado.
Calm. Confident. The consummate social worker. Those are terms that Wanda Ellingson's professional admirers most often use to describe the director of the University of Denver Graduate School of Social Work (GSSW) Four Corners MSW Program.
Ellingson is retiring this spring after 17 years at the program's helm — a role that has required her to wear many hats: from teaching, to hiring and training adjunct faculty, to reviewing student applications, to coordinating field placements, to marketing and public relations, to developing community connections. The program has thrived under her leadership, enjoying robust enrollment, establishing a popular 3-2 degree program in partnership with Fort Lewis College, and developing a relationship with the John and Sophie Ottens Foundation, which provides scholarships to Native American students.
Even more notable, says Ellingson, are the program's deep roots in Durango and greater Four Corners communities. "The goal from the beginning was to really listen to the community," says Ellingson, a professor of social work practice. "It wasn't going to be something developed in Denver and plopped down here that the community had to fit into."
That commitment is embodied in the program's active Four Corners Advisory Council, which shares community perspectives, issues and ideas. For example, Ellingson says, when a hospital spiritual director noted that caregivers were burned out and needed support, the Four Corners program and other community partners responded with an annual caregivers' conference.
Likewise, Ellingson says, the community feels ownership in the Four Corners program. "They're the best recruiters of our students. They come and give back — supervising, speaking in class. There's a large community investment in the program."
Establishing Roots in the Region
When she moved to Durango in 1989, Ellingson recalls, "There were so few social workers here." She set about trying to recruit social workers to the area to fill roles at the regional mental health center where she worked, but it was an uphill climb in an area with no social work infrastructure.
GSSW Dean Emeritus Catherine Alter saw the same gap. She had established a successful distance-ed program as director of the University of Iowa School of Social Work, and when she arrived at the University of Denver in 1996, she noted there were many underserved areas in Colorado and began exploring the possibility of launching a demonstration project. With the support of Morley Ballantine, a University of Denver trustee at the time and publisher of The Durango Herald, the school settled on Durango — with its location at the hub of four states — as the best candidate.
The school took out an ad in The Durango Herald to invite community members to an information session about the potential degree program. "We were floored at the number of people who showed up," Alter recalls. "I thought, this is doable. If there are this many people in this community that understand the value of graduate social work education, we're obligated to do this." 
Wanda Ellingson was among those gathered in the DoubleTree Hotel that night. "At that first meeting — it was just a conversation — this woman came up to me. It was Wanda," Alter says. "She was so excited, her eyes just sparkled. She said, 'You need boots on the ground here, and I want to do this, and I can do this.'
"That was the first brick in the foundation: the human creative power of program development," Alter adds.
It was a role perfectly suited for Ellingson, a longtime professional social worker who also had been active in the National Association of Social Workers , the Council on Social Work Education and the National Rural Social Work Caucus. She knew all of the agencies and key community members. And, Alter says, "Wanda had a passion for what she was doing and a vision for what graduate education could do for the community. She understood that perfectly."
Alter, Ellingson, and professors Jean East and Walter LaMendola dug into program development — from technology, to course content, to student recruitment. And, of course, they had many, many conversations with the community.
Ultimately, it took three years to launch the Four Corners program, and expectations were modest. GSSW planned to offer the Four Corners MSW degree once and hoped to enroll 10 students to break even. Ultimately, there were 57 students in just the first 3 cohorts.
"[Ellingson] is going to be a legend here for the work she did to found this school and establish the norms that people recognize as our Four Corners program," says Four Corners alumna and former Durango Mayor Leigh Meigs, JD '85, MSW '10, LCSW. "Having this right in our hometown acts as a feeder system for social workers from and to the community."
"From my perspective, the Four Corners MSW Program is truly a community-based intervention," adds Professor Emeritus Jean East, who was director of distance education during the program's first decade. "It created change in the community as it relates to the delivery — the presence — of social work in the community."
A Focus on Rural Social Work 
Social work in rural communities looks different than it does in urban areas such as Denver; it requires a different set of boundaries and sensitivities, Meigs says. Training social workers for that reality has always been a core component of the Four Corners program, and it's a specialty Ellingson knew well.
The Four Corners program also trains students to work with diverse, multicultural clients, including members of nearby Native nations. "This program has an intention to bring diversity to social work," Meigs observes. "There's a thrust toward multicultural education — not just lessons that you learn, but something you are learning to live while you are in the program."
In 2005, Ellingson recalls, a Native American community member asked what kind of Native-related courses the program was offering. "It was a great question. We weren't doing anything," Ellingson says. But from that meeting, Ellingson and several Native American field supervisors established the program's Native Peoples Advisory Council and hosted a weekend retreat to discuss the knowledge and skills students needed to practice with cultural responsibility and humility. The program then piloted a required Native Peoples History and Policy course, and two other Native American-focused courses followed, including one focused on clinical practice and another that immerses students in the values, culture and systems of local Native tribes. 
"A high-quality local option to train social workers who could then stay in the region and practice in many different realms was desperately needed at the time the program was implemented," says longtime Four Corners Advisory Council member Linda Lute, a licensed psychotherapist, trainer, consultant and adjunct faculty member. "One of the most relevant factors that has contributed to the success of the program is Wanda's ongoing dedication to gathering input from both advisory councils — as well as community members — to directly address the social work needs of the Four Corners and to adjust the curriculum, field placements and internships accordingly to allow those needs to be met."
Those community needs include serving military veterans such as Albert Gomez, MSW '12, director of the Santa Fe Vet Center and acting director of the Farmington Vet Center. "Wanda has been a tremendous positive impact in our community," Gomez says. "I have seen Wanda be a changeagent for raising awareness of veterans issues, and she has worked to expand the curriculum to best meet the diverse cultural and ethnic needs of the Four Corners. More importantly, she has been the face of the Four Corners MSW Program."
A Social Work Legacy 
The Four Corners MSW Program goals are fourfold: to enhance social service delivery systems; address community problems and the special needs of rural communities; address concerns and needs of multi-ethnic communities, with special emphasis on local Native American communities; and strengthen the professional social work infrastructure of Four Corners communities.
Since the first cohort graduated in 2002, 172 students have completed the program; 24% of those graduates are Native Americans.
Sherrie Bedonie, MSW '12, is one of those students. A member of the Navajo Nation, she provides culturally appropriate outpatient mental health services, substance use therapy and integrated care interventions.
"Wanda instilled in our cohort that we as social workers have voices to create change, and obtaining our MSW was only the first step," Bedonie says. "Wanda and the Four Corners MSW Program brought stability and longevity to the [social work] field and community."
Ellingson will hand over the reins to a new director, GSSW alumna Janelle Doughty, and co-teach the Native immersion course a final time this summer. Although Durango will remain her home base, she plans to travel and spend more time with her grandchildren in Denver. She hopes to volunteer with agencies working on immigration issues — an area of personal passion. And, she and her husband are considering a return to the Peace Corps.
What will Ellingson miss most? The students. "I get to watch very personal and professional transformation while providing this amazing education to students who are using it."
"Ahe'hee' [thank you]," Bedonie says, "for offering the program in my community and preparing me to help heal my people."