Contributing to Community Prosperity
GSSW pledges to direct dollars to local catering businesses owned by women and people of color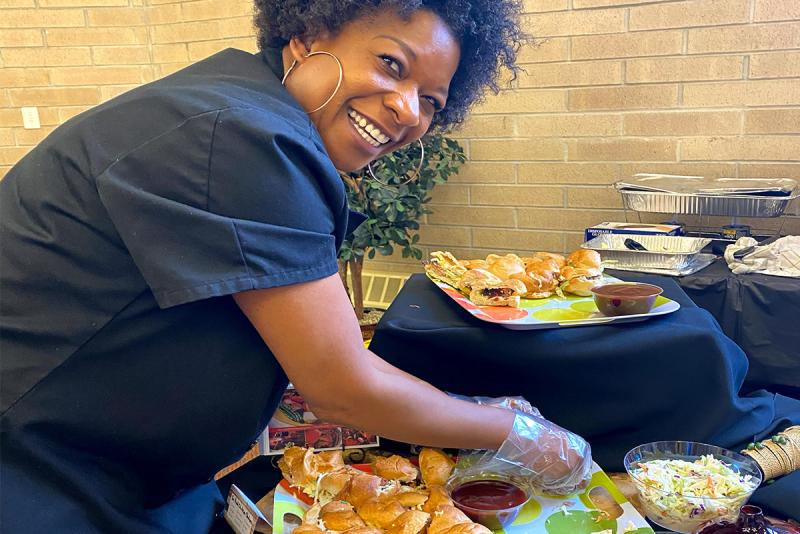 Cooking is a way of life for Angela Ray's family, and when she relocated to Denver from Kansas City, Missouri, she missed that connection, as well as the "mom-and-pop shops where you could go to feel like you had a home-cooked meal." So, Ray left her job in the cable industry and founded Taste the Love Cooking, which offers Kansas City barbeque and a variety of Southern dishes and desserts.
Taste the Love was among 15 small local catering companies owned by women and people of color invited to the University of Denver in February so school staff could sample their food and consider them for future events. Graduate School of Social Work Director of Community Engagement Trish Becker-Hafnor helped to organize the event in partnership with the Center for Community Wealth Building. "I had made the commitment that all of our Office of Community Engagement events would use catering businesses owned by women and people of color for the next year," says Becker-Hafnor, noting that the University spends hundreds of thousands of dollars on catering each year. "We talk a lot about our social justice values, and the University says it wants to support community wealth building. This is a way we can put those values into practice."
 
Get tips for building community prosperity this season and beyond
Learn More
Communities of color have long been excluded from economic opportunities and have been particularly hard hit during the COVID-19 pandemic. Even when the local economy was thriving, small businesses like Ray's had difficulty competing with the large corporations that usually snag lucrative university contracts. And they don't have a financial cushion to absorb big hits such as the pandemic, which caused the catering business to dry up almost overnight. Supporting local businesses — particularly those owned by people of color — is one way to close the wealth gap and benefit the whole community economically and socially, the Center for Community Wealth Building says.
Now the only employee in her business, Ray pivoted to offer pie kits to the public using her great grandmother Hattie's recipe. "My great grandmother made a pie crust that people loved — it's so buttery and flaky," says Ray, who offers 12 sweet and savory pie kits that people can assemble and bake at home. Her personal favorite is the sweet potato pie — another recipe handed down from Hattie.
"Especially during the holiday time when you can't be with family and friends, it feels good to offer what my great grandmother gave to us," Ray says. "Everything is done by hand and done with love."
When the pandemic ends and in-person events resume, Becker-Hafnor says she'll honor her pledge to support community businesses. Often, she says, University staff are busy and do what is easy. "But we can change lives. There are 2,000 people on campus with a purchasing card. We can really make an impact and live into our social justice values."
"If we see where our spending is going and whether it aligns with our values, we can direct that somewhere that would benefit the community that surrounds and supports us."
Build Community by Buying Local
GSSW students intern with some terrific local social enterprises, including the Women's Bean Project and EarthLinks. Think creatively about gifting, and consider supporting local organizations and small businesses — particularly those owned and run by women and people of color — during the giving season and every day. Learn more about a few options below: