Darren Whitfield, MSW '08, PhD '16
Educating a new generation of social workers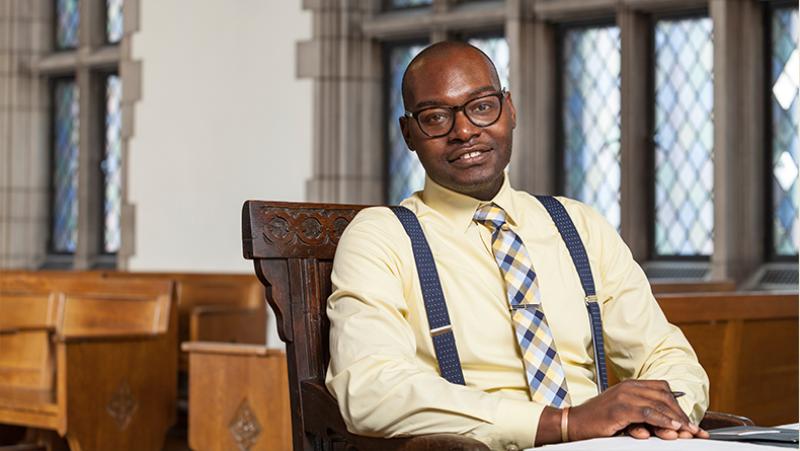 Darren Whitfield says the instruction, guidance and support he received in the Graduate School of Social Work (GSSW) PhD program was invaluable as he transitioned from student to teacher. Now Whitfield is shaping a new generation of social work practitioners and scholars as an assistant professor of social work and psychiatry at the University of Pittsburgh School of Social Work and School of Medicine.
"My [GSSW] mentors ensured I had the necessary research skills and knowledge about academic life to be successful as a junior faculty member at a top research institution," Whitfield says. "I have been fortunate to still be in contact with my mentors, who continue to foster my development as an emerging scholar."
Whitfield's research is focused on understanding the impact of psychosocial and structural factors on health and mental health outcomes for gay, bisexual and queer men of color across the lifespan. He also examines the role of identity in shaping the health trajectories of lesbian, gay, bisexual, transgender and queer communities. Whitfield aims to develop intersectional measures of identity; interventions that address psychosocial, sociocultural and structural factors associated with disproportionate rates of HIV infection among gay, bisexual, queer, and same-gender-loving (GBQSGL) men of color; and policy changes that eliminate structural discrimination for LGBTQ communities.
Whitfield has more than a decade of practice experience working in the HIV/AIDS field as a case manager and therapeutic counselor for HIV-positive individuals, as a contract monitor at the Virginia Department of Public Health and in administrative roles as the director of prevention and supervisor for care services at the AIDS Project of Central Iowa.
"I attended the University of Denver Graduate School of Social Work for my MSW because of its commitment to social justice in educating future social work practitioners," says Whitfield. "The rigorous curriculum, support of faculty and preparation for practice were the reasons I returned to complete my doctoral education."
For Whitfield, the best part of his GSSW experience was being mentored by outstanding faculty, who pushed him to move outside his comfort zone. "I owe much of my success to the faculty at the University of Denver Graduate School of Social Work," Whitfield says. "I hope that one day I am able to inspire future social work academics the way I was inspired and supported."
"I attended the University of Denver Graduate School of Social Work for my MSW because of its commitment to social justice in educating future social work practitioners. The rigorous curriculum, support of faculty and preparation for practice were the reasons I returned to complete my doctoral education." — Darren Whitfield, MSW '08, PhD '16, Assistant Professor, University of Pittsburgh School of Social Work and School of Medicine