A new strategic initiative aims to actualize equity in GSSW's culture and operations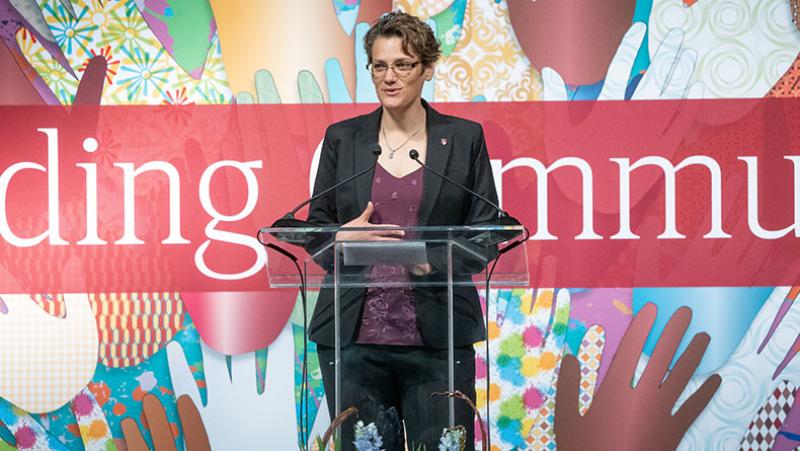 Associate Dean of Operations Hope Errico Wisneski at the University of Denver Community & Values Initiative brainstorming lunch.
The University of Denver Graduate School of Social Work (GSSW) has a vision to achieve actualized human potential; thriving, sustainable communities; and embodiment of equity across all communities. Realizing that vision requires not just an institutional shift, but also personal work — individual learning and behavior change to truly embody equity in interactions among faculty, staff and students.
To facilitate that process, the school is launching a yearlong Culture and Climate Initiative to learn the attitudes, knowledge and skills necessary to support a diverse, inclusive and equitable culture and climate, explains Morris Endowed Dean and Professor Amanda Moore McBride. "While we increase compositional diversity in the school, we must also create a learning community among us that is grounded in GSSW's power, privilege and oppression framework."
Professor Debora Ortega explains GSSW's power, privilege and oppression framework
Watch the Video
Creating a Learning Community 
The Culture and Climate Initiative will officially kick off at a faculty, staff and doctoral student retreat at the start of the fall 2019 quarter, but planning and preparation have been underway for the past year, guided by GSSW's Culture and Climate Advisory Group and the Inclusive Excellence Committee and informed by feedback from students, staff and faculty.
"No matter their identities, we want students, staff and faculty to feel valued, respected and to have a voice, and that diverse identities are included in operations, content and curricula," says Professor Eugene Walls, a member of the advisory group and committee who is leading the initiative's evaluation efforts. "We want to live into the values of social justice so they are ever-present in the building."
The initiative also aims to build community and trust among faculty, staff and doctoral students; lead in the development of socially just social work practitioners and scholars; and model equity and justice throughout operations, teaching, research and community engagement.
One component is a series of two-hour learning sessions facilitated by Christina James and Dante James of The Gemini Group. The series kicks off with a Foundations in Equity course on institutional and systemic racism. Other topics include Power and Privilege/Diversity and Inclusion, Implicit Bias, Micro-Aggressions, and Peer Accountability. All faculty, staff and PhD students are expected to attend, and the course content will be made available to adjunct instructors, field instructors and field liaisons as well.
"Equity is when a person's identity doesn't predict outcomes," explains Christina James, JD '00, MSW '17. "Diversity and inclusion are just one part of equity. You can't just have diversity — it's not fixing the bigger problem nor necessarily changing culture. Inclusion is making people feel welcome, valued and engaged. After you've accomplished both of these, you still have to address the outcomes for marginalized populations. All of this work is under the umbrella of equity. If you don't have equity, you'll continue to have detrimental outcomes."
Faculty, staff and doctoral students also will participate in elective learning opportunities in small groups to dive deeper into the content. Groups will have trained facilitators, and members will attend at least four other learning opportunities throughout the year at GSSW, at the University or in the community.
These learning opportunities must include content related to diversity and inclusion but can be in a variety of formats, from lectures to workshops, art exhibits and performances. Individuals may also choose among a range of self-guided learning opportunities, such as TED Talks and structured online workshops.
"This is difficult work," says Walls. "These are topics that carry a lot of pain and hurt and chronic trauma for people of marginalized identities."
Living into an Equity Agenda
Diversity, equity and inclusion are the focus of GSSW's strategic plan, which launched in 2017 based on feedback from 700 faculty, staff, student, alumni and community stakeholders. One of the four goals that emerged calls on the school to "better meet the needs of those who have traditionally been excluded from institutions like ours" and to "center the voices of those who do not always have privilege." The Culture and Climate Initiative is one approach the school is taking to meet that goal while also contributing to the DU Impact 2025 Community & Values strategic initiative to experience, explore and evolve the University's academic community.
A school of social work may seem an unlikely candidate for intensive culture and climate work since the profession already has a diversity, equity and inclusion focus. But that's exactly why learning initiatives like this are needed, McBride says. "Social work has set itself up to think it is culturally competent as an end state, but we all must continue to learn."
Christina James agrees. "Many times, people who feel that they're very engaged and social-justice conscious and equity-aware feel they 'get it' and stop learning and growing and self-reflecting. Sometimes they're the biggest barriers in this work."
"It doesn't matter what our role is; we all make mistakes," Walls adds. "We all have places we need to grow. "
Evaluation and accountability will be part of GSSW's transformation process. The school's Inclusive Excellence Committee has conducted a series of culture and climate surveys, which will be repeated to see whether the school has moved the needle. The school will develop new instruments as well, Walls says. GSSW will use findings to continue its own work well beyond the 2019–20 school year, and it also plans to share findings, providing guidance to other University of Denver units and other schools of social work that want to embark on similar work.
Ultimately, McBride says, "A top priority is to right the wrongs that have been institutionalized and make higher education truly inclusive, from pedagogy to place."