The associate director of the Institute for Human-Animal Connection champions a holistic approach to social work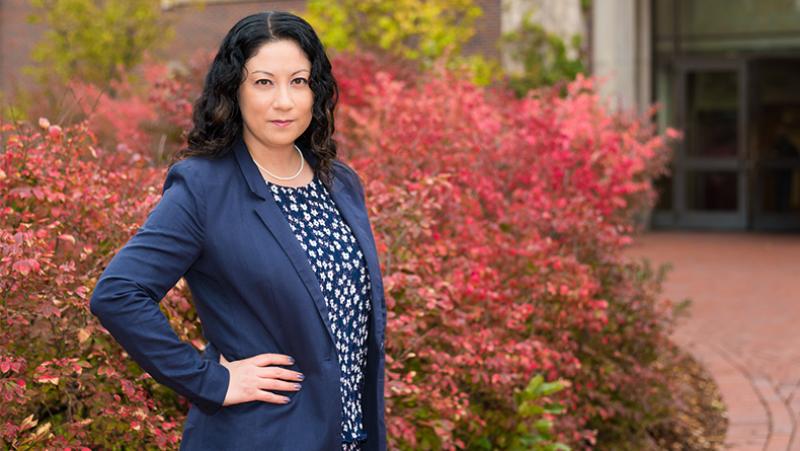 Erica Elvove's path to social work took her from undergraduate majors in English and social welfare, to serving in the Peace Corps in rural Nepal, to working in Chicago's Cook County Hospital, to co-teaching the University of Denver Graduate School of Social Work (GSSW) course Social Work in Kenya. Throughout these far-ranging experiences, two things have remained constant for Elvove, MSW '08: a focus on social justice, and a belief that animals and nature are critical components of human health.
Elvove's journey has culminated at the Institute for Human-Animal Connection (IHAC), which first drew her to GSSW as a student. Now more than a decade later, she is still there, serving as an adjunct professor, associate director and coordinator of the institute's certificate programs.
For Elvove, the flame of social justice was sparked early when as a young child she witnessed people discriminating against her mother, who had immigrated to the U.S. from Japan. Her father was from a family of Jewish immigrants who had fled to the U.S. after World War II. Elvove always had animals in her life, too, and "The relationships I had with animals helped me through some of the more difficult times in my life," Elvove says. "The formative experiences relevant to social work and social justice — and how relationships with animals and nature could help heal — have carried through to the rest of my life."
A 14-year-old Elvove cleaned stalls in exchange for riding lessons at a suburban Chicago stable. It was there that she watched her first therapeutic riding lessons. "I saw how animals could help people with disabilities," Elvove recalls. During her second-year MSW field internship, Elvove worked at a therapeutic riding center where she landed a full-time job after graduation. She started working with IHAC part time then as well, coordinating its online Animals and Human Health professional development certificate.
In response to community demand, Elvove expanded the program offering from once a year to four times a year and added three other professional development certificates that together enroll around 90 continuing education students annually. Today, Elvove is a full-time staff member, working closely with IHAC Executive Director Philip Tedeschi in all aspects of institute operations — from budgeting and strategic planning, to supervising MSW interns and work-study students, to collaborating on curriculum development.
In 2016–17, GSSW honored Elvove with its Staff Appreciation Award in recognition of her dedication to the school and the student experience.
"It's really important to me to establish a strong connection between the school and the institute to best complement the experience of GSSW students," says Elvove, noting that many students, like her, attend GSSW because of the unique opportunity to study the connection between social justice, humans, animals and the environment through IHAC and programs such as the Animal-Assisted Social Work Certificate, which enrolls close to 80 MSW students currently.
IHAC is dedicated to making the student experience as incredible as possible, Elvove says, not just through the curriculum, but also through unique field experiences — at the Zoology Foundation, for instance — and experiential learning labs that give students hands-on experience with animals and in nature. For example, IHAC has hired a certified professional dog trainer, Drew Webster, who created the Scholars with Collars curriculum to give students a strong foundation in training, behavior and selection of therapy dogs. IHAC offers a similar program, directed by Nina Ekholm Fry, for students working with horses. And, Elvove says, each year 30–40 MSW students participate in IHAC research projects, such as an assessment of the Humane Society of the United States Pets for Life Program.
IHAC is not just about animal-assisted therapy, Elvove notes. The institute's scope also includes animals in communities — areas such as the nature of pet keeping or the frequent co-occurrence between violence against animals and violence against people — and One Health, which considers larger scale human-animal-environment connections.
Elvove shares her home with a partner and two little boys, a rescue Labrador mix named Max, Super Nova the cat, and a trio of retired laying hens. Both personally and professionally, she is living the message of "why animals and the environment are important in our lives."