The first of its kind in the nation, our Animal-Assisted Social Work (AASW) master's certificate explores social justice from the perspective of humans, animals and the environment. This certificate is only available to students enrolled in our Denver Campus MSW Program, and you'll complete the certificate and your MSW program at the same time. Together, the MSW and certificate will prepare you to consider humans, animals and the environment in practice settings that range from therapeutic programs to animal shelters and sanctuaries.
Offered by the Graduate School of Social Work and the Institute for Human-Animal Connection, this certificate will add three specialized elective courses to the MSW curriculum during your concentration year. The certificate also includes field internships that examine critical human, animal and environmental connections in the U.S. and internationally.
Due to the COVID-19 pandemic, GSSW now offers additional start dates and program tracks for the Two-Year and Advanced-Standing Denver Campus MSW Programs. Learn More and Apply Now.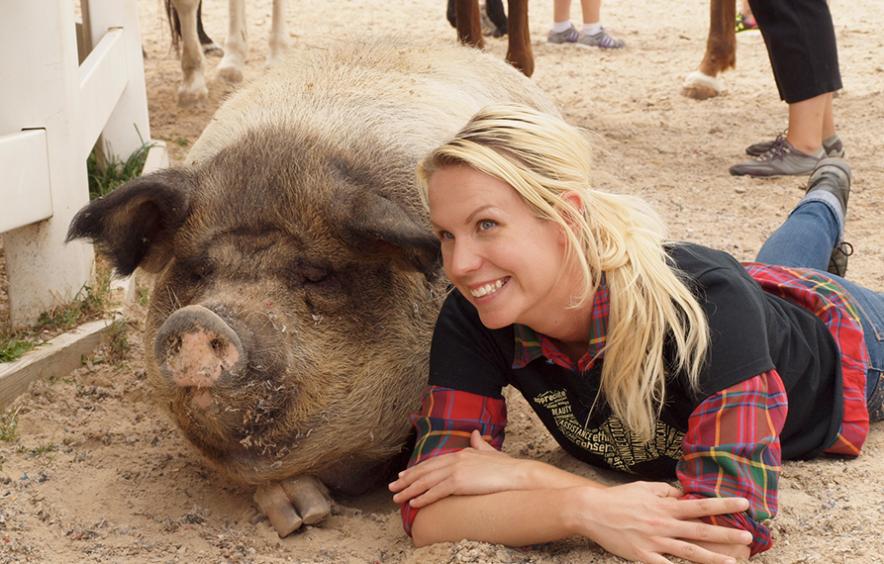 Hands-On Learning
Explore how animals change lives, transform trauma and improve the welfare of children, adults, families and communities. Train a professional therapy dog during graduate school, build your clinical social work skills to incorporate pets and other animals into therapeutic environments, or develop policy and programs for your macro social work practice.
International Courses and Internships
Animal-Assisted Social Work certificate students can gain a global perspective through optional international courses and internships.
Intern Alongside Giant Pandas

Learn how human behavior influences habitat protection for animals such as the giant panda by studying biodiversity protection issues while completing an internship at the Giant Panda Research Base in Chengdu, China.

Advocate for Wild Animals in Kenya

Learn about the illegal wildlife trade, wild animal protection and advocacy as you participate in anti-poaching work while on assignment with our partners at Africa Network for Animal Welfare in Kenya.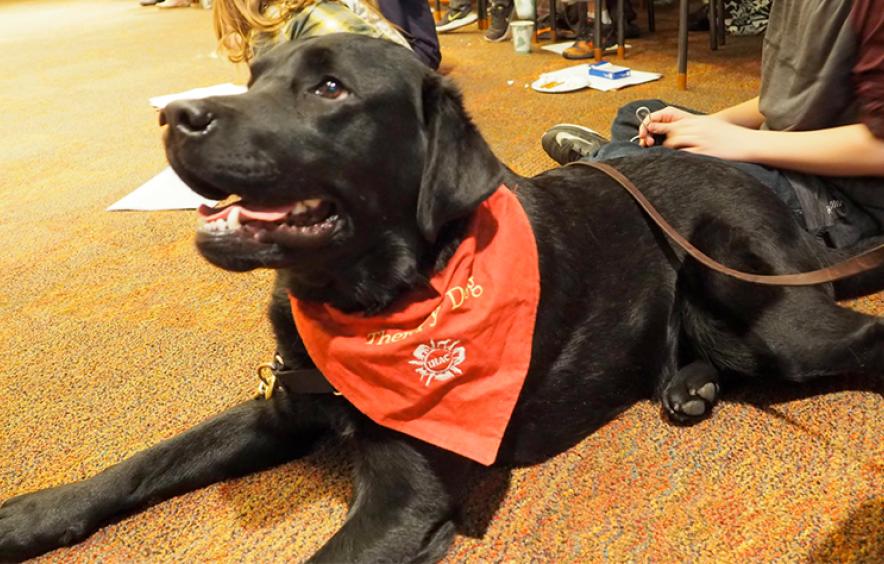 Your Career Options
By completing the Animal-Assisted Social Work certificate, you'll graduate with an additional professional credential and a competitive advantage in your job search. Your social work career could include:
Creating, implementing and evaluating animal-assisted intervention programs in which an animal becomes a teacher, therapist, facilitator and support system
Selecting the most appropriate animals for particular therapy modalities
Caring for animals in accordance with national animal welfare standards
Identifying, assessing and intervening in "link" violence — the frequent connection between animal abuse and violence toward people
Integrating concepts of nature-based therapeutics, humane education and conservation in your social work practice
Becoming an advocate for animal welfare and ethics
SOWK 4795
Integration of Animals Into Therapeutic Settings
About this Course
Explores the human-animal bond and potential for therapeutic intervention with the animal as teacher, therapist, facilitator and companion in a number of therapeutic settings. Focuses on core skills for social workers seeking to integrate this clinical approach into their practice. A required course for the Animal-Assisted Social Work Certificate.
SOWK 4796
Animal Assisted Social Work Practice
About this Course
This course provides a comprehensive examination of approaches to Animal Assisted Social Work (AASW) and emphasizes clinical application skills utilized with a broad array of persons and in a number of therapeutic settings. Students will learn to design, implement and analyze the efficacy of AASW approaches within their chosen area of specialization, providing an opportunity to practice these approaches in their field internships. Students will learn to clearly articulate, assess, and intervene in "link" violence as it relates to social work practices and AASW implications. A required course for the Animal-Assisted Social Work Certificate.
SOWK 4797
Issues for Evidence-Supported Animal-Assisted Social Work
About this Course
This course is designed to take students into an evidence-supported exploration and understanding of methods for incorporating specific animals and animal assisted interventions in the context of current social work practice. The course examines the capacities of different species for work with diverse goals and populations in animal interactions and introduces components critical to animals' well-being. Emphasis is placed on case formulation and experiential learning methods that link goal-specific human-animal interactions that impact measureable client behavioral changes. The course focuses on the explicit identification of how the animal will move clients toward goals and identifying outcomes and indicators of such change. Special attention is given to the development of animal selection, handling, evaluation, and management skills necessary for development as a social worker with competency in the incorporation of animals in evidence-based practice.
This is an internship that I look forward to. There's nowhere else I could be getting this great of a hands-on experience.

Kaylee Keuthan, Denver Campus MSW Student
Upcoming Final Application Deadline: July 2021 AS Denver Campus Program
---