Master of Social Work Financial Aid
Earning your master of social work is one of the most rewarding investments you'll ever make—but going back to school impacts your time, personal life and financial status. We'll work with you to identify a financial aid package that addresses the cost of your education. Plus, we offer scholarships to 100 percent of our admitted students.
One of the most common questions we receive about pursuing an MSW is, "How can I afford this?" Our alumni will attest that the GSSW reputation, job satisfaction after graduation and the lifelong professional relationships they build here make the financial costs worthwhile.
Cost of Attendance
Here's a breakdown of the master of social work program cost for the 2019-20 academic year; tuition is subject to change each year. Many students pay for their education with a combination of scholarships, stipends and student loans. If admitted, you will calculate a total cost of attendance (COA) in consultation with DU's Central Financial Aid Office. The COA includes the master of social work tuition costs plus living expenses such as rent, transportation, food, etc. 
Denver Campus MSW Total Tuition 
| Program | Tuition |
| --- | --- |
| Two-Year MSW Program (6 quarters) | $102,672 |
| Advanced-Standing MSW Program (4 quarters) | $67,800  |
Merit scholarships range from $11,000 to $46,000.
Western Colorado and Four Corners MSW Total Tuition 
| Program | Tuition |
| --- | --- |
| Two-Year MSW Program (6 quarters) | $70,560​   |
| Advanced-Standing MSW Program  (4 quarters) | $46,605​  |
Master of Social Work Scholarships
Graduate School of Social Work Scholarships

We provide more than $9 million in merit aid each year, and every student receives a scholarship. If admitted, scholarships are awarded in your acceptance letter. You don't need to apply for these funds; award amounts are granted based on academic achievements, personal accomplishments and experience. Some scholarships are available due to the generous endowments of our benefactors who understand the incredible importance of educating the next generation of social workers to create social change.

Partnership Scholarships
GSSW stipends are also a great way to fund your education.
Learn More
Student Loans
There are three types of student loans available to you:
Federal Direct Unsubsidized loan: amounts up to $20,500 each year

This is the most widely used loan for graduate students. To qualify, you must fill out a Free Application for Federal Student Aid (FAFSA). The institutional code for the University of Denver is 001371. Advanced standing students must complete two FAFSAs—one for the current year and one for the next year since they begin studies in summer quarter.

Federal Direct Graduate PLUS loan: amounts up to the cost of attendance
Private education loans: amounts up to the cost of attendance
Visit DU's financial aid website to learn more about each loan type.
Learn More
Additional Funding Options
Federal Work-Study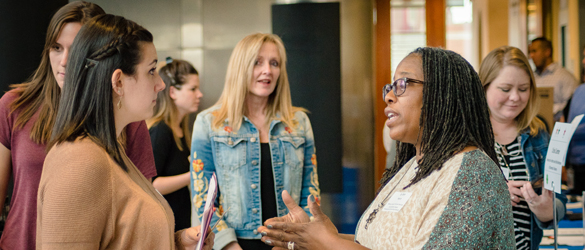 Many GSSW students work part-time while in the program. If you're a full-time first-year or second-year student and you complete the FAFSA, you may be eligible for Federal Work-Study. The average annual award is $5,000, requiring that you work about 10-15 hours per week. Work-study students can work alongside faculty members while assisting with their active research projects or support GSSW operations while working with staff teams such as field education, admission and student services.
Social Work Research Assistantships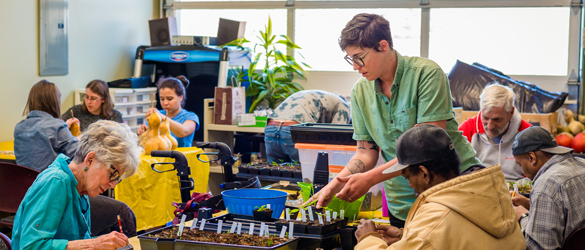 Our faculty and institutes regularly have research assistantships that are open to MSW students. These students work on active research projects and receive community-based research experience, which is a strong resume builder. Last year 30 MSW students received research assistantships and were compensated up to $25 an hour.