MSW alumna Nikki Allen brings clinical experience and a dedication to justice to GSSW's full-time faculty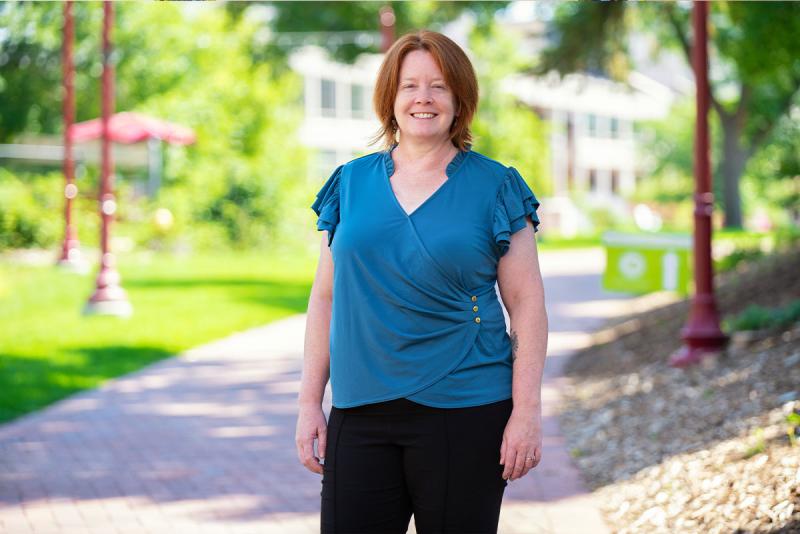 For alumna and Clinical Assistant Professor Nikki Allen (MSW/MA '06, LCSW, LAC), the path to social work wasn't a straight trajectory, but advancing social justice was always her aim. She majored in English and sociology, did a stint with the Lutheran Volunteer Corps and worked for a few secular and faith-based nonprofits. Allen then enrolled in the MSW/Master of Arts in Specialized Ministry dual-degree program at the University of Denver Graduate School of Social Work (GSSW) and Iliff School of Theology intending to become a pastor. But it turns out social work was her calling.
"I was really focused on system change — these larger movements and how we make change in larger ways," Allen recalls. After graduation, she went to work for the Colorado Coalition for the Homeless as a case manager working in the community and ended up staying for more than a decade.
Over time, she began doing some clinical work to help the behavioral health team, eventually shifting from community social work to providing therapy in an integrated health care satellite clinic operated by the Coalition. She obtained her LCSW and credentials as a Licensed Addiction Counselor and became the integrated behavioral health program manager at the Coalition's Stout Street Health Center.
It was difficult but deeply meaningful work, says Allen, who appreciated "the ability to build relationships and be present for people and witness their story, especially when many have experienced such disenfranchisement that they feel nobody cares. Just sitting with someone and sharing that space — there's therapeutic work happening, but part of the work is helping them to see that they're a valuable human being."
After teaching at GSSW as an adjunct for the past decade and serving as a field liaison, Allen recently joined the school's full-time clinical faculty, teaching courses on integrated health care and substance use interventions. She shares practice examples from her own experience and talks to students about the importance of integrating self-care in their everyday lives. "The other thing I bring is this huge dedication to justice and this deep desire for our graduates to walk out with this basic concept that the people you're going to meet need to be treated with dignity," Allen says. "When you're out in the field, it's hard. You get jaded; you forget that. How are we talking to folks? Are we treating them as capable humans or in some paternalistic way and trying to 'fix' them? They don't need to be fixed. They need you to walk along beside them and give them tools and a belief in their inner resources."
Allen says she enjoys watching students grow professionally in the classroom and in their field experiences. "I appreciate the opportunity to work with someone in their professional development from an early stage," she says.
Part of that professional development is helping students to understand that they don't have to map out their entire career. "It doesn't have to be a journey that is clear right now," says Allen, who started with a macro concentration in community and organizational leadership but ended up as a behavioral health provider for people experiencing homelessness and ultimately as a professor. "You think one thing and end up somewhere else. When I started, I wouldn't have known where I'd end up. Let it unfold — it's OK."
"One of the greatest things about social work is there are lots of avenues you can take and lots of different settings you can be in," she adds. "I encourage students to go into it with the passions they have but let them know it could be very different, and that could actually be a huge opportunity."