Practicing Advocacy at the U.N.
MSW student learns international policymaking as a delegate to U.N. Commission on the Status of Women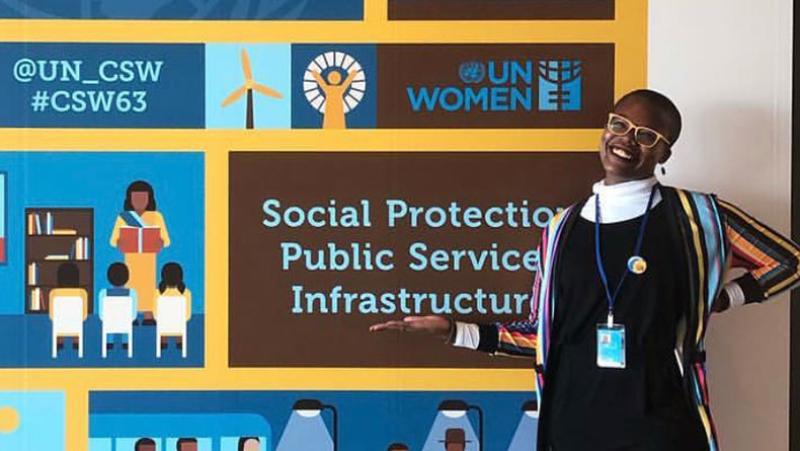 At the 63rd United Nations (U.N.) Commission on the Status of Women in March 2019, Ozy Aloziem walked into a session on women's reproductive health and found that many of the seats in the packed room were occupied by men. In that moment, the University of Denver Graduate School of Social Work MSW student says she was struck by the deep inequities that persist in international policymaking — that even at an event for and about women, women were left to stand in the hall.
Aloziem, an Organizational Leadership & Policy Practice student who will graduate in June, was selected to attend the Commission as one of 8 delegates from the Women's International League for Peace and Freedom (WILPF) — one of the first NGOs to have consultative status to the U.N. Aloziem spent a grueling week in New York City, where she attended multi-level U.N. meetings and governmental and international NGO events all day and provided WILPF with a written report on her sessions each evening.
Clinical Assistant Professor Heather Arnold-Renicker had encouraged Aloziem to apply to WILPF's Practicum in Advocacy, which provides first-hand experience of the discussions and processes that lead to U.N. decisions on women's rights and issues. "We were able to engage with government officials from all over the world at various panels and workshops, where we were encouraged to advocate for WILPF's three central focus areas: women, peace and security; disarmament; and human rights," Aloziem says. "We learned to note who was in the room, whose voices weren't included, how they were trying to frame the issue and who was left out of the framing."
The summit theme was social protection systems, access to public services, and sustainable infrastructure for gender equality and the empowerment of women and girls. Meeting participants "spoke about empowering women and girls by developing sustainable infrastructure broadly," Aloziem says, "but when I would ask about LBTQ women or women with disabilities, it was curious to see how often that was left out of the conversation, how so few folks seemed to have an intersectional lens"
Although intersectionality has been a focus of Aloziem's MSW education, over the summit's full two weeks, she says, only a handful of sessions addressed reproductive justice, gender and sexuality, and securing rights for trans women and girls. Even fewer sessions intentionally included Indigenous women. "It was interesting to see what and who was excluded from the agenda and from the summit itself."
That the reproductive justice session was packed with men reinforced "how often these rooms are not filled with the people most affected by these policies," says Aloziem. She notes that the encounter was emblematic of the larger challenges faced by women and particularly women of color. "We are still not normalizing the role that men should be playing in this conversation and effort. We are still giving them too much space."
There was substantial conversation about making sure women and girls are at the table as deep stakeholders, Aloziem says. The challenge is making sure that happens and that the most marginalized voices are also included. The people on the ground are critical, she learned — both to inform policymaking and to implement policies in programs in ways that are effective and inclusive. "There's a disconnect between people with power and people on the ground. We need to shift power to the people most deeply impacted."
Closer to home, Aloziem has been exploring related issues as a Center for Community Engagement to advance Scholarship and Learning (CCESL) Gender Equity fellow working with Sociology and Criminology Professor Nancy Reichman. Their work has included looking at how to promote gender equity within the academy (one of Aloziem's personal passions) and how paid family leave could improve health outcomes for Black women.
Attending the Commission on the Status of Women provided Aloziem with a broader perspective of how paid leave is being discussed internationally. She says she plans to use her experience to advocate for critically conscious, culturally responsive policy reforms that provide social protection to the most vulnerable women and girls.
"I'm walking away with a more acute awareness of gender equity issues plaguing women and girls around the world and an understanding of how many of these issues are connected and can therefore be solved by more intentional and collaborative efforts," Aloziem says. "I'm also walking away with an understanding of my role in making sure we're taking these tenets and bringing them back to the policy world so policies are intersectional and empowering. We're not fixing communities but empowering communities to do the work themselves."
And because NGOs and government bodies often lack diverse representation and perspectives, Aloziem adds, "It's important to look at empowerment and know it doesn't work the same for everyone."