For PhD grad Miguel Trujillo, a doctorate was a way to help his community by creating systemic change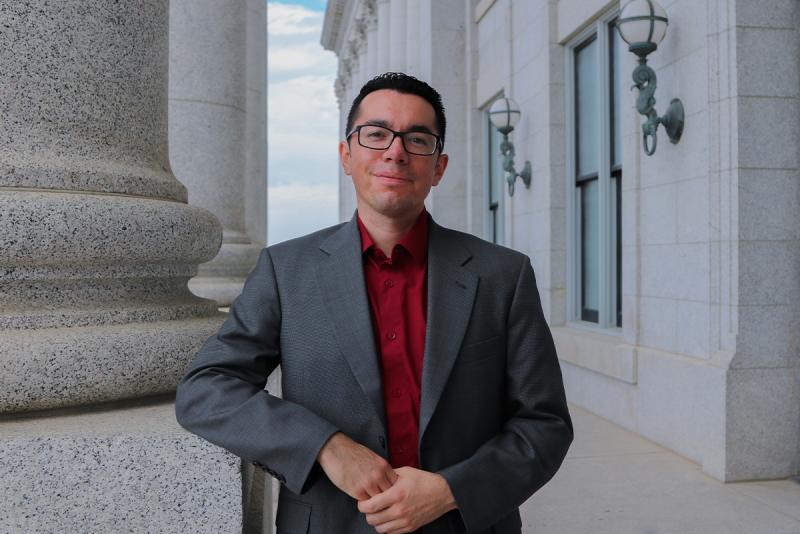 For University of Denver Graduate School of Social Work (GSSW) alumnus Miguel Trujillo, PhD '23, his doctoral research originated in the lack of belonging and representation he experienced in education. During 12 years of Utah public education, he had only one teacher who was a person of color, and as an undergraduate student, he had just two professors of color.
Later, when Trujillo was working with Latinx youth in an empowerment program, he saw additional challenges. "Students were not engaging with teachers, there was a linguistic barrier, parents were having difficulty communicating with schools, schools didn't do a great job reaching out to families (especially recent immigrants), and parents didn't know how to access grades, how it worked. Schools weren't culturally sensitive," Trujillo says. Parents often worked a lot, yet schools would expect them to attend meetings during working hours, he explains. Students also experienced racism and low expectations from teachers (students were often placed in lower level classes and discouraged from taking advanced placement courses) and were bussed long distances from home to school.
Despite the challenges, Trujillo recalls, "I loved being there, being in the community, working with community. I knew macro/mezzo social work was where I would end up to create societal change."
A year spent working as an elementary school social worker solidified that path. Trujillo was the only social worker serving 1,500 kids across three schools. "Once again I was coming up against policies and procedures that didn't make any sense," he says. "I was frustrated with my inability to create change. When students would come to me and need assistance, I didn't have the time. I had to be reactionary, and the whole school system was set up like that."
 
Applying Analysis and Advocacy Skills
Trujillo pursued a PhD so he could help create the change he wanted to see at the macro level. "People weren't listening to me," Trujillo recalls. "I thought people might be more apt to listen if I had a doctorate, and I would also gain skills to analyze and advocate."
Trujillo's overall research focus is on higher education and the pipeline to higher education. For his three-manuscript dissertation, Trujillo used Latinx critical theory and the theory of community cultural wealth to examine the education experiences of Latinx students in higher education, the intersections of identities and how those identities affect outcomes. There is an information gap about Latinx men, who have lower graduation rates than Latinx women, Trujillo says, noting that Latinx individuals in general graduate at lower rates than other races. "I was fascinated about what was going on."
According to the community cultural wealth theory, Trujillo explains, the education system in general doesn't recognize the strengths students bring with them. "That's why the education system is failing so many students. If you don't see yourself in the history, curriculum, teachers, you're not going to be invested in the school because it's not invested in you."
For the dissertation, Trujillo did a secondary analysis of college student interviews collected by GSSW Professor Deb Ortega and other colleagues. He found that overall experiences were relatively similar for Latinos and Latinas, but the expectations of them were gendered, as were the ways they engaged and types of supports they relied on. "I found a lot of social connection, and that's what helped these students survive," Trujillo says.
Trujillo also revisited students he worked with in the youth empowerment program 4–5 years earlier. He interviewed students who graduated from the empowerment program and took at least one college class about their experiences in the program and in higher education. He found that mentoring was an important support in high school and college, and that expectations of males as providers meant that Latino students were more likely to work, which often interfered with attending and completing college.
The expectations of Latinos, he says, were unrealistic. "If the students didn't have to work so much to pay for the tuition, they may do better in school or be able to access the programs that do exist, create more connection on campus, a sense of belonging," Trujillo says.
 
Reducing Economic Disparities
For the past two years, Trujillo has been applying his research and advocacy skills as the training and research coordinator for the Utah Division of Multicultural Affairs, which is charged with promoting a "climate that inspires belonging" and enables opportunity-building in the state. Nearly 40% of Utah's population growth since 2010 has been among racially and ethnically diverse individuals, who comprise 22% of the state's population.
Trujillo completed reports on education and law enforcement reform for the state and evaluated outcomes of a grant to provide mental health services to multicultural communities in rural Utah. Most recently, he co-authored the 2023 Utah Thriving report, which outlines strategies for reducing economic and housing disparities. The report is the first in a series that will explore how state government, the corporate sector and philanthropy can partner to close the financial opportunity gap faced by underserved and underrepresented communities in Utah.
Reducing disparities, the report says, will lead to more productive businesses, increased spending power and financial security for a healthier workforce, increased sales tax revenue and ongoing economic growth. "During 2019, for example, if there had been no racial gaps in income, Utah's GDP would have been approximately $13 billion larger," the report notes. To reduce disparities, the report proposes 10 key strategies that were informed by community interviews and stakeholder surveys.
"One of the key things is we're hoping to create is a community-driven access and opportunity fund for multicultural communities — a fund that is relatively flexible in providing funding to community services already doing good work," Trujillo says. "The communities have the ideas and know how to eliminate disparities but don't have the resources. This fund could provide those resources. That's a main priority for me personally."
Trujillo says he sees himself as a facilitator and connector. "That's something I've really tried to hold onto. I have the privilege of having this education. I didn't do this just for myself. I did it for the community, to uplift and amplify other voices," he notes. "I want to make sure I'm always in collaboration with other voices in the community, that I'm able to use my position to amplify others. I'm not going to change things by myself."
Going forward, Trujillo will be working toward that change as the new director of community-engaged scholarship and evaluation for University Neighborhood Partners, the University of Utah organization where he first found his stride as an MSW intern working with Latinx and refugee youth in nearby neighborhoods.
Trujillo says his community-centered perspective was instilled by his parents, Ed and Rose. "From them I learned the skills for working with community, and I found my passion," Trujillo says. "I wouldn't be able to do this without them and my ancestors who came here. Without them none of this would be possible."