Social Work and Mutual Aid
A GSSW team is studying the ways that mutual aid met community needs during the COVID-19 pandemic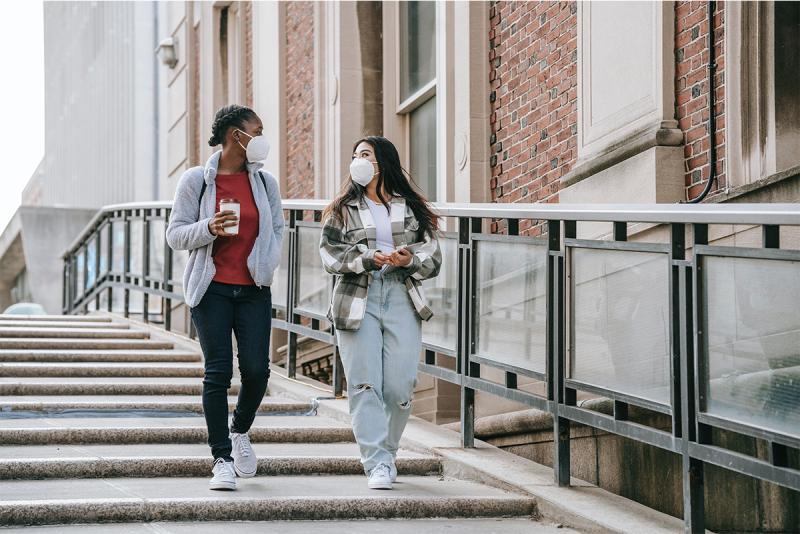 When much of the United States — including the University of Denver Graduate School of Social Work (GSSW) — abruptly shut down in March 2020 due to the COVID-19 pandemic, the school quickly developed eight "support pods" to facilitate mutual aid, connection and collective care among faculty, staff and doctoral students.
Coordinated by Director of Community Engagement Trish Becker-Hafnor, the volunteer-run pods connected people with similar identities or interests. For example, members of the parents' pod shared resources, wisdom and emotional support, and gathered virtually for monthly happy hours or coffee klatches.
Similar efforts, both large and small, emerged in organizations, neighborhoods and communities nationwide in response to the pandemic, with community members fulfilling urgent needs — for food, social contact and other necessities — as safety nets failed exactly when people needed them most.
Kim Bender, Winn Professor for Children and Youth, and PhD student Danielle Littman had noticed that at a personal level, people were showing up for each other in a way they hadn't before, and that was happening on a larger scale, too. With other research projects temporarily paused, they saw a unique opportunity to study the widespread pandemic collective care phenomenon in real time. There has been very little research on mutual aid and collective care, so Bender quickly launched a research plan along with Littman and other collaborators, including PhD student Zean Dunbar, Becker-Hafnor, alumni Madi Boyett (MSW '20) and Tara Milligan (MSW '19), MSW student Kate Saavedra, and Korbel School of International Studies master's student Colin Bogle.
"We wanted to understand during this unique period how people were conceptualizing mutual aid, what challenges they were facing, what benefits they received and where they potentially saw mutual aid going in the future," Bender says, noting that they started with a rapid media scan to describe how mutual aid emerged as a response to COVID-19 and how digital organizing was used for mutual aid. "There's very little research about mutual aid, and nearly none on mutual aid during the pandemic, so we turned to the popular media to see how it's being discussed. That helped us frame some of the challenges and the digital nature of it early on, and that informed the interviews with people across Colorado."
Understanding Mutual Aid 
While collective care describes a way of being in community with one another, mutual aid is a "specific strategy to build a community and culture of informal care," Bender explains. "Mutual doesn't mean equal. It's not about equality, it's about equity."
It's about providing for one another when there's a need — whether that's food, diapers, helping a neighbor with childcare or chores — without judgment and without an expectation for reciprocity. Mutual aid also teaches that "Everyone has needs, and everyone has something to give," Littman says.
Dunbar says it's important to note that collective care has long been central to marginalized communities whose needs are often unmet by government and other formal systems of care. There is also an established practice of mutual aid among anarchist, anti-capitalist and anti-racist social and political movements. Collective care and mutual aid aren't new — they're just mainstream in a way they weren't previously.
"It's a really unique time because we're so confined and isolated, and because there's a huge swath of people not getting their needs met," Bender notes.
The media scan of more than 50 articles showed that a variety of digital tools — including social media, crowdsourcing, video conferencing — were being used to coordinate people and resources, raise funds, create connections and educate others. "Findings encourage digital organizing to meet tangible and intangible needs when formal systems fail, while carefully avoiding reifying inequities based on differential access to technology," the researchers wrote in a forthcoming paper.
 
Read more about this research and Colorado mutual aid efforts in The Denver Post.
Read More
During the early months of the pandemic, the team also interviewed 26 mutual aid facilitators and organizers across Colorado — including in rural western and northern Colorado and the Denver metro area — to understand how they conceptualized mutual aid and what values, beliefs and ethics underlie mutual aid practices.
Although data analysis is ongoing, preliminary findings include that while some groups considered mutual aid to be a temporary response to crisis — first the pandemic, and then racial justice protests and wildfires — others saw it as a long-term strategy to meet needs that government is not, will not or should not meet. For some, mutual aid was apolitical, and for others it was rooted in ideology. Many participants expressed burnout: Organizing mutual aid efforts requires significant time and attention, and the need is greater than ever.
"In natural disasters, people come together and care for and trust one another," Littman says. "My hope is that we can continue that but not just in disaster. I heard a lot of hope around a future in which mutual aid flourishes."
They found that "mutual aid was able to flexibly respond to needs as they shifted across the phases of the pandemic, while simultaneously allowing for deeper relationships and solidarity to be built within communities," Bender, Littman and Dunbar wrote in a recent op-ed for The Colorado Sun. "The desire to belong and be in community aligns with a sense of shared responsibility to care for one another. Such beliefs may lead to efforts to build a more sustainable and well-resourced system of collective care, meeting the needs of all of us as we face complex future crises. In this future, support is abundant — there is always enough to go around."
Collective Care and Social Work 
But what does collective care mean for social work — a field bound up with and bounded by often entrenched systems and practices? "We're going to need to learn to care for each other in these really decentralized and authentic ways," Littman says. "Part of this is viewing myself as someone who has needs and someone who can ask for support in getting those needs met. We as social workers need to view ourselves as people with needs — not just helpers."
Dunbar agrees. "I'm looking forward to the ways we interrogate how we do this work as social workers with a little more dignity and respect for each other. One of the things that is frustrating in our field, we do a lot thinking about our clients and how we'll never be the client, and that's not realistic. You never know what's going to happen."
 
Read a Ms. Magazine essay about Professor Kim Bender's personal experience being the recipient of community collective care.
Read More
Social workers can advocate for policies that meet everyone's basic needs, but at the same time they must resist the urge to "fix" and systematize a response that works exactly because it falls outside of traditional systems of care. For those working within existing systems, Littman says social workers can lean into collective care by recognizing and removing barriers. "We have to dismantle ideas that people only deserve certain things or put limits on what needs are. Often our role is getting out of the way and getting back to social work values around the dignity and worth of the full person — the value of people as who they are."