Social Work Grad Stays Grounded
Yesenia Arreola wants to make change happen in her western Colorado home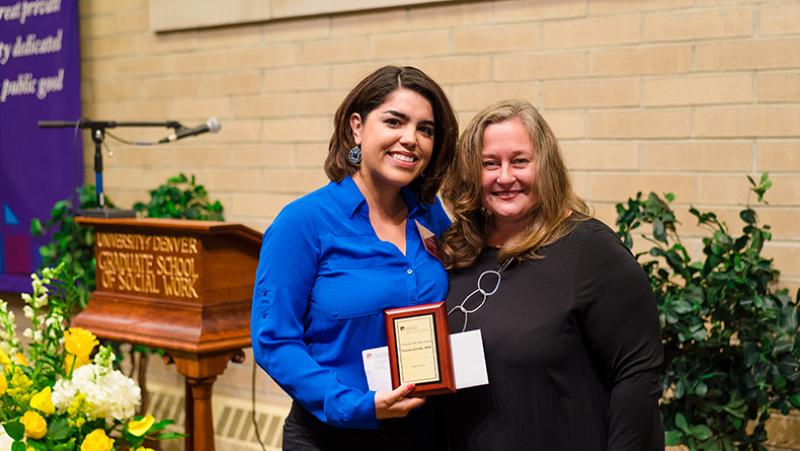 As a first-generation student, the daughter of immigrants and an immigrant herself, Yesenia Arreola didn't have many preconceived notions about how higher education could influence her own life, let alone the lives of others. Arreola, who will graduate from the Graduate School of Social Work's Western Colorado MSW Program in early June, says the story of how she ended up pursuing her master's degree in social work "all centers on the fact that I've grown up and am still living in Western Colorado."
Arreola was brought to the U.S. from Mexico by her parents at age 5. She grew up in Colorado's rural Roaring Fork Valley. "Coming to the United States and having the opportunity to access education was such a privilege, and one that I didn't take lightly," says Arreola. She was only the second in her family to graduate high school, and she earned a full-tuition scholarship to Colorado Mountain College (CMC) — a community college in western Colorado — after graduating.
"Initially, I intended to get a degree in business or accounting," she says, "mainly because I was told in high school that I was good at math." She adds, "And to be blunt, coming from a low-income family, you don't think about doing something you love. You think about doing something that will provide for your family."
But as she continued her studies at Regis University, Arreola began to feel the pull of home. She got a part-time job back at CMC, working with a former mentor in the youth outreach program. She began traveling to local middle and high schools, telling the story of how she pursued education, and says she was troubled by the way a lot of Western Colorado's youth go off to college and never come back to their community. "I also didn't realize until I graduated from college what a low percentage of youth graduate from high school, and even less from college."
She began working full time as CMC's Youth Outreach Coordinator, and after a few years realized she wanted to pursue another degree. She found out about DU's Western Colorado MSW Program, felt like it was a natural fit and began with the first cohort in the fall of 2013.
Everything was going well until the middle of her studies. Due to unexpected difficulties in her husband's immigration process — he ended up in Juarez and was unable to return to the U.S. — she was forced to withdraw. During the three months he was stuck in Mexico, Arreola cared for their young son and led an advocacy campaign with the help of local lawyers and community groups that ultimately helped him get back to Colorado. "I basically went into survival mode," she says. "It was a challenging time, but it made me really passionate about immigration."
Thanks to the support of GSSW faculty and staff, Arreola returned to the program and has nearly completed her degree. "People really stepped in to help me during that difficult time," she says. "All of the professors have been amazing — seeing their dedication to this program and how they are willing to travel from Denver to come and teach us is inspiring." She also praises her classmates. "I'm with like-minded individuals and we're dedicated to creating change," she says. "I feel like I was born to be a social worker."
Arreola says she enjoyed classes that focused on policy advocacy and community organizing, especially those taught by Kathryn Ross, associate professor of the practice at GSSW. She also was impacted by her class on immigration policy. "This class has been important for me because I've been able to share my own experiences with my fellow classmates," she says. She conducted a research project evaluating the impact of TRIO, a federally funded program that serves high school students in west Garfield County. Arreola serves as TRIO's director, so she can use that research to her advantage now and as she continues her job there after graduating.
"Being in this program while still embedded in the community where I grew up has been a great experience," she says. Regardless of which career path she decides to follow, Arreola is certain of one thing. "I want to be a leader in my community, and I want to continue inspiring others —especially our youth — to see beyond their own experiences to what they can accomplish."
This article originally appeared in the University of Denver Newsroom.