Supporting LGBTQIA+ Youth
Western Colorado grad Steven Moreno, MSW '23, fights for youth experiencing oppression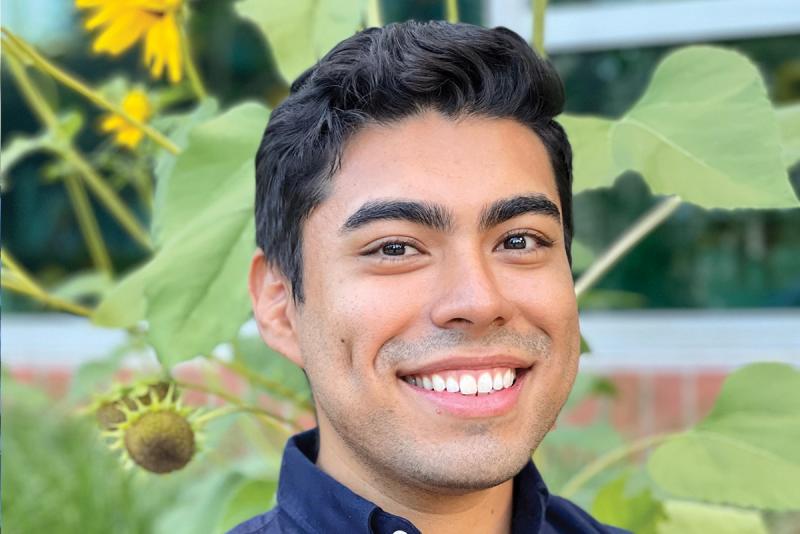 When Steven Moreno, MSW '23, enrolled in the University of Denver Graduate School of Social Work Western Colorado MSW Program two years ago, he was planning on a career as a counselor. When he graduated from the program this spring, he left with not just a career, but a calling.
As an undergraduate at Colorado State University, Moreno had discovered he liked working one-on-one with people, so becoming a counselor or therapist seemed like a good fit. He also had a passion for social justice. When other kids were watching sports, Moreno recalls, "I was watching speeches of Michelle Obama."
Based in Moreno's hometown of Glenwood Springs, Colorado, the Western Colorado program combines clinical preparation with a social justice focus. "Once I started the program, I fell even more in love with social work," Moreno says. "I came to become a therapist, but I stayed because of the social justice."
Since 2021 Moreno has been putting his social work skills into practice as a youth and young adult coordinator for Stepping Stones, providing case management and mentoring to middle and high school youth in Carbondale, Colorado. Moreno also interned at Bridges High School, where his work focused on prevention.
In August, he'll join the Aspen Hope Center as a mental health provider embedded full-time in a Basalt elementary school. "I'm excited to invest myself in the school for an entire year," says Moreno, who is one of the area's few bilingual Spanish-speaking clinicians. "I hope that prevention and giving them tools now will help them in the future when life gets stressful."
Moreno recalls his own struggles as a youth. "I think about how much I would have liked having someone who was like me," says Moreno, who identifies as queer. Now, he is that positive role model and source of inspiration for a new generation of youth. "I just want to celebrate who we are," Moreno says. "It's exciting to be who we are. I don't want them to have to worry."
Moreno also recalls a class with Clinical Associate Professor Stephen von Merz. "He was my first Mexican teacher," says Moreno. "It was so incredible to see him because I was able to see myself."
"I am so grateful for my community, for the people who opened the doors for me and the people who held the doors open for me. I hope to do that for the youth," adds Moreno, who is considering pursuing a PhD and becoming a professor himself. "I'm really grateful to the Western Colorado program for giving me the tools to continue the fight not just for LGBTQ or Brown youth, but any youth who are experiencing oppression. I graduated as a warrior."