GSSW welcomes Latine youth leaders to campus for Movimiento Poder's annual Liberation Camp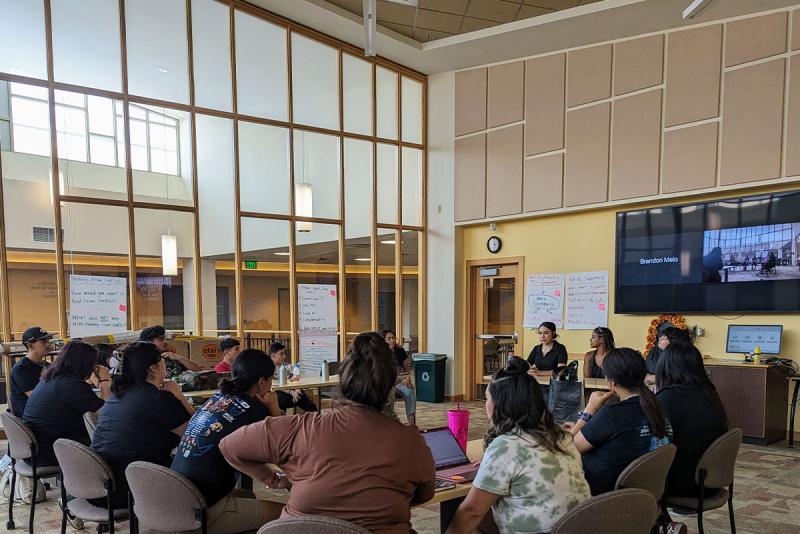 What if our society was led by those who are directly impacted by injustice? Through the local nonprofit Movimiento Poder, Latine youth leaders are working to mobilize collective power and make that vision a reality. This summer, the University of Denver welcomed 30 of those youth to campus to develop their organizing skills and transform as leaders.
Sponsored by the Graduate School of Social Work (GSSW), Movimiento Poder's Liberation Camp brought Denver Public Schools (DPS) high school students (and a few middle school students) to campus July 24–27 for four days of workshops on topics such as political education, the history of youth movements, community organizing, white supremacy, conflict transformation and healing justice. Students also practiced testifying and offering public comments, as they would before city council or the school board, for instance.
"I feel a real responsibility to open the doors to the university to those who might not feel this is their home," says Assistant Professor Mónica Gutiérrez, who proposed the idea for hosting the camp on campus and helped with logistics. "Let's start utilizing this space in a more active way. If we say we're for the community, we should always invite the community and make them feel comfortable here."
Guest speakers included Sturm College of Law Associate Professor Tom Romero II and Maria del Carmen Salazar, a professor and associate dean at the Morgridge College of Education; both professors are products of the DPS system. MSW student Hamilton Gray, an intern at Movimiento Poder, led a session on mental health and coping skills.
Led by working-class Latine immigrants, queer people, youth, women and families, Movimiento Poder (formerly known as Padres & Jóvenes Unidos) builds collective power through community organizing, leadership development and civic engagement. As a program manager for the organization, alumna Jessica Godinez (MSW and Latinx Social Work Certificate '22) collaborated with Gutiérrez to bring the camp to campus and is working to create a new mental health program for the nonprofit. "The organization has been known for organizing and social justice, but a lot of time in organizing, there's a lot of exhaustion and burnout because we're constantly inhaling trauma. Really good leaders in our communities tend to leave because they get that burnout," Godinez says. "We wanted to connect organizing and mental health because it's important that we're collectively and individually okay. If we're not okay individually, then collectively we can't reach full liberation of ourselves and [our] community."
In addition to providing organizing training and skills building through the camp, Godinez says, "We wanted to show our youth what it feels like on a college campus before they get to a college campus, if they choose to."
"Our youth are having a really rough time in school, physically, emotionally and academically," Godinez adds. We find there's not a lot of support for our youth in terms of going to college and supporting their careers. There's not a lot of representation on college campuses. We wanted our youth to have that motivation and inspiration, to connect with the campus, to see other staff and faculty who look like them and have similar backgrounds."
That sort of experience would have made a positive difference for both Godinez and Gutiérrez, they say. "I'm a product of immigrant parents. I was tracked in school. Nothing prepared me for a life of academia or to earn a doctorate," Gutiérrez says. "Seeing these youth reminded me of myself. The difference is that these youth were being encouraged to critique oppressive systems. To be in that room with these youth and having adults around them supporting them — it was powerful."
Camp participants are deeply invested in transforming the school system to be more just and equitable, Godinez says. They're working on weighty issues such as the return of school resource officers to Denver's public schools, the criminalization of students of color, the lack of representation of their cultures and histories in curricula, and the scarcity of mental health resources for students.
"Youth are now taking on all these societal issues that adults created," Gutiérrez adds. "These youth are the future. Given their lived experience, they are the ones that are going to shape the policies, engage in politics, but with these amazing ideas on how to create change."