These are some of the key skills social workers need to be successful
Whether you are planning to work in policy, community-based or group settings, or a therapeutic practice, social work is a path to a meaningful career with a lasting positive impact.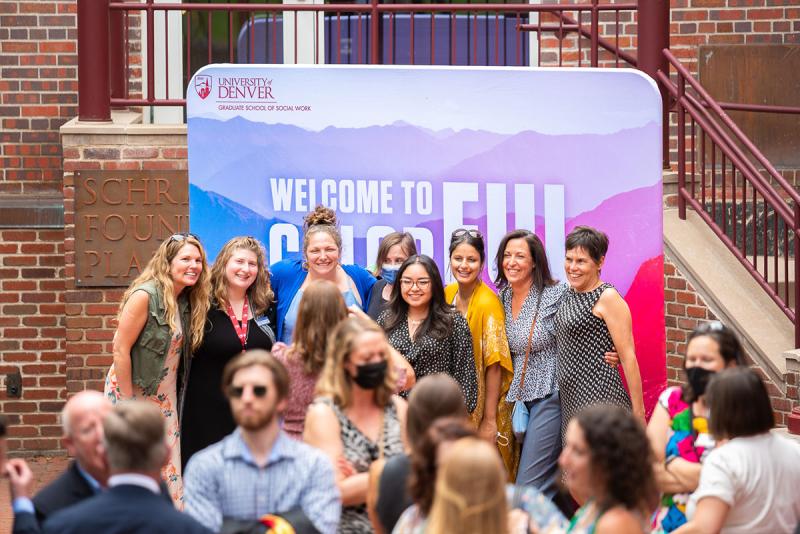 What does a social worker do?
Social workers help individuals and communities — particularly people who have historically been marginalized and oppressed — to address challenges and thrive. Careers in social work are extremely versatile, and social workers practice in a wide variety of settings, such as health care, community mental health, child welfare, hospice or long-term care, schools, ecological justice organizations and public-policy think tanks. The social work field is expected to continue growing faster than average through 2031, with more than 70,000 social work jobs available in the United States each year. Social workers who specialize in clinical practice are in especially high demand. Learn more about how to become a social worker.
What skills do you need to be a successful social worker?
A Master of Social Work (MSW) degree will help you to develop and hone the advanced social work skills you'll need, including empathy, patience, active listening, communication, cultural competence and cultural humility, advocacy, critical thinking, and a focus on power, privilege and oppression.
Check out some additional skills that are vital for successful social workers.
Learn More
Empathy
One of the most important social work practice skills, empathy is the ability to imagine yourself in another person's shoes and understand how they might feel. Research has shown that empathic social work practitioners are more effective and can balance their roles better, and clients experiencing empathy through treatment have improved outcomes. While it is difficult to teach empathy, it can be practiced and improved.
Patience
Clients' lives and problems are complex, as are the social problems people and communities face. Patience will help you to solve complex problems and navigate challenging interpersonal dynamics. In the policy realm, patience will help you stay the course to effect longer term changes.
Active Listening
You will practice active listening in your MSW program, learning to be attentive, ask appropriate follow-up questions, and use specific techniques to build rapport and trust and effectively engage clients or stakeholders.
Communication
From reading body language to writing clear case notes or compelling policy papers, social workers must excel at communication — both verbal and nonverbal. As a social worker, you will need to effectively communicate with diverse individuals, groups and organizations, often when people are experiencing acute stress.
Cultural Competence and Cultural Humility
People are experts in their own lives. As a social worker, you will work with people whose identity — such as race/ethnicity, religion or sexual orientation — may be very different from your own. When you practice cultural competence and humility, you bring knowledge and skills to help you navigate differences while engaging in an ongoing process of inquiry, discovery, self-reflection and self-awareness, remaining open to learning and growing in your understanding of yourself and others.
Advocacy
Social workers don't just listen — they actively advocate for the clients and communities they serve, especially those who have been historically marginalized and oppressed. As a social worker, you'll be a changemaker working to advance justice, including social justice, ecological justice and racial justice.
Critical Thinking
As a social worker, you must be able to objectively analyze and evaluate information — whether that's history from a client, findings from a research study or recommendations in a policy brief. Your MSW program will help you to hone your critical thinking and apply this skill through your internships.
A Focus on Power, Privilege and Oppression
The University of Denver Graduate School of Social Work MSW program goes beyond diversity, equity and inclusion to also emphasize the personal, situational, structural and cultural influences that advantage some groups and identities and disadvantage others. Students are trained in anti-oppressive practice and learn to see individuals and systems through a power, privilege and oppression lens to be effective champions for justice.