Human activity is driving global environmental degradation and threatening human health, well-being and survival. A Master of Social Work (MSW) degree with a concentration in Ecological Justice will prepare you to confront environmental crises and racism and cultivate a compassionate human presence on Earth, guided by social work values of equity and justice. As the first ecological justice MSW program in the United States, this concentration will challenge you to envision and create a world — inclusive of natural and built environments — that is thriving, healthy, and regenerative for all. You will gain the knowledge and skills to address environmental crises and to protect and restore well-being for people, other species and the planet. 
Climate change, biodiversity loss, pollution, natural resource depletion, and other urgent environmental problems are rooted in structural inequalities, oppression and lack of understanding of social–ecological systems and interdependencies. The concentration will help you develop a deep understanding of these systemic issues and how to address them. Core topics include social–ecological systems, critical anti-oppressive practice, systems thinking, traditional ecological knowledge, regenerative futures, social and environmental impact assessment, global and domestic policies for ecological justice, program development and administration, and strategies for building resilience with individuals, groups or communities. You'll graduate ready for a career as a social worker who applies social justice and ecological justice knowledge, values and skills to improve the health and well-being of all life. 
Beginning fall 2021, the Ecological Justice concentration will replace the concentration in Sustainable Development & Global Practice. In addition, we will offer a Global Social Work Certificate.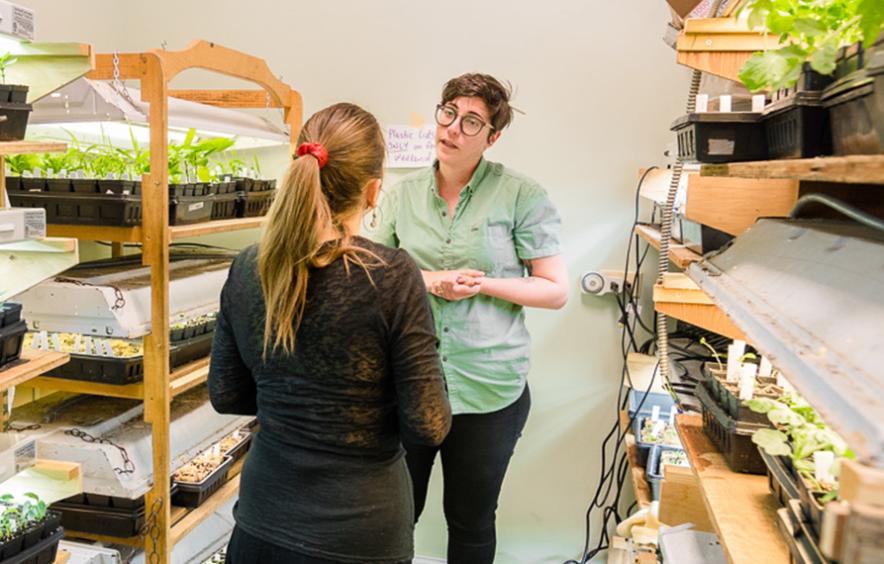 Your Career Options
With an MSW concentration in Ecological Justice, your social work career could include: 
Developing and advocating for policies that promote the health of people and the planet 
Working on projects to support circular and regenerative economies locally, nationally or internationally 
Working with non-governmental organizations and local, regional and national governments on issues such as environmental racism, air pollution, food security, biodiversity preservation, and energy justice 
Apply social–ecological systems science and understandings in all work settings to improve relationships humans have with other species and the natural environment
SOWK 4360
Social–Ecological Systems
About this Course
This course builds a social ecology perspective that emphasizes integrated social-ecological systems as a necessary theoretical framework for understanding the inter-connectedness of human health, wellbeing and resilience with that of other species and the natural environment.
SOWK 4565
Social and Environmental Impact Assessments
About this Course
Social and environmental impact assessments are important tools for analyzing and managing both the intended and unintended consequences of development projects on human and ecological systems in order to bring about a more equitable and sustainable social ecological system. This class incorporates an understanding of the history and concepts of the three levels of impact assessments (micro, mezzo, and macro) into the research process that is the core of social impact assessments. Students prepare and evaluate social ecological impact assessments through learning to identify and define problems, select theoretical frameworks appropriate to the problem, identify research questions, design a study appropriate for the identified questions, gather and analyze data, and write the final assessment. Particular attention is paid to assessing the effects of interventions on vulnerable populations. Other topics will focus on the practical aspects of project team selection and management, timelines, and the communication of findings to stakeholders.
SOWK 4990
Creating a Regenerative Future
About this Course
This topics course provides students with the opportunity to learn content appropriate to graduate social work education that is not currently incorporated into the standard MSW curriculum. Given the ever-changing nature of social work practice, theory, and research, topics of importance emerge each year that have particular relevance for a period of time or maybe new emergent topics that will have relevance for the future of the discipline of social work. As such, this course provides a mechanism through which courses may be offered on a one-time basis. Topics may be related to social work practice, theory, or research. Topics vary from term to term and may be limited by program administrators, faculty, or by student interest.
Explore some of our field education locations with a focus on ecological justice
Upcoming Final Application Deadline: August 2021 Two-Year Denver Campus Program
---