New MSW grads represent the best of social work scholarship, service and practice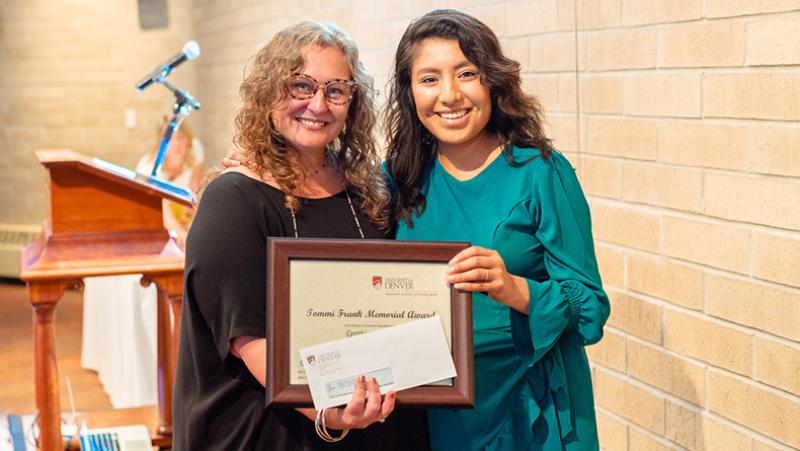 Dean McBride and Cynthia Moreno (MSW '19), recipient of the Tommi Frank Memorial Award
Student Awards for Academic Papers 
Ozy Aloziem (MSW '19), Edith M. Davis Award
The Davis Award recognizes the best paper focusing on a person or persons of color. This award honors Professor Emerita Edith M. Davis, who was the founding director of the GSSW doctoral program. Aloziem's award-winning paper focused on historical trauma among Black women. "Historical trauma produces the necessary conditions that make the premature death of Black women possible as well as the erasure and silencing that occurs in the after," she wrote, noting that the aim of her paper was to "make visible the experiences of Black women, as shaped and perpetuated by historical trauma."
Cynthia Moreno (MSW '19), Tommi Frank Memorial Award
The Frank Memorial Award is named for the late Tommi Frank, MSW '64. It recognizes the student judged by faculty to have submitted the most creative and imaginative piece of writing related to social work. The award particularly values the creation of new concepts, arrangements of concepts and/or new ways of relating knowledge to practice, profoundness of thinking and the scholarly application of such thinking to the refinement of theory and/or practice and to applicability for use in practice. Moreno's paper described her family's migration story and explored their indigenous identity through a Mexican and United States historical context. "It became evident to me how my family carries intergenerational trauma in our genes and the scars by the cumulative emotional wounding of my Nahua ancestors caused by traumatic events of colonization," Moreno wrote. "As a social worker, operating through a healing approach to chronic pain, I wanted to understand how my family copes and heals through the impacts of Spanish colonization that occurred in the Americas … Understanding the roots of my family's social conditions informs my racial identity and my experience as an indigenous woman living in Gringo land."
Hannah Wolfson (MSW '19), Meritorious Program Evaluation Award
This award was created by the OMNI Institute, a Denver-based research firm committed to applied research in the social sciences. It honors a student whose individual paper demonstrates exemplary understanding of and commitment to social work research. Award criteria include relevance to social work practice, originality, depth of analysis, clarity and excellence in writing. Wolfson's project sought to illuminate providers' perceived barriers to provide gender-affirming care at Salud Family Health Centers. Using semi-structured interviews with a snowball/purposive sample of seven Salud providers, Wolfson found that Salud providers largely feel underqualified in this aspect of medicine and desire more training.
Nicole Versaw (MSW '19), Ina Mae Denham Award
The Denham Award is presented annually to the graduating student who writes the best clinical paper describing and analyzing his/her own actual case practice, including the rationale and application of appropriate interventions based on relevant theory and clinical literature. The Colorado Society for Clinical Social Work created the award, which includes a cash award and society membership. The award selection committee wrote that they were impressed with Versaw's "application of the Attachment, Regulation and Competency (ARC) framework to the difficult case of a young child and her mother facing recovery from a traumatic experience and troubled family dynamic. Ms. Versaw's ability to select the ARC framework as most appropriate, consult the clinical literature, and discuss the potential drawbacks of the framework were well explored. Furthermore, her examinations of her own identity and transference issues were appropriate to that of a social worker in clinical social work."
Student Awards Based on Faculty and Field Nominations 
Eduardo Viezca (MSW '19), Ruth Marx Stark Award for Excellence in Field
The Stark Award recognizes excellence in field work, emphasizing innovation, creativity and commitment to social work practice. The award is named for Ruth Marx Stark, who attended the University of Denver in the mid-1930s then devoted many decades of her life to volunteering in Denver-area agencies, international development programs and political action organizations. Viezca served as a clinical intern at Denver Family Institute, where his supervisor said he "embraced the process of pushing our system toward a culturally responsive and socially justice path of action." Described as a "champion for our clients who are marginalized," Viezca "continues to be one of the most authentic therapists and people we have had the pleasure of working with at our agency."
Ericka Dries (MSW '19), Dean Catherine F. Alter Merit Award
Named for Dean Emerita Catherine F. Alter, GSSW dean from 1996–2006, this award recognizes a graduating student from GSSW's off-campus MSW programs who most closely epitomizes the best of professional social work: a keen intellect, a passionate dedication to empowering underserved populations, and a commitment to continuously improving practice. A CLIMB@DU stipend student in the Western Colorado MSW Program, Dries "embodies professionalism and is a leader within the cohort," her nominator wrote. Dries is a military veteran and a native of Colorado's Roaring Fork Valley, where she plans to continue to work with women in health care systems.
Morgan Barnes (MSW '19), MSW@Denver Merit Award
The award recognizes a student from the MSW@Denver program who most closely epitomizes the best of professional social work: a keen intellect, a passionate dedication to empowering underserved populations, and a commitment to continuously improving practice. As a member of the online program's first cohort, Barnes demonstrated "dedication to social work's social justice mission" her nominators wrote. She consistently centered social work values in her coursework, and "her assignments illustrated a high level of conceptual and practical application."
Lauren Carpenter (MSW '19) & Jenna Marceau (MSW '19), William Bartholomew Memorial Award
The William Bartholomew Memorial Award was established in 2018 to honor William Bartholomew, MSW '04, who devoted his professional life to empowering individuals to fulfill their potential and overcome barriers posed by factors such as trauma, addiction and oppression. The award honors students who embodies principles of social justice, preservation of human dignity, and a commitment to facilitating healing of human suffering. In her award application, Carpenter shared her own family's traumatic struggles with addiction. "Addiction has been a series of growth, loss, crisis, healing, sleepless nights, trauma, compassion, and grief. It has not been a linear diagnosis for our family," Carpenter wrote. "My Master of Social Work degree has helped give me the tools to advocate for those with substance use disorders and for children who live with parents or siblings using substances."
"As a social worker, my commitment to healing is not because I think I can heal clients, rather it is because I believe my clients can find healing themselves, and I want to be a part of facilitating their process," Marceau wrote in her award submission. "My passion for the well-being of others is sustained by my devotion to social justice, dignity, healing, and empowerment, and in my time as a social worker, I hope to bring these principles to life."
Anna Reid (MSW '19), Dean Emil M. Sunley Award
The Sunley Merit Award was first presented in 1971 by Dean Emil M. Sunley, in whose honor the award was created. It recognizes meritorious service to the school or the profession of social work. As an advocate for improving accessibility in higher education, Reid has been instrumental in advancing Universal Design for Learning (UDL) at GSSW. "She is extremely thoughtful and supportive, not only towards her colleagues, but also towards GSSW as an institution," a nominator wrote of Reid. "Every suggestion she makes with regard to how GSSW can do better with … UDL and accessibility is well-researched and strategic with appreciation for how far we've already come as well as how far we still have to go. She has shown tremendous capacity for kindness and solidarity for other students who might be struggling and asks complex and critical questions about content and the application of theory to practice."
Ozy Aloziem (MSW '19), Jean Peart Sinnock Award
The Sinnock Award honors Professor Emerita Jean Peart Sinnock and recognizes a student who has demonstrated outstanding capacity for leadership, purposeful working relationships with faculty and students, and outstanding classroom performance. The recipient must demonstrate conviction about the values of the profession and must have developed a social conscience and an active awareness of — and participation in — community concerns. "She is both a critical thinker and a strategic and thoughtful change maker," Aloziem's nominator wrote. "Ozy approaches situations with careful consideration of both the present and historical context and asks challenging but valuable questions about social work education and the position of students and social workers of color."