Award-Winning Social Workers
Exceptional GSSW graduates garner social work awards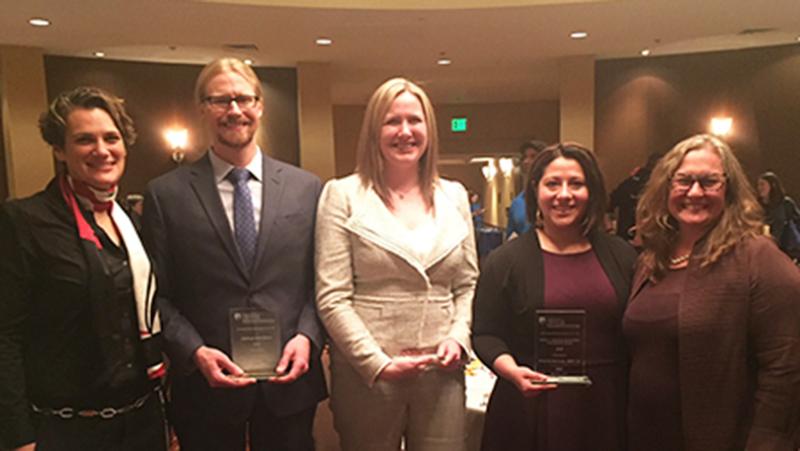 In March each year, the National Association of Social Workers celebrates Social Work Month to recognize the valuable contributions social workers make to society. The Graduate School of Social Work (GSSW) joined this effort by presenting Alumni Awards to graduates who embody the best of the profession.
GSSW recognized alumni Priscilla Montoya Vitello, Carmen Sample and Frank Jadwin at its March 8 award ceremony.
Priscilla Montoya Vitello, MSW '13
Robert L. Hawkins Social Work Achievement Award
This award is presented to a GSSW graduate who has demonstrated professional achievement by being a social work administrator and civic leader. The award is named in honor of Robert L. Hawkins, MSW '67, who rose through the ranks at Colorado Psychiatric Institute in Pueblo, eventually becoming the first social worker appointed as its superintendent.
Priscilla Montoya Vitello is director of evaluations and special programs at the Latino Community Foundation of Colorado, an initiative of Rose Community Foundation. She oversees internal and external evaluation across five major initiatives — including the Latino Age Wave, HIP to College, Latinas LEAD, the Colorado Immigrant Funders Collaborative and mental health access for Latinos in rural Colorado — as the organization transitions to gain independent nonprofit status. Vitello incorporates inclusiveness and social justice into her evaluation methods and projects, including the HIP to College initiative, which has helped more than 1,200 Denver-area Latino youth matriculate to post-secondary education. She also is collaborating with Community Democracy Workshop to ensure that community remains the focus of the foundation's work.
Carmen Sample, MSW '08, LCSW
Community Service Award
This award is presented to a GSSW graduate who has demonstrated significant and continuous volunteer involvement in major community activities and/or charitable causes, above and beyond their employed position.
Running socially conscious businesses is a passion for Carmen Sample. After a decade of working with people with developmental disabilities and mental health needs, Sample founded Sample Supports in 2010. Today, the agency provides comprehensive services to 500 individuals with disabilities throughout Colorado. Sample also started several other businesses that work in partnership with Sample Supports to provide employment opportunities to individuals with disabilities. More than 80% of her leadership team and executive positions are filled by women, and empowering other talented female leaders is a cornerstone of Sample's business approach. Sample has demonstrated that social workers can become successful social innovators whose enterprises have long-term financial sustainability independent of donations and nonprofit red tape.
Frank Jadwin, MSW '11, Latinx Social Work Certificate '11
GSSW Service Award
This award is presented to a GSSW graduate who has contributed to or served the Graduate School of Social Work in a noteworthy and significant fashion through personal effort and/or financial contribution.
Frank Jadwin attended GSSW following a tour in the Peace Corps, where he served in the rural Peruvian Andes. After earning his MSW, he spent several years working in community mental health before transitioning to integrated primary care. Today he serves as director of integrated services for Salud Family Health Centers, where he works to advance the delivery of behavioral health services in a primary care setting. Jadwin has remained involved in the Latinx Social Work Certificate program, answering virtually every invitation to participate in meetings, classes or events. He has also served as an adjunct instructor at GSSW, and he has actively supported the school by making introductions and helping GSSW to network in the community.
Community Social Work Awards
Also in March 2018, the Colorado chapter of the National Association of Social Workers honored Rebecca Meyers, MSW '12, with its Social Worker of the Year Award. The Colorado Society for Clinical Social Work recognized two GSSW graduates for outstanding contributions to the field: Bethany Raab, MSW '06, LCSW, received the Most Distinguished Clinician award, and Elizabeth Schulte, MSW '09, LCSW, received the Community Service Award.
"I am so proud that alumni have dedicated their lives to being champions for social change," says Carly Einstein, director of Alumni Engagement for GSSW. "The commitment of our alumni to improving our communities through their work in Denver and beyond is an inspiration."
What's happening in your life or career? Share your news by submitting a class note.
Share Your News