COVID-19 and racism are changing social work's approach to child welfare practice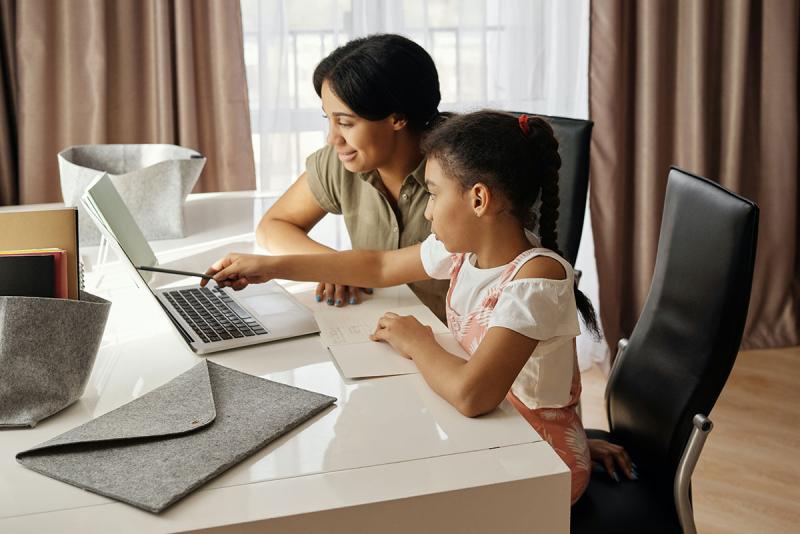 The COVID-19 pandemic has transformed virtually every facet of American life — from how we work, to how we learn, to how we socialize. Social systems have been a part of that change, including the U.S. child welfare system, which serves more than 3.5 million children annually and employs tens of thousands of people nationwide.
For a field that relies on in-person contact, the abrupt, pandemic-driven shift to more virtual contact was a monumental change. At the same time, a groundswell of support for addressing systemic racism has prompted deeper reflection about how racism is at work in child welfare. The confluence of these social movements is bringing about change that may have lasting, positive impacts on the child welfare field as well as the families it serves.

New Challenges in Child Welfare 
Nationwide, the number of child welfare case reports has dropped since the pandemic began, partly because mandated reporters — people like teachers and pediatricians — have had limited contact with kids who are social distancing at home.
Denver has seen a similar trend, says Denver Human Services (DHS) Child Welfare Director Josie Berry, noting that the city's child welfare referral rates dropped by almost 50% from April to June 2020. But of the potential child welfare cases reported to DHS, she says, a higher proportion are a result of high-risk abuse or neglect reports rather than lower-level concerns that are often related to poverty — for instance, a child who doesn't have clean clothes.
That doesn't necessarily mean there is more abuse and neglect, Berry says. It may just be that high-risk abuse and neglect is more apparent now that other concerns are screened out. Still, incidents of family violence are increasing, Berry says. There are also concerns for parents dealing with substance use disorders, especially as they try to cope with the stressors of poverty, racism, and a pandemic at a time when treatment and other sources of support, such as connections to sober friends, may be more limited. Indeed, the adversity faced by families involved in the child welfare system is arguably greater than it's ever been in the 50-year history of the modern child welfare system.
"People are desperate for resources," Berry says. Families need immediate help with things like housing, food, even burial assistance. DHS has worked to meet that need. For instance, the agency partnered this spring with Denver Public Schools, whose social workers alert DHS to struggling families so they can quickly connect them with resources. "Across the agency as a whole, we've done better collaboration to get families what they need quickly."
As family needs have changed, so too has the way in which child welfare social workers do their jobs. At DHS, new cases are still assessed or investigated in person, but case workers now mostly meet virtually with families already involved in the child welfare system, says Ashley Lambert, lead social case worker for DHS. "Early on, we were doing more frequent check-ins [with families], asking if there's anything we can do to help," she says. "It's been helpful for a lot of families to have that increased contact."
In the past, the court process was a barrier for child-welfare-involved families, Lambert notes, but virtual court hearings have increased engagement and reduced stress on families, who previously may have to take multiple busses to get to court and then wait hours for their case to be called.
 
Learn more about Ashley Lambert and innovations in child welfare
Read More
More virtual contact also has "opened the door for more interactions between dads and caseworkers and dads and kids," says Graduate School of Social Work (GSSW) Professor and Associate Dean for Research Jennifer Bellamy, whose current research includes a multi-state project to better engage fathers in child welfare services. Virtual engagement is easier to set up, she says, and foster parents may be more comfortable with "dad coming in on Zoom to read a bedtime story for 15 minutes, maybe every night, than taking the child somewhere physically."
"Although the quality isn't the same — you can't hug or play with your child in the same way — it does seem like it's giving dads more access," Bellamy adds. "But, the concern is that dads will get virtual instead of real interaction, that there won't be as much of an effort for dads to get to hug their kids, too. I'd like to us to offer things more flexibly for everyone."
Transforming Practice 
In child welfare, Bellamy says, "We expect people who are super diverse to fit into the service box we created. The pandemic showed us the box doesn't have to look that way."
One significant obstacle to innovation in child welfare has been the very federal regulatory and funding framework intended to protect and support kids and families, Berry says. But pushed by the pandemic, federal agencies responded quickly this spring to allow virtual visits and other changes to standard child welfare practice, underscoring the need for social workers — and the children and families served by the child welfare system — to be actively engaged in shaping policies and practices to improve services. The child welfare system that is emerging from the first six months of the pandemic has the potential to be more flexible, responsive and efficient if some emergency solutions become permanent practice.
For example, there are more training and service opportunities now offered virtually for families and child welfare workers in rural areas, says Bellamy, who is working on another project to improve post-adoption supports for Colorado families.
And, quickly meeting family needs for resources such as food and diverting poverty-related concerns to other agencies can free up child welfare workers to focus on higher risk abuse and neglect cases, Berry says. "Any time communities can take care of families without [child welfare] involvement is a win," she says. "The more we can support community involvement, community resource centers, those things that are really creative and innovative — the more those can be funded — communities will have what they need in an upstream way."
On the front lines, flexibility is an indispensable skill for a child welfare worker, Lambert notes, now more than ever. "No families are the same. It's not about cookie-cutter requirements or responses. It's about being flexible, being able to prioritize families' needs — we want to meet them where they're at. It's about listening to them and their story."
"We're in the place where we have a lot of opportunities," Lambert adds. "COVID isn't the way we wanted adjustments to happen, but the silver lining is the innovations. We hope to make some of those adjustments more permanent."

Addressing Issues of Equity 
While the COVID-19 pandemic was unfolding, the nation was also gripped by widespread social unrest focused on systemic racism — a persistent issue in child welfare as well as justice, education and other social systems. Nationwide, children and families of color and indigenous children and families involved in the child welfare system have worse outcomes over all, and their cases are more likely to be investigated, substantiated and recommended for out-of-home placement. Reform efforts haven't successfully addressed these longstanding inequities.
"We've done almost nothing to move equity forward in child welfare," says Bellamy, whose father project has an explicit racial equity focus. "But we still don't have a lot of clarity on the strategies to do that. People have been waiting on leadership to do it. Now it has to be all of us, and it cannot wait."
In this context, recent demands to defund the police have been joined by a call to reform the child welfare system. Movements such as upEND are examples of such reforms, says GSSW Assistant Professor Amy He, an investigator on the GSSW Butler Institute for Families National Child Welfare Workforce Institute (NCWWI) project to increase child welfare workforce capacity.
The changes needed include front-line practice, such as virtual court hearings and family home visits, but deeper work is also required, particularly as it relates to the intersections of race and poverty with the justice and child welfare systems. That work must cut across all levels where racism is at work, from the personal and interpersonal to institutional and structural levels, says Carole Wilcox, director of operations at the GSSW Butler Institute for Families and NCWWI co-principal investigator for knowledge dissemination.
That work can start in the social work classroom, says Professor He, noting that like police, child welfare workers hold dual roles as helpers and social control agents. "We train students to think about the complexities, the moral ambiguities. We help them think through the history of child welfare as a tool for oppression, to know where there's possibility for change and how they as social workers can be part of that change. Students come in thinking about child welfare from a clinical practice versus systems change perspective, but both are needed."
Fundamentally, change will require shifting how we think about social welfare, she says. For instance, parents who have substance use issues may need treatment rather than child welfare intervention. "If a parent had cancer and was so sick they couldn't take care of their kids, we wouldn't take the child away. We'd get family involved and find medical treatment."
The confluence of social upheavals has created an opportunity for change that didn't exist six months ago, Professor He says. "I've never seen child welfare leaders look at changing racial inequities to such a degree as they are now — they're taking a deeper dive and taking it seriously. It's at the top of the agenda."
Research may be able to help point the way. Bellamy is interested in studying the effectiveness of pandemic-related changes to child welfare practice, and in examining the long-term impacts of trauma related to the dual pandemic of COVID-19 and racism.
"What can we do to address trauma on a public health level?" Bellamy asks. "We expect the frontline folks to do it, but the trauma is collective, at a population level. It needs a collective, population-level response."
"We have to take a structural approach to looking at policies, practices, procedures," Wilcox adds. For instance, "Are the instruments we're using possibly revealing different results because they're too subjective? That kind of system change takes a long, dedicated path of work.
"My worry as a child welfare professional," Wilcox continues, "is that the pressure of any system to stay the same will reveal itself over time. There has to be a sustained, dedicated action to cause change."