Creating Rural Community Partnerships
Four Corners MSW Program bridges community and higher education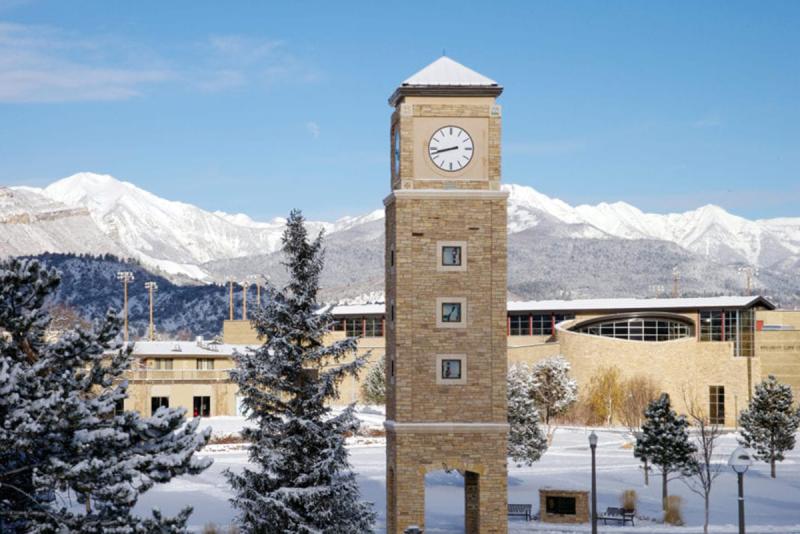 Although it's rich in history, culture and stunning scenery, the Four Corners region faces a shortage of mental health practitioners. The University of Denver Graduate School of Social Work offers one solution. Its Four Corners MSW Program serves as a bridge between its students and the area's community organizations and nonprofits.
More than 60% of rural Americans live in mental health professional shortage areas, according to the 2018 U.S. National Institute of Mental Health report "Mental Health and Rural America: Challenges and Opportunities." The Four Corners region has more social work jobs than it has social workers, but Four Corners MSW Program graduates — 196 since the program's founding in 2002 — have helped to meet the need, with many remaining in the area to work in various settings, including integrated health, medical organizations and criminal justice.
For some Four Corners MSW students, the path starts at Fort Lewis College, where undergraduate students may begin Master of Social Work courses in their senior year, allowing them to complete their bachelor's degree and MSW in five years. MSW students intern at any of GSSW's more than 100 regional partners, including Fort Lewis College Counseling Center, where interns in its two-year clinical training program provide counseling services to the campus population.
Amie Bryant, MSW '06, is the director and training coordinator at Fort Lewis College Counseling Center. Prior, she was an adjunct faculty member and field liaison for the Four Corners program. She says the counseling center has trained dozens of program students over the years. Each year, the center accepts one to four program students to join the highly competitive training cohort of seven to nine graduate students for a two-year internship. 
"Having a relationship with the DU program is mutually beneficial. It allows a diversity of discipline within our training program, and it gives DU the opportunity to provide a robust clinical experience for their students interested in a clinical social work track — a rare find in our rural area," Bryant says. "Our ability to work with and grow DU students serves Fort Lewis College students in the short term, and through a ripple effect, the greater communities in which the interns later land in the long term."
Cheyenne Bellarosa (pictured), MSW '20, interned at the center for two years and now works as a clinician at High Mountain Counseling and Training Institute. "Walking alongside people in their growth and darkness, as well as who I am as an Indigenous, Ashkenazi Jewish woman, allows me perspectives into historical trauma, intergenerational trauma, systemic oppression and complex grief," Bellarosa says.
Janelle Doughty, MSW '04, is the Four Corners program director and associate professor of the practice of social work. She says the focus on rural social work and Indigenous communities attracts students interested in those areas. "Faculty members integrate those two topics into their course content. For example, when studying practice theories, we explore how they might or might not apply cross-culturally," Doughty says.
Rainer Barnhart's work in wilderness therapy piqued his interest in becoming a social worker. He recently completed his first quarter in the Four Corners program and anticipates graduating in 2022. "I was interested in learning about systems, populations and policy as well as counseling," Barnhart says. He wants to bring outdoor activities like climbing into social work to break barriers between therapists and patients. Barnhart also interns at Fort Lewis' counseling center.
"It is an amazing experience to work with students who are going through so much under COVID, like having to transition online for school," he says.
That transition was also difficult for some MSW students who were beginning the program, as well. When Kait Verbrugge (pictured), MSW '22, started her GSSW program last fall, she wondered about the timing. But, she says, "The virtual field experience made me feel like I'm right where I'm supposed to be." With actors to fill the role of clients in the virtual field experience, Verbrugge says, she has two trimesters to practice before working with real clients.
The Four Corners program gave single mom and LaPlata, New Mexico, native Toni Larby (pictured), MSW '20, the chance to continue her education while she raised two teenage sons. During her program, she worked with Four Corners Rainbow Youth Center and ran Gay-Straight Alliance meetings for a middle school. Larby received the 2019–20 Dean Catherine F. Alter Merit Award for most closely epitomizing the best of professional social work.
"My education opened doors for me to explore topics I had not previously considered and the skills to turn my passions and desires to help others and fight oppression," Larby says.