As he retires from the social work stage, Prof. William Cloud is celebrated as a teacher, mentor and scholar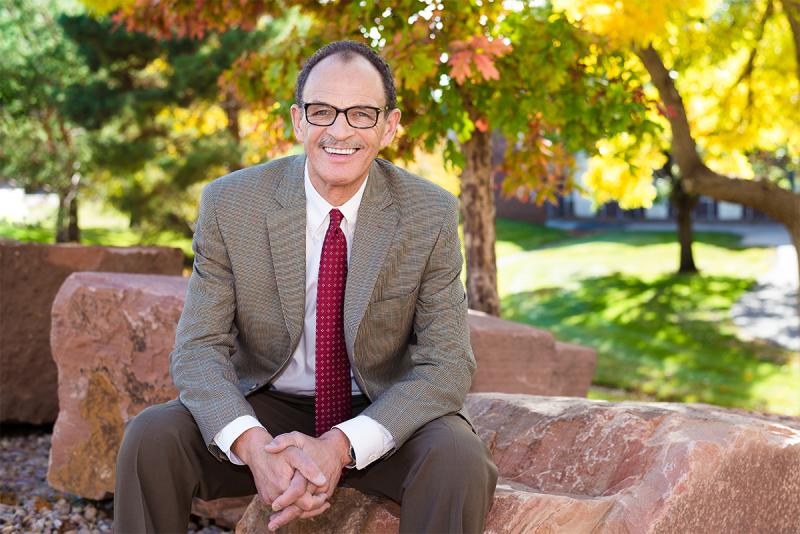 On a summer afternoon two decades ago, Professors William Cloud and Robert Granfield developed their recovery capital construct while grilling burgers in Cloud's backyard. The idea reframed the addiction and treatment field, but recovery capital's genesis was much earlier.
The lineage of Cloud's transformative idea can be traced back to the neighborhood Cloud grew up in in Chattanooga, Tennessee; to Vietnam War protests, the civil rights movement and the counter culture of the 1960s and 70s; to post-war college campuses; to Cloud's experiences as a substance abuse counselor and also as a case worker for the Chattanooga Department of Human Services. In those formative years, Cloud saw many people use drugs yet still go on to thrive while others lost the battle with addiction.
"How is it that some people are able to get over addiction and others aren't? Some people enter treatment four or five times and still struggle with it; others never enter treatment and they're doing fine," says Cloud, PhD '87, who is retiring in December after 30 years as a University of Denver Graduate School of Social Work (GSSW) professor.
The difference, he observed, was that those who were "doing fine" had more social capital than those who were struggling with addiction. "I knew people who had done drugs in college and went on to successful careers. Those who used drugs and stayed home in the neighborhood didn't," Cloud says. "I saw that poverty was a barrier to getting well. That was enlightening."
Cloud's insight — shaped by his personal experience as a Black man — carried through his career and culminated in the recovery capital concept.
The Path to Social Work
Cloud had started acting in first grade, and initially, he planned to be an actor. He enrolled in Tennessee State University in Nashville, one of the state's historically Black colleges and universities (HBCUs), with a major in speech and drama. "I changed my major to social work because I wanted to have an impact on people's lives. The dreamy stuff about acting wasn't a contribution; I wanted to do something rewarding where I could make a difference."
For Cloud, the first person in his family to go to college, the path to a degree wasn't a straight line. He dropped out for a time and returned to Chattanooga, earned a two-year social work degree from a community college, worked, and then returned to Tennessee State to finish his BSW.
"I did well when I returned to college. I was president of the social work honor society and the student government representative from the social work department," says Cloud, who received a minority scholarship to pursue his MSW at the University of Louisville. "My intentions were to go back into practice in mental health and substance abuse after getting my MSW."
But Cloud never returned to clinical practice. Instead, he accepted an offer to teach at LeMoyne-Owen College, a small HBCU in Memphis, Tennessee.
With help from another minority scholarship — the Council on Social Work Education (CSWE) Minority Fellowship Program — Cloud attended GSSW to pursue his PhD. He returned to LeMoyne-Owen College with his doctorate, directing the school's social work program and founding a community development program at a housing project across from the school. Cloud joined the GSSW faculty in 1990, and in 1991 he co-founded GSSW's Bridge Project, a positive youth development after-school program modeled on the community development program he'd started in Memphis. Over 29 years, the program has served more than 1,000 youth living in Denver public housing communities.
A Starring Role as a Teacher and Mentor
Although he never returned to direct practice, Cloud has fulfilled his goal to make a difference as a teacher and mentor. He has stayed in touch with many of his former students, who he speaks of with pride and admiration.
"He always pushed me to be better. Nobody has ever pushed me the way he did. He was on my back, in a good way," says Nicole (Ennes) Bryant, MSW '17, who is completing an EdD in behavioral health leadership at Grand Canyon University. "I'm only 25, but I've had leadership positions that I didn't think I could get. I ran a 241-bed facility when I was 22. I never thought it would happen, but it did because of him."
Cloud was Bryant's first-ever African American teacher, and she says that representation in the classroom mattered. "He went out of his way to say 'Hi' and became like a father figure to me," Bryant says. "If I was struggling with something on campus or socially in the world, I could go to his office and have a conversation."
GSSW Associate Professor Kate Ross, MSW '97, agrees. "There were always all these people gathered outside his office door," she recalls. "We'd get into these really good conversations — we were so engaged."
That engagement started in her first course with Cloud, Ross says. Twenty-five years later, she vividly recalls that community practice course. "He asked us to write a quick proposal for a grant. Some of the students were the foundation making the decision, some were pitching the grant. I remember this exercise so well because we were so engaged."
"I remember loving learning in his class and laughing all the time," Ross says. "He had this mixture of provocative topics that challenged us but also provided a context that made us wonder."
Cloud ignited that sense of wonder in Brian Polovoy, MSW '14, LCSW. "I was really interested in substance use disorder from a practical and policy perspective," Polovoy says. "I started talking to William and began to subscribe to his research on natural recovery. I began to see substance use disorder and treatment from a different, more practical lens. What started as a mentorship became a friendship and an exchange of ideas."
Part of what makes Cloud such an effective teacher and mentor, Polovoy and other former students say, are his warmth, his curiosity, his honesty, his insight. He shares his knowledge, but in a way that encourages students to arrive at their own conclusions.
Honor William Cloud at a virtual retirement celebration on Thursday, Dec. 3.
RSVP
Today, Polovoy works for Denver Health and Hospital Authority as a licensed behavioral health care coordinator for the Denver Health Medical Plan. He's launching a substance use disorder program and recently tapped Cloud for advice on best practices to ensure that natural recovery principles are included in the implementation. "One thing William taught me that reframed my thinking was that at some point along someone's life journey, using a substance was a choice they made, and because they made that choice to start, they can also choose to stop," Polovoy says. "That's something I've taken into my work. The idea of choice — the client's right to self-determination. I use that on a regular basis."
From 2001–2019, Cloud chaired the CSWE Minority Fellowship Program Doctoral Advisory Committee, helping to select a handful of preeminent scholars from among the 75 or so applications received each year. Funded by the Substance Abuse and Mental Health Services Administration, the Minority Fellowship Program has supported around 675 doctoral students since its founding in the mid 1970s, aiming to reduce the effects of substance abuse and mental illness on America's communities by increasing the number of individuals trained to work with underrepresented and underserved people with or at risk for mental health and/or substance abuse disorders.
"William has been key in developing minority faculty in schools of social work nationwide," says GSSW Professor Emeritus Jim Moran, former vice provost for graduate studies and research and associate provost for multicultural affairs at the University of Denver.
Without the unique lens of his personal experience, Cloud says, he might never have understood addiction the way he does, and without the CSWE Minority Fellowship Program, he wouldn't have had the education or platform to bring his recovery capital idea to the world.
"Many of the clients that we work with and study, the social problems we tackle, are born in disadvantaged communities," Cloud says. "You don't have to have a heart attack to be a heart surgeon, but it sure does help you to understand. We need more than one perspective."
Developing New Ideas
Cloud and Robert Granfield met as new assistant professors at the University of Denver — Cloud in social work, Granfield in sociology. Cloud had been browsing in the bookstore and noticed they both used the same book in their courses: Stanton Peele's Diseasing of America. Intrigued, he called Granfield and introduced himself. "We realized we were sympatico on our thinking on addiction," Granfield recalls, and the two began collaborating.
In the early 1990s, Cloud was PI on a grant from the National Institute on Alcoholism and Alcohol Abuse (NIAA)/National Institute on Drug Abuse to create a faculty development program in substance abuse. Granfield and Moran were faculty fellows in the training program. As a result, Moran shifted his research focus from child support policy to research on alcohol abuse among American Indians. Ultimately, he landed a coveted R01 grant to work with urban American Indian youth. "My work with William led to that," Moran says. "Without William and my relationship with him, I probably wouldn't have shifted my focus and got the school's first R01. He contributed to my success as a researcher."
Through the NIAA grant, Cloud and Granfield began spending more time together discussing their mutual interest in addiction and decided to embark on a study of natural recovery — those who recover from addiction without intervention. "Recovery capital is a truly inductive concept. We didn't go into our research thinking we'd use this concept to better articulate the experiences of individuals who recovered from addiction on their own," recalls Granfield, now vice provost for faculty affairs at the University at Buffalo. "It emerged from the interviews we conducted."
"We began to think about overcoming addiction from a social capital perspective," Granfield continues. "We were in William's backyard talking about the data, playing with the ideas, pushing the ideas, questioning each other in a Socratic way. We kept saying, 'It's more than social capital. There's a social dimension, a cultural dimension.' William said, 'We need a concept like 'recovery capital.' It was one of those a-ha moments."
In 1998 they began working on a book about recovery capital, Coming Clean: Overcoming Addiction Without Treatment, which was published in 1999. "We would work together collaboratively. We sat down at a computer the two of us, often at his house, banging out the chapters," Granfield recalls.
"William fosters the best in others — he wants everyone to grow. He puts his focus and energy on uplifting others in their careers, in their mental health, and on uplifting communities." Associate Professor Kate Ross, MSW '97
The duo ultimately published three books and a number of papers on recovery capital, and then they moved on. "We had other ideas to pursue," Granfield says. But the concept has since taken root in the study and treatment of addiction and is the subject of countless papers, presentations and dissertations by other scholars. It's even the focus of seven annual conferences in the U.S. and Canada.
"I'm truly appreciative, proud, that this concept of recovery capital that had the most humble beginnings in a backyard has now produced this kind of impact," Granfield says. "It's really very satisfying to come around to the idea that our work mattered in a way that we never could have anticipated. That's the very best of what research can be."
"Through William I developed my own social capital, getting to know people in social work," Granfield adds. "It helped me immensely."
Developing that type of close, collaborative relationship is classic William Cloud, Ross says. "William fosters the best in others — he wants everyone to grow. He is collectively ambitious, not personally ambitious. He puts his focus and energy on uplifting others in their careers, in their mental health, and on uplifting communities."
The Next Act 
When asked about his plans for the future, Cloud jokes, "I plan to do as little as possible!" That's not exactly true. He and his wife, Karen, have already purchased golf clubs with the intention of mastering a new sport (Cloud has been an avid tennis player most of his adult life). "I would really like to play the saxophone. I also want to learn to speak Spanish," Cloud says. And, Cloud purchased an SUV for future road trips — a truck big enough that his extended family members can ride together when he visits post-pandemic. He has the routes already mapped out — one through the Midwest and South, and another to the West Coast.
Cloud is certain he will miss the classroom and hopes to teach an occasional course at GSSW or for small HBCUs. "I am from that environment," Cloud says. "I was one of those kids who sat in those HBCU classrooms about 40 years ago."
At GSSW, Cloud's presence will be missed. "He's just the heart for me. He keeps social work warm," Ross says. "William's not interested in seeing people as broken. He's what makes social work an art and not just a science."
"He has the whole humanness that is sometimes missed in academia," Polovoy adds. "He's a human being who truly cares."