Developing an Anti-Racist PhD Program
GSSW is transforming its PhD program to focus more strongly on diversity, equity, inclusion and justice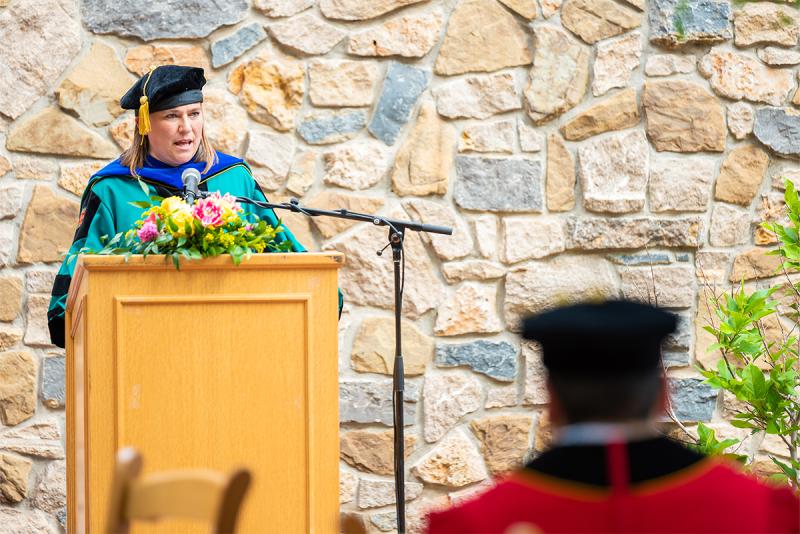 Since the University of Denver Graduate School of Social Work (GSSW) began implementing its strategic plan five years ago, the school has worked steadily to evolve its academic programs to better represent diverse perspectives and prepare students to advance justice through social work practice and education. 
This evolution has included a number of changes to the school's PhD program that focus the program even more strongly on diversity, equity, inclusion and justice, says Associate Professor Jennifer Greenfield, associate dean for doctoral education. 
The changes begin with admission, she says, noting that the school is focused on recruiting a diverse cohort of students each year. "We're being really intentional about how we're evaluating applications to try to eliminate the kind of gatekeeping we've historically seen in academia," says Greenfield, noting that the incoming class of doctoral students is "impressively diverse" in racial/ethnic identity, sexual orientation and interests.
As part of their student orientation, new doctoral students are required to attend a power, privilege and oppression (PPO) workshop that covers tough topics such as how to discuss racism both as students and as future instructors. Then, in their first-year professional development seminar, students unpack some of the "hidden curriculum" — "the many things we often assume students know already," such as the difference between assistant and associate professors or how to connect with faculty members. Particularly for students with historically marginalized identities, Greenfield says, equity demands that "we make sure we ask all the questions and don't take anything for granted." The seminar creates space for students to ask questions, normalizes not knowing everything in every context, and shares strategies that have worked for faculty in navigating academia and balancing work with the rest of life.
Changes are apparent in the doctoral curriculum, too. The school has incorporated anti-racist, critical theory perspectives in an expanded quantitative methods course sequence, which was piloted in 2020 and now is a permanent, required part of the curriculum. "Quantitative work can be used in service of more equity, inclusion and social and racial justice," says Professor Eugene Walls, who developed the revamped course. 
In addition, doctoral students now are required to take a course focused on critical perspectives in facilitation and pedagogy. Developed and piloted in 2021 by Assistant Professor Marquisha Lawrence Scott in collaboration with Walls and doctoral students, Critical Approaches to Facilitating and Teaching: Anti-Racist, Feminist, and Queer Pedagogies introduces students to theoretical frameworks; the role of identities in facilitation, training, and teaching; facilitation and course design and strategies; and supporting social action. "This course gives students the opportunity to think through their areas of resistance, learn how to discuss and present critical topics, and create curricula for community and classroom spaces," Scott says. "We want to ensure that our PhD students are going into our communities and classrooms equipped for the difficult and diverse conversations and situations that await them." 
Such courses are uncommon in social work education, Greenfield notes, but doctoral students are demanding more from the academy. In 2021, GADE (the Group for the Advancement of Doctoral Education in Social Work) released a report on anti-racist pedagogy in social work doctoral education and challenged all schools of social work to develop, implement and sustain anti-racist pedagogy. 
One of the report's main recommendations is that PPO content should be infused throughout the curriculum. GSSW had been working on that for several years and had already piloted the new courses when the report was released, Greenfield says. "We were able to move forward really quickly in implementing those in a formal way a year after that report was released." 
GSSW included doctoral student voices in the development of the new courses and asked for their feedback on other programmatic changes. "We made sure we were responsive to student needs and desires and that the students who weighed in represent the kind of diversity we want to continue to see in the program," Greenfield says. 
One of the most striking changes to the GSSW PhD program is elimination of the qualifying exam, which Greenfield says held too much gatekeeping power. "Timed tests are rife with equity issues," she says. Instead, the school is implementing an annual review process for doctoral students that will somewhat mimic what happens in a faculty annual review process. The PhD committee will review the development plan each student completes with their advisor, along with grades, instructor feedback and comprehensive exams, and Greenfield or another committee member will meet with each student for an end-of-year check-in. "This gives students an opportunity to learn and for us to help them identify their strengths and areas of growth, develop a plan for addressing that growth, and they provide feedback to the program as well," Greenfield explains. "It's a much more bidirectional feedback opportunity focused on the student and how they can meet their goals — to succeed and thrive in their experience." 
"It gives me so much hope for the future knowing these students bring fresh perspectives and so much passion for the work," Greenfield adds. "Our responsibility is to make sure they have the tools they need to achieve their goal."