A Fresh Look at Tiny Homes
Center for Housing and Homelessness Research finds that tiny homes are an effective response to homelessness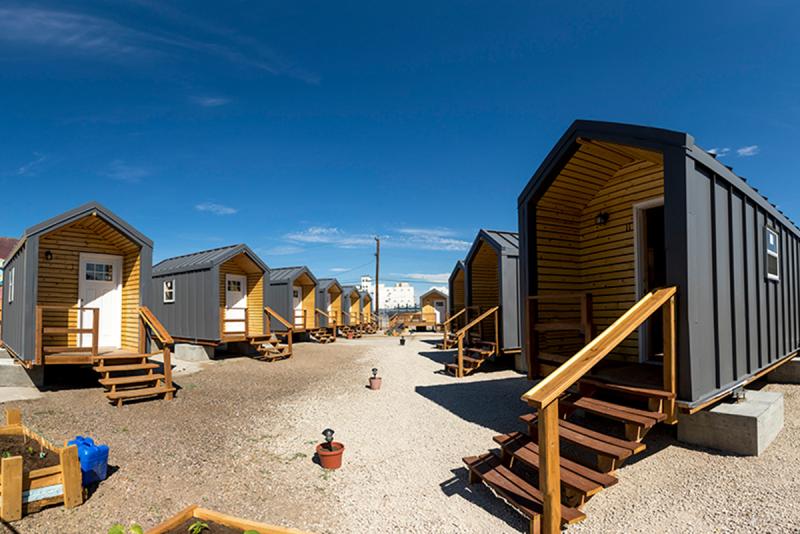 When researchers at the University of Denver Graduate School of Social Work (GSSW) started evaluating Denver's first tiny homes community for people experiencing homelessness, Beloved Community Village (BCV) was considered an experiment.
Now more than three years on, Denver now is home to two tiny home communities, and the latest research from GSSW's Center for Housing and Homelessness Research shows that the intervention is an effective response to homelessness.
"The results of this study continue to show that the Village has a positive impact on individuals who had formerly experienced homelessness," the research team wrote in the evaluation report. "BCV continues to be a promising example of an alternative sheltering solution for people who are experiencing homelessness."
The team's initial research included a basic evaluation with village residents at three time points and an evaluation of the neighborhood at one time point. In contrast, the latest research included a longitudinal data set and was designed to address more of the holistic impact of living in a tiny homes community, says PhD student and Research Associate Jennifer Wilson. "We were not just looking at housing stability, but whole-person health, wellness, well-being, social connection, and agency among other dimensions," Wilson says.
The team surveyed residents when they moved in, six months after move-in, and every 12 months thereafter. They also collected data from a comparison group of individuals on the village wait list. In addition, researchers surveyed residents of the surrounding neighborhood soon after the village moved to its current location and again six months later.
Among key findings was that village residents' ability to save money, pay bills and pay debt improved dramatically during their stay at BCV, while members of the control group experience little improvement. Residents also reported increased happiness, satisfaction and hope and less anxiety, depression and hopelessness. Notably, residents were more likely to be employed or in school at the six-month follow-up compared to the control group, and 100% of surveyed residents were still housed after six months compared to just 47% of comparison group members.
 
Read more about Denver's most recent tiny homes community.
Read More
In the surrounding Globeville neighborhood, most surveyed residents were neutral or positive about the village and its impacts on traffic, noise, safety and sense of community. "It was really encouraging to hear that the neighborhood was largely supportive or at least neutral about the village," Wilson says, noting that there was some community resistance to the village initially. "Where you might expect NIMBYism (not in my backyard) to rear its head, it really wasn't the case with the neighbors we talked to."
Funded by the Barton Institute for Community Action, the study sheds light on the residents of the village and the effectiveness of the model. But it also underscores the nuance needed in understanding what "housing stability" means, says PhD student and Research Assistant Katie Calhoun. "It's so much more complicated than people just moving into housing."
"Stability means regaining wholeness," Wilson adds. "The idea of Maslow's hierarchy has been turned on its head. It's not reasonable to expect people to just address their most basic needs, such as employment, and ignore the other aspects of being."
For example, Wilson says, by 2020, residents had completed or made significant progress on nearly half of the goals they set for themselves. Personal goals included things such as replacing ID, securing long-term housing, adopting a pet, resuming a hobby, buying a car, helping others and even owning a piece of property. "People were clearly making progress on the things they wanted to achieve."
Wilson and Calhoun note that the findings demonstrate that just like those who are housed, people experiencing homelessness are also seeking dignity, health, well-being and healing.