Growing Rural Social Work
The Western Colorado MSW Program is developing a social work workforce for the Western Slope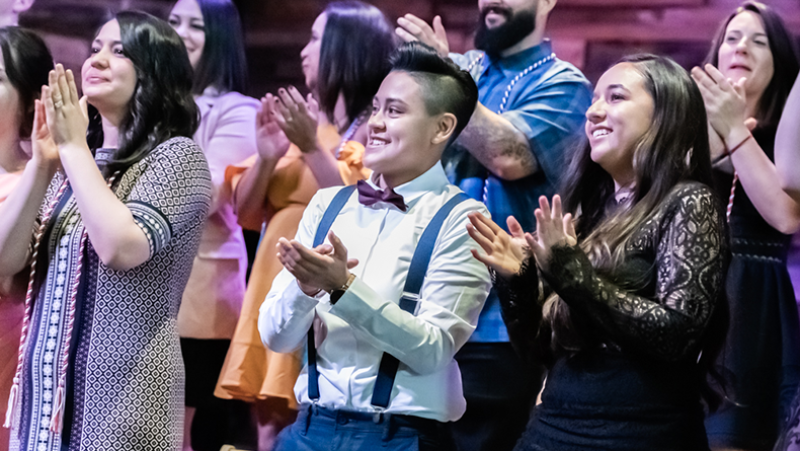 For the past year, Brandi Byars has been driving 600–900 miles per week between her home in Fruita, her internship at Mountain Family Health Center in Rifle, and class in Glenwood Springs, Colorado. As she prepares to accept her MSW degree at the University of Denver Graduate Commencement ceremony on June 14, she says the rigors of the Graduate School of Social Work Western Colorado MSW Program were all worthwhile.
"This program has shifted my family and my children's perception of higher education and how it can enhance your life. It has also normalized it so that it doesn't seem like a pipedream," says Byars, MSW '19. "Notably, my capacity to serve and advocate for others has drastically expanded."
As one of 21 students graduating from the Western Colorado MSW Program this month, Byars will be putting her MSW to immediate use as the oncology social worker at St. Mary's Regional Cancer Center in Grand Junction.
Byars' story isn't unique among students in the program, who live in communities spanning central and western Colorado and commute to Glenwood Springs for weekend classes. Including this year's graduating class, 61 students have made the trek to Glenwood since the program was founded in 2013 — most of them returning to work in their home communities after graduation.
Expanding Social Work in Rural Communities
Social workers are the leading providers of behavioral health in the U.S., but in Colorado, 56 of the state's 64 counties have a shortage of mental health professionals. In western Colorado, there's a particular need for community mental health, child welfare and integrated behavioral health social workers.
People in rural communities face higher levels of social isolation, higher rates of suicidality, and economic insecurity that's tied to a high cost of living and a seasonal economy, says Assistant Professor of the Practice of Social Work Rachel Forbes, director of the Western Colorado MSW Program. Rural residents may also encounter long wait times for an appointment and long distances to reach a medical or behavioral health provider — barriers that may have life-or-death implications for people in crisis.
The Western Colorado MSW Program aims to help meet this need by expanding the social work ranks in rural Colorado communities. "There are not enough social workers to fill the jobs in Western Colorado," Forbes says. "The high cost of living and the fact that you're in a rural community can make it hard to recruit and retain social workers from other areas — you have to enjoy the winter and small-town living."
People who are already living in the region are much more likely to stick around and put their degrees to work in their home communities, Forbes explains. "If people have to leave the community to get a degree, they won't come back."
"What I love about the DU program is it helps to grow people from our own communities, which is better for recruitment and retention," says Ross Brooks, CEO of Mountain Family Health Centers, a nonprofit that provides integrated medical, behavioral and dental care to thousands of people in several rural counties, regardless of their ability to pay.
Mountain Family is one of 19 organizations offering internships in 24 locations for Western Colorado MSW students, including Byars, who received a CLIMB@DU stipend for students planning to work in integrated behavioral health care. Eight western Colorado CLIMB@DU students are graduating this June, and all of them already have jobs in integrated behavioral health.
Meeting the Needs of Rural Colorado Communities 
Western Colorado alumna Barb Corcoran, MSW '17, is a behavioral health provider at Mountain Family Health in Glenwood Springs and serves as an advisory council member, internship supervisor and adjunct instructor for the MSW program. "I think that our community is improved daily by the work of social workers," Corcoran says.
With a mix of online and on-site classes taught by Denver based faculty and local adjuncts, the Western Colorado MSW Program trains students to work in a wide-range of settings and roles — from school social work to counseling, addiction treatment, nonprofits, health care, child welfare, integrated behavioral health and more.
"Our curriculum in advanced social work practice cross trains students to be rural generalists who can work at all levels: micro, mezzo, macro," Forbes says. "In rural communities, if you're the only social worker in the entire county, you can't specialize."
Strong community partners make the MSW program possible, Forbes says, noting that the program shares space with Colorado Mountain College and Garfield County Human Services. "This is a place-based program, and the connection to place is valued and supported," Forbes says. "The value of relationships is huge. By the time you get done with this program, you're going to know every social worker this side of the Continental Divide.
 
Clinical Associate Professor Jae McQueen