Increasing Student Financial Support
MSW student Dee Zimmerman designs fund to support diverse students and those experiencing hardship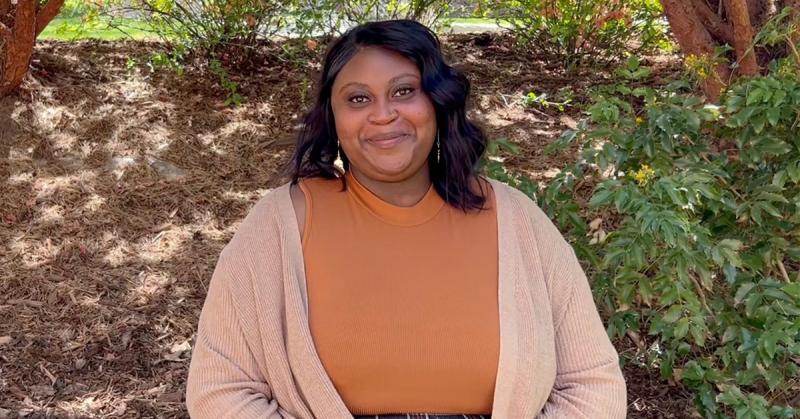 Dee Zimmerman pursued social work to help others, but the University of Denver Graduate School of Social Work (GSSW) MSW student discovered she needed help as well. Her younger sister died during Zimmerman's advanced-standing MSW program, and Zimmerman said she experienced "extreme burnout" trying to juggle coursework, a field internship and working to support herself. 
"Learning how to navigate my studies and finding determination to finish through my grief has been a process," says Zimmerman, who is graduating this June with a concentration in Organizational Leadership and Policy Practice (OLPP). Finances were a challenge, too. During grad school, she worked as an intake specialist for the State of Colorado Employee Assistance Program, hustled in the gig economy making deliveries and relied on student loans to pay for living costs. 
Unfortunately, Zimmerman's financial struggle isn't unique. A recent Council on Social Work Education study found that in 2019, 73% of Latinx and 57% of Black MSW graduates nationwide were the first in their families to graduate college and that Latinx and Black MSWs bear higher levels of student debt than their white colleagues. Like Zimmerman, many of those students must work full or part time while pursuing their MSW. 
Zimmerman decided to put her OLPP experience to work creating GSSW's new Diversity, Equity and Inclusion (DEI) Student Support Fund, which will increase access and reduce student debt through scholarships for diverse applicants and for students who experience consequential life changes while enrolled in the school's MSW programs. The DEI Student Support Fund will also provide internship stipends to diverse students. 
"Field training is required for all MSW students," says Dean Amanda Moore McBride, "but for graduate students like Dee who need to work while attending school, completing unpaid field internships can be a barrier to graduate social work education." Although Zimmerman was able to complete her internship at her job, that's not possible for all students. The DEI Student Support Fund will reduce the internship barrier by providing students with need-based stipends to offset the financial burden of unpaid internship hours. 
Zimmerman developed the proposal for the DEI Student Support Fund during her Planning and Program Development course, aiming to "ensure that students who are in situations like mine don't have to incur additional debt just to make ends meet." 
"Having their need met saves a student so much energy that they'd spend stressing about how to eat or pay rent for the next month," Zimmerman adds. "I want to set other students up for success. I know how difficult it is to make school a priority when you're constantly in survival mode." 
Zimmerman will continue working with Dean McBride in a paid internship to develop a plan for growing the fund. Fundraising launched on May 18 during 1Day4DU, an annual day of giving when the school raised more than $3,500 for the fund. "However, so much more is needed for GSSW to meet student needs and increase the accessibility of social work education," McBride says. "This is our top philanthropic priority as a school." 
Zimmerman reminds other students that GSSW faculty and staff want to support students in their MSW journey. "Advocacy in our program is so important, and though it can be hard to find the time and energy, you never know what impact you can make if you never speak up," says Zimmerman, who plans to pursue a doctorate in social work. "I'm still in amazement that I'll be shaping the future of GSSW, hopefully for years to come."