Reducing LGBTQIA+ Health Disparities
Prof. Donny Gerke is working to improve health outcomes among sexual and gender minority communities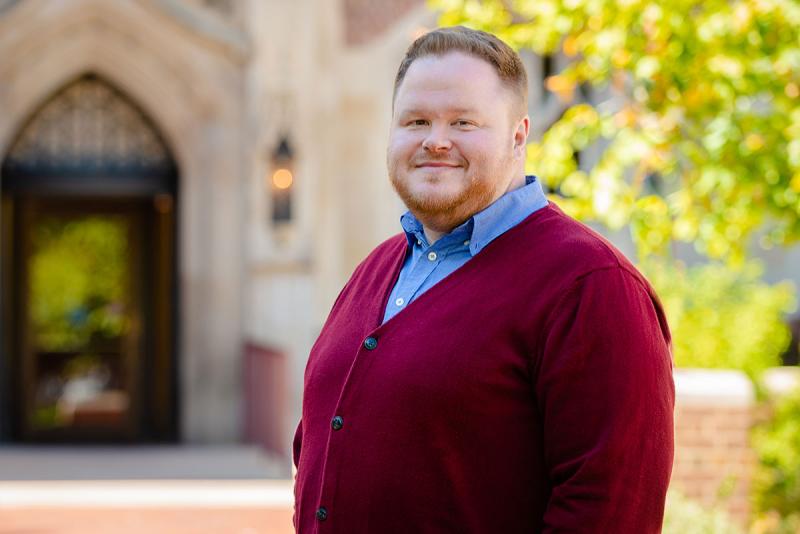 Young men who have sex with men (YMSM) are at disproportionately high risk for HIV, and youth have the poorest HIV care continuum outcomes — especially youth of color. Transgender and non-binary individuals, meanwhile, face disparities in nearly every aspect of health. University of Denver Graduate School of Social Work (GSSW) Assistant Professor Donny Gerke is working to address those disparities and improve health outcomes for LGBTQIA+ people.
Gerke has four research projects underway with this goal in mind.
With Katie Plax, Ferring Family Chair Professor of Pediatrics at the Washington University School of Medicine in St. Louis, Gerke has been studying a new intervention that leverages technology to improve HIV treatment among YMSM. Via two-way text messaging, participants received appointment reminders and daily reminders about medication, checked-in twice a week about their mood, and checked in monthly about financial matters such as housing and utility bills. Negative responses triggered follow up from the participant's HIV clinic case manager.
The aim, Gerke says, was that better communication — enabled by technology — would improve HIV treatment adherence and reduce viral load.
Participants reported better relationships with their case manager, better compliance with medication and fewer missed appointments. The intervention also helped case managers and participants to proactively address issues such as housing and mood, which can affect medication compliance. Most notably, Gerke says, a significantly greater proportion of participants achieved viral load suppression at 6 and 12 months than at enrollment.
To follow up on the exploratory investigation, Gerke and colleagues are planning a larger trial to compare outcomes between the intervention and usual care and examine whether automated or live texting produces better outcomes. Gerke also hopes to explore whether the intervention can be adapted to support adherence to PrEP (an HIV prevention medication) among HIV-negative men.
With GSSW Associate Professor Jennifer Greenfield, Professor Eugene Walls and recent graduate Brittanie Atteberry-Ash, PhD '20, and in partnership with One Colorado, Gerke also is studying the health care needs, challenges, successes and disparities of transgender Coloradans. The study is looking at constructs of barriers and facilitators for health care information, provider competence and acceptance in treating transgender patients, structural elements of the health care system such as health insurance and service hours, and resources needed to support transgender and non-binary individuals in health care advocacy and self-empowerment.
In reviewing the health literacy literature, Gerke says, the team realized that much of the onus is placed on the individual, assuming that if transgender individuals improve their health literacy, it will improve health outcomes. "But that is not the issue," Gerke explains. "Transgender individuals are constantly in a role of having to educate the providers."
For instance, in a profession that pledges to "first, do no harm," transgender individuals who have changed names are psychologically harmed when front office staff, nurses, doctors and other health care workers persistently use their birth name rather than their new name.
The team has also identified small changes that can add up to big improvements in care. "For instance, Gerke says, "Kaiser Permanente asks about what body parts you're interested in, regardless of what's listed as gender in the file."
Data collection wrapped up this spring. The project will inform One Colorado's next statewide health assessment report and legislative agenda. "We're providing evidence to support the development of socially just health care policy, education for health care providers, and a health literacy intervention to empower transgender individuals," says Gerke, who is a member of the latest cohort of University of Denver Public Impact Fellows. The fellows receive training for publicly disseminating their scholarship and research. Gerke is particularly interested in shortening the research-to-practice pipeline, getting research findings quickly to the people who need the information most.
In a new project, Gerke is mapping the PrEP care continuum for young MSM and transgender individuals in Denver, Grand Junction, Colorado Springs and Fort Collins, Colorado — from recognizing risk, to getting tested, to starting and staying on PrEP. At each point on that continuum, Gerke says, participation drops off, particularly among young people. "There's no good understanding of why people drop off," he says. Using the systems-science approach called group model building, "We're bringing together multiple stakeholders — young MSM and transgender individuals with experience accessing PrEP, medical providers, AIDS service organizations, policymakers — to identify all the pieces and feedback loops that go into the process. We want to understand how to best promote PrEP access and maintenance."
Finally, Gerke is collecting data on a new peer educator intervention serving Black, HIV+ YMSM, looking at whether engagement with a peer, either in person or via a video-chat-enabled app, improves engagement with treatment and, ultimately, suppresses viral load.
The goal with all of these projects, Gerke says, is to reduce disparities in HIV prevention and treatment — and improve health and wellness overall — among sexual and gender minority communities. "We don't know enough to do as good as we need to with queer and transgender people, younger queer and transgender people of color," Gerke says. "I want to figure out how we can do better."