GSSW Professor Kimberly Bender embodies the best in social work research and education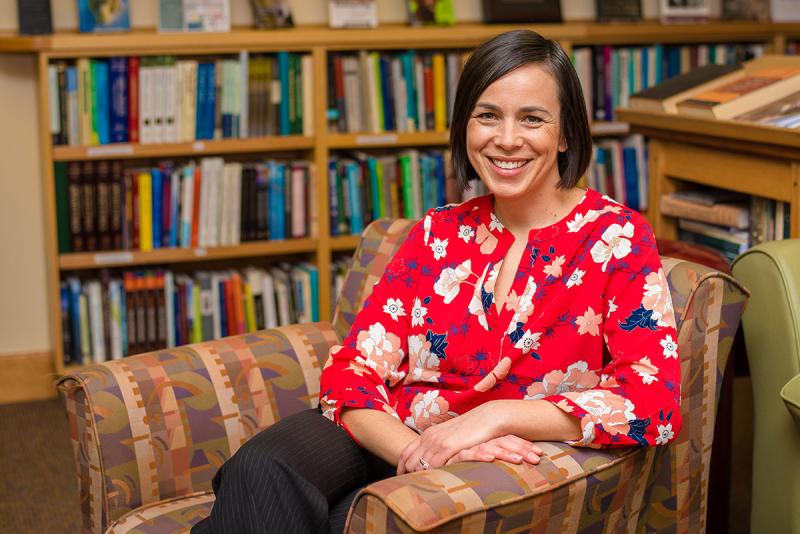 University of Denver Graduate School of Social Work (GSSW) Professor Kimberly Bender could easily be defined by her long list of accomplishments as a social work researcher, teacher and administrator. In January, Bender was inducted as a Fellow of the American Academy of Social Work and Social Welfare, joining GSSW Professors Jeffrey Jenson (inducted in 2010) and Lena Lundgren (inducted in 2016) in the ranks of the nation's premier social work scholars and practitioners. She is, objectively, among the best in the profession.
But what her students, colleagues and community partners value most is not reflected on her CV: that she is curious, creative, collaborative and caring. Ultimately, they say, it is excelling at relationships that best defines Bender.
"She's the all-around scholar, teacher, mentor — she does it all well," says Jenson, who coauthored a book with Bender and works closely with her on the Coalition for the Promotion of Behavioral Health — an initiative of the Grand Challenge to Ensure Healthy Development for All Youth. "She has a great combination of competence, skills and knowledge. She is kind and compassionate combined with being smart and inquisitive, and she lives that out in how she interacts with her students and colleagues at GSSW and nationally."
 
Building Relationships Through Research 
"What makes Kim an incredible researcher is her capacity to understand and truly value relationships," says Jonah DeChants, PhD '19, a postdoctoral fellow at the Colorado State University School of Social Work. "There is so much pressure to produce and think about our work in a way that doesn't prioritize relationships, but she cares just as much about the process as the outcome. That's a strength and something I don't always see among other folks in the academy."
Bender's research focuses on young people experiencing homelessness to understand their needs, engage them in social-change projects and develop skills that can prevent adverse experiences. She serves as co-PI on a six-state, multi-site research project to better understand risk and protective factors among youth experiencing homelessness. Funded by the National Institute on Drug Abuse, she also serves as PI on a three-year randomized trial of a mindfulness-based intervention to prevent victimization and substance among youth in emergency shelters.
It's important work, but she's most passionate about a participatory research study of a peer support program in Colorado. It marks a significant shift in her research agenda, moving from quantitative survey and intervention methods to deeper participatory, community-engaged work.
In partnership with the Colorado Coalition for the Homeless, Bender is looking at a mutual aid program that employs young people who experienced homelessness or addiction as peer navigators who go into the community, build relationships with other youth experiencing homelessness and provide support.
"The current service model is not set up to prioritize building relationships," Bender says. "We're interested in how peers can create a sense of belonging, community, and nonjudgmental and flexible support, and how young people think about and build social capital." The research team is developing insights through a series of photovoice projects, structured journaling and interviews with youth and peer navigators.
 
Professor Kimberly Bender, PhD student Jennifer Wilson and MSW alum Ellie Adelman facilitated an event, "Reimagining Social Work Research," for 30 doctoral students from across the country. Participants engaged in design thinking sprints to creatively redesign research training in doctoral education in order to have the greatest impact for the future.
Meredith Mollica, MSW '13, previously worked at the Colorado Coalition and had contacted Bender about designing and studying the peer program model. "Kim brings an incredible level of research expertise, but she also has a desire for all of our teammates to participate and collaborate and believes that she doesn't have all the answers," Mollica says. "Everyone's voice has a chance to be heard, and everyone feels respected and cared about."
Reimagining Doctoral Education 
Bender is GSSW's co-associate dean for doctoral education — a post she shares with Professor Eugene Walls. "She's a phenomenal mentor, and she's generous with her time even when she's stretched," Walls says. "She's always willing to stop and be present for whatever her doctoral students or colleagues need, and with such grace and presence it's really hard not to be moved, motivated and inspired."
When first-year doctoral student Danielle Littman began the PhD program, she and Bender discussed their expectations for one another. "I have never had a mentor name what I could expect from them and ask me to name my needs and hopes for our relationship. Having space for that, especially from someone who is in a role of power, is so rare. It was such a meaningful start to our relationship because I knew how seriously she took her role as a mentor and how much time and energy she put into caring about my experience."
In addition to redefining what a mentoring relationship can be, Bender is working to reimagine social work doctoral education more broadly, grappling with questions such as how to bring a greater social justice focus to the science, how to be more responsive to community needs and focus on public impact throughout the doctoral process. In fall 2019, she and PhD student Jennifer Wilson convened a group of 30 doctoral students from around the country to discuss those questions and then hosted a related roundtable at the 2020 Society for Social Work and Research annual meeting.
"I would love to see this become a conversation we all engage with as leaders," Bender says. "It's a critical analysis of these structures we've set up and whether they still serve us."
Bender and Wilson also worked together to host two homelessness hackathons and develop an interdisciplinary human-centered design course. And with Bender's support, Wilson has pushed against some academic norms with her own dissertation research, applying new methods and centering community engagement and public impact in the work.
"Kim is not afraid to constructively critique an idea, the conventions and norms of a system, and in the most positive and productive way to go back to the drawing board and think creatively — to reimagine something new or better," Wilson says. "She invites everyone to the table and helps the rest of us to work together and rise to the occasion of bringing something to life for the betterment of our field, our world."
Bringing New Ways of Thinking 
Bender now plays a similar role at the University of Denver. As interim associate provost for research she is working to continue the University's trajectory of growth in research, not just in the number of grants awarded and dollars received, but also growth in interdisciplinary research. She focuses on helping researchers to "reach across silos to solve problems" — identifying the structures and barriers standing in the way and creating systems to support an interdisciplinary research enterprise.
"Kim has brought a fresh perspective identifying solutions to challenges hindering interdisciplinary collaborations in research," says Provost and Executive Vice Chancellor Corinne Lengsfeld.
Bender isn't just exploring new approaches to research and pedagogy, says Silberman School of Social Work Assistant Professor Jama Shelton, who has known Bender for nearly a decade and is co-PI on the risk and resilience survey. "Kim is continually pushing herself to be better, seeking out experiences and knowledge and continuing to evolve as a scholar and a person," Shelton says. "She wants to keep growing herself and her work and the way it impacts people. She cares about people, and she's open to whatever someone wants to share and teach her. That's an extraordinary model for the profession."
"I can't think of a better person to be lifted up by our profession," Shelton adds. "Kim embodies everything a social work scholar should be."