Professor Jeffrey Jenson is retiring after more than three decades of service, scholarship and leadership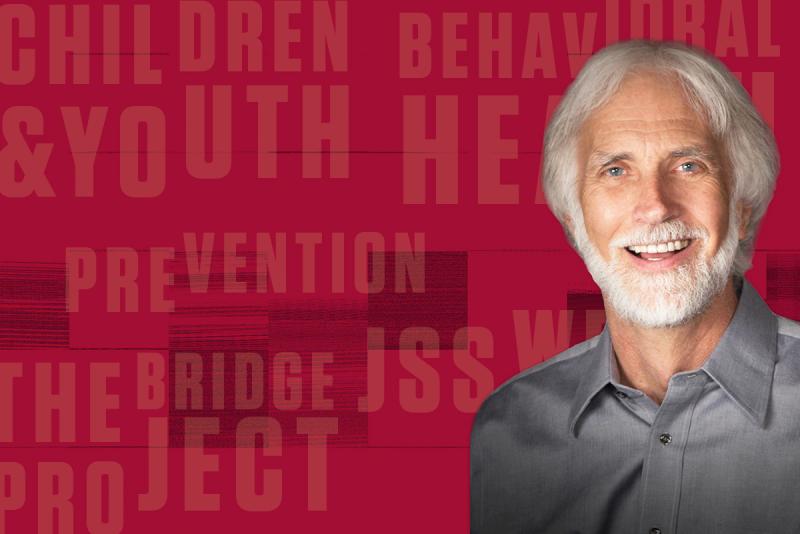 Jeffrey Jenson is well known as an adventurer, whether that's paddling a wilderness river in Alaska, mountain biking Utah's canyonlands, cross-country skiing 175 miles through the mountains of Norway, or blazing trails in social work research and education.
Jenson now is starting a new adventure, retiring from the University of Denver Graduate School of Social Work (GSSW) and joining the distinguished rank of professor emeritus after more than three decades working to prevent and reduce behavioral problems in young people. He is counted among the nation's leading social scientists in the areas of child and youth development and prevention.
From Jenson's research, to teaching, to service and advocacy, "I can think of no other social work scholar whose contributions have been as broad, deep or impactful," says Jeanne Marsh, the George Herbert Jones Distinguished Service Professor at the University of Chicago School of Social Service Administration.
A Leader in Prevention Science
Jenson's early social work research focused on finding ways to improve outcomes for youth involved in the criminal justice system and on reforming juvenile justice. Over time, he says, these interests evolved into a focus on preventing the behaviors that led young people to be placed in juvenile justice, child welfare, substance abuse and mental health systems.
"Working in juvenile justice, you see the challenges of turning kids and systems around. It's complicated, slow and frustrating," Jenson says. "I could see that what we should be doing is going upstream and putting resources into keeping kids out of the system altogether. That brought me to the work I ended up settling on: prevention."
Jenson's work has been guided by a public health approach instilled while he was a doctoral student under the supervision of J. David Hawkins, Richard Catalano and other members of the University of Washington Social Development Research Group. The public health approach is based on understanding the risk and protective factors that are most likely to increase or decrease the chances that a young person will develop some type of behavioral health problem, Jenson explains. "The importance of designing interventions for young people by understanding the root causes of the problems they experience is at the heart of my work as a researcher, policy advocate, teacher and mentor. It's been exciting to see preventive work based on this model evolve into what is now the field of prevention science."
Jenson has applied lessons from the public health model in several studies, including a group randomized intervention trial aimed at preventing bullying and aggression in 28 Denver public schools and a quasi-experimental study assessing the effectiveness of The Bridge Project after-school program. His nearly 50-page CV includes seven books, 100+ other publications, and more than eight pages of service contributions.
"Jeff embodies the social impact scholar — the researcher who doesn't seek to just satisfy curiosity, but to apply knowledge purposefully to solve a significant problem. He has helped to focus the GSSW faculty on social impact and lead the academy in transforming science into action," says GSSW Dean Amanda Moore McBride, noting that Jenson helped to establish the school's Science for Action Series that has brought together researchers, policymakers, practitioners and the community to make progress on the Grand Challenges for Social Work.
Recently, Jenson worked with the Colorado Department of Human Services Office of Behavioral Health to create Colorado's first statewide strategic plan for prevention of substance abuse. The 2019–2024 plan focuses on advancing prevention through evidence-based programs and strategies, strengthening the prevention workforce, aligning state agency funders of prevention, and addressing inequities in substance abuse treatment and prevention services. He's been involved in similar efforts to bring tested and effective preventive interventions to other states as well.
"Let's work smarter. We're using the public's money — let's use prevention science to guide policy and expenditures," says Hawkins, Jenson's PhD advisor and longtime collaborator, who now is a professor emeritus at the University of Washington. Colorado's new substance abuse prevention plan is "a wonderful example of statewide collaboration," he says. "Jeff was a leader in bringing prevention science to Colorado."
"Jeff's early work helped demonstrate that there was a value in thinking about how to support young people early, before problems get bad, and that putting efforts in early with young people benefits them long term," says GSSW Professor Kim Bender, who is assuming the Philip D. & Eleanor G. Winn Endowed Professorship from Jenson and taking on his role as co-lead for the Grand Challenge to Ensure Healthy Development for All Youth. "In his later work, he took it to the next level, consulting with major state leaders about how to bake that science into policy. He's now helping to design state-level plans so that those who are starting to allocate resources to address problems will be speaking to the prevention standpoint early on. I don't think that would have happened without Jeff."
Teaching, Mentoring and Service 
Jenson likes to tackle big challenges, so it's no surprise that he helped develop and was co-lead for the Grand Challenge to Ensure Healthy Development for All Youth and chaired its implementation initiative, the Coalition for the Promotion of Behavioral Health, which is driving continued progress on prevention through public awareness, research, policy and workforce development. Jenson also is a fellow of the American Academy of Social Work and Social Welfare (AASWSW) and the Society for Social Work and Research (SSWR), recipient of SSWR's Aaron Rosen Award, and recipient of the University of Denver Distinguished Scholar and University Lecturer awards.
"My personal theory is that the most generative, distinguished and successful scholars are driven by both a deep intellectual curiosity along with a high sense of service to their field, their students and colleagues, their institution as well as to society," Marsh says. "Professor Jenson's academic achievements are clearly driven by this combination of profound curiosity and abundant generosity."
"Generous" is a word used often to describe Jenson. Anne Williford, PhD '09, can attest. Jenson was her doctoral advisor, and she now counts him among her friends. "I've really appreciated all that he's done in terms of his mentoring," says Williford, PhD program director and associate professor at Colorado State University. "His core operating mode is generosity. He is always looking for and encouraging and facilitating opportunities for me. Even last week I was still asking him for advice."
"You can count on Jeff to do something well if he's going to do it. He's at a different level," adds Hawkins. Whether it's on a ski slope or in research and scholarship, "He's concerned that we're all successful and get down the hill safely. He's our leader, and we can go anywhere with Jeff. We trust him."
At the University of Denver, Jenson directed the GSSW PhD Program and was a member of the school's Executive Advisory Committee. He also served as associate dean for research from 2008–2014, working closely with former Dean James Herbert Williams and other colleagues to increase the capacity and impact of faculty research. "Jeff's work brought national attention to GSSW in the area of prevention and youth development and helped the school to pivot to becoming much more a national school of social work," says Williams, now director and Arizona Centennial Professor at the Arizona State University School of Social Work. And, he adds, "Jeff is easy to work with, he's dependable, he's thoughtful, and he's a wonderful mentor. When you think of the perfect professor, Jeff fills that role. He has a demeanor about him that motivates people and supports them in being productive."
Nationally, Jenson has served on the boards of SSWR, AASWSW and the Society for Prevention Research. "These experiences broadened my understanding and vision of how to increase the impact of science and social work on many different levels," Jenson says. For more than a decade, Jenson has also worked to improve the quality and rigor of scholarly publications, serving as editor of Social Work Research, chairing SSWR's Committee on Publications and serving as associate editor and editor-in-chief of the Journal of the Society of Social Work and Research (JSSWR).
Learn more about Jenson's impact on the Journal of the Society for Social Work and Research.
Read More
"The high standards Jeff sets in his own work serve to improve the quality and inspire others to do their best possible work," says Marsh, who was SSWR president when Jenson chaired the organization's Committee on Publications. "He has inspired many generations of students to provide leadership in the social work field."
Encore Performance 
Although he's well known for his contributions in the area of youth development and prevention, Jenson may be most recognizable as the front man for social work's house band, the Friendly Visitors. He doesn't have plans to return to the national social work stage any time soon, but his next act will include quality time with family, recording and playing music, and (when it's again safe to travel) skiing in Norway and treks in Patagonia, Chile and Nepal.
Jenson says he's looking forward, not back, but he's proud of where he's been — of his impact on GSSW, on the social work profession, on students, and ultimately, on the youth and families who have benefitted from his work.