Addressing Eating Disorders
2023 MSW grad Maria England will put her degree to work treating people with eating disorders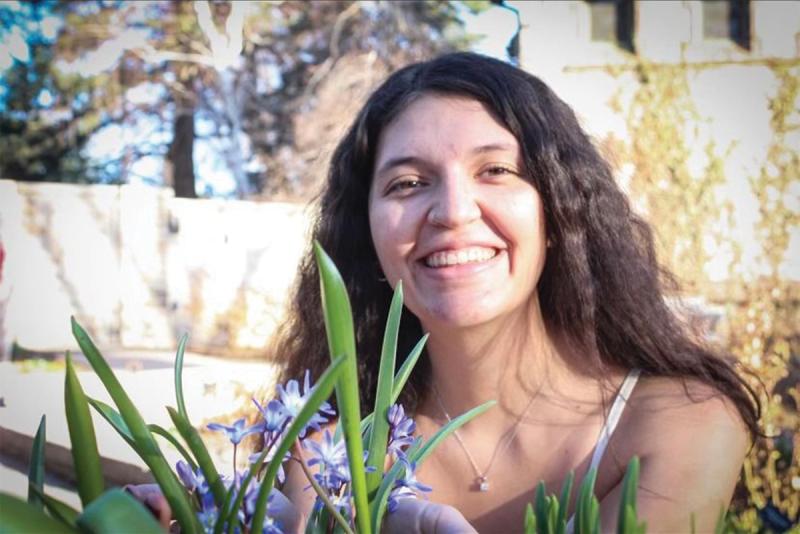 Often, where you start out in social work isn't where you end up. When MSW student Maria England headed to the University of Denver Graduate School of Social Work (GSSW) from Michigan, where she grew up and attended college, she planned to focus her master's degree on health and wellness and eventually work with people experiencing homelessness. Then, thinking policy work might be in her future, she specialized in Organizational Leadership and Policy Practice. But after taking a job last year working with people who have eating disorders, she discovered her true passion and those plans changed.
England graduated from the MSW program this June and will continue her role as a milieu therapist at EDCare Denver, an eating disorder treatment center, while she works toward her licensure. As a milieu therapist, England's work includes things like facilitating groups, helping patients to integrate into the program, and checking in with patients after a meal. Her ultimate goal is to be a primary therapist for people with eating disorders.
"When people come in to see us it's because they're sick," England says. "It's such a rewarding piece of the work to see them get better."
GSSW's Interpersonal Approaches to Counseling course was instrumental in preparing England for her current role. "It's been really helpful in the way I approach patients and communicate with them," says England, who worked full time while attending GSSW.
Faculty have also been impactful. Doctoral student Brendon Holloway taught England's weight stigma course. "They have the most caring and compassionate approach to the work that they do, giving us space to process the fact that the world is on fire," England says. In a grassroots organizing course taught by Assistant Professor Mónica Gutiérrez, "The community she allowed us to build in the class setting was unmatched."
"Maria shows such compassion for her colleagues and continues to push herself to be the best social worker she can be both in the classroom and at her internship," says Clinical Associate Professor Heather Arnold-Renicker, who taught England in the classroom and supervised her field internship with Equity Labs, where England co-facilitated social justice programming and provided equity and inclusion resources. "She shows thoughtful engagement and a deep, nuanced understanding of social work practice."
England says community — particularly among faculty and students in the classroom — was one of the best things about her GSSW experience. "The importance of building a safe community where people feel welcome — that's something I'll take with me."