Four Childhood Friends Complete Western Colorado MSW Program Together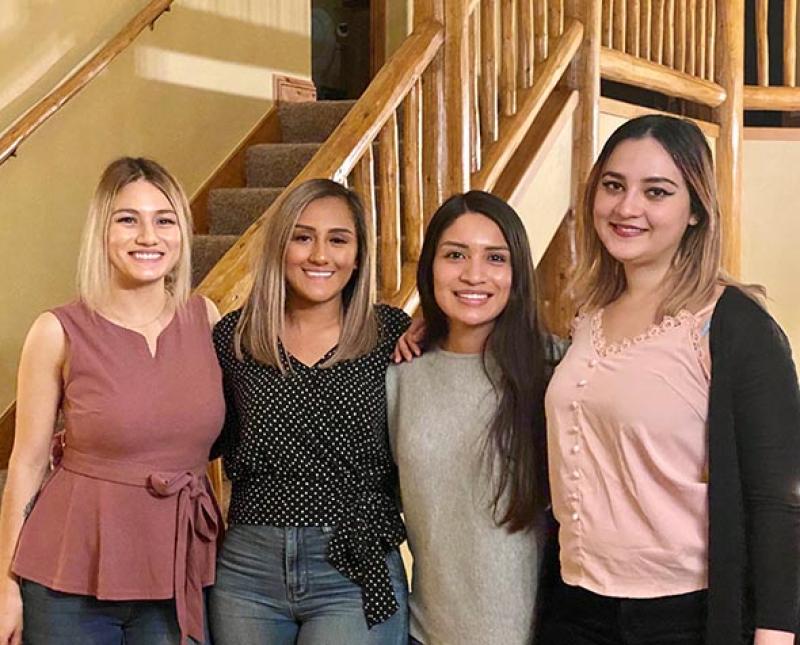 More than 100 miles from the University of Denver, in the heart of the Rocky Mountains, a room full of students are preparing for rural social work. From their vantage point in Glenwood Springs, they are learning about how to address the particular needs of communities outside the state's metroplexes.
For most in the 2021 Western Colorado Master of Social Work cohort, their journey together started in fall of 2019. But for Alma De Lara, Rosa Gamboa, Rocio Andrade and Gladys Téllez-Villa, who will claim their MSW degrees this month, their journey together started over a decade ago.
The students met while in middle school in Eagle County. De Lara and Téllez-Villa were in the same grade, as were Gamboa and Andrade. They shared a bond as members of the Latinx community and as daughters of immigrants. They completed every educational milestone in tandem, which led them to the MSW program at DU's Graduate School of Social Work.
All four students received bachelor's degrees from Colorado Mesa University. While they didn't pursue the same degree programs, a common thread weaves through their college experiences: a passion for social justice and a desire to provide social services to the Latinx community.
It was De Lara's dream to have a master's degree and to feel more confident in her job at Bright Future, an organization that helps victims of domestic violence and sexual assault.
 "I remember my mom, she told me it cost what it cost. We have to make this happen for you if this is a dream for you,'' De Lara says.
De Lara finds inspiration in her mother. On weekends, she recalls, her mother spent hours reviewing flash cards. When she immigrated to the U.S., she had the equivalent of a sixth-grade education. After starting her life over, she took English as a Second Language classes; she completed her GED; she became a U.S. citizen and a certified nursing assistant.
De Lara hopes to break down social services barriers for the Latinx community and become a familiar face to people negotiating various social and economic challenges.
"Providing services in one's language goes a lot further than that. It means a lot more when it's not just in their language but when you can relate to them. Be unbiased because you understand their feelings and their struggles," De Lara says.
Gamboa and Andrade made the decision to pursue an MSW together. "If you do it, I'll do it," they promised.
From the beginning of the program, the women found community in one another.
"I think it's been great," Gamboa says. "We split up some of our assignments to support each other. Whenever we have questions, we are open to reaching out to each other."
Gamboa was introduced to social work through her first job out of college as a child abuse and neglect prevention case worker. Passionate about the work, she wondered what else she could do. She says she knew her opportunities would be limited unless she earned a graduate degree.
"I really liked the Western [Colorado] program of DU. There were just a variety of instructors within different professions within the field of social work. They were coming in with different examples to share. I think it was very helpful to understanding social work," Gamboa says.
Before starting a job at the Department of Human Services, Andrade never pictured herself pursuing a career in social work.
"They're helping these families by addressing all their needs," Andrade says. "That's when I made my decision to go to get my MSW."
She grew up with a negative stereotype of social workers, but now, a social worker herself, she's hoping to change public perception.
"In Eagle County, we don't target the Latinx community," Andrade says. "We need a lot of people who look like the community working for the community."
Téllez-Villa always knew she wanted to go to graduate school and ultimately give back to a community that helped build her.
 "It's not about knowing more; it's about ignoring less," Téllez-Villa says.
Women dominate the social work profession, but not even 11% identify as Latinx.
De Lara, Gamboa, Andrade and Téllez-Villa are already breaking those barriers in their current community-based roles.
 "There is such a wide range of opportunities to serve and to build those trustworthy relationships with communities that have been oppressed and marginalized," Téllez-Villa says, noting that she hopes to inspire other women of color to pursue higher education.
"When you're in college you don't really think what it's going to be like after college," Téllez-Villa says. "I think just being a Latina and coming from different backgrounds and what our families have been through. We're all daughters of immigrants. It's surreal."
While this chapter is closing, the four women look forward to new chapters as professionals invested in helping others. De Lara, Gamboa, Andrade and Téllez-Villa plan to become licensed clinical social workers — another milestone to complete together.