Human–Animal–Environment Interactions
Updated MSW certificate program focuses on human, animal and environment interactions in social work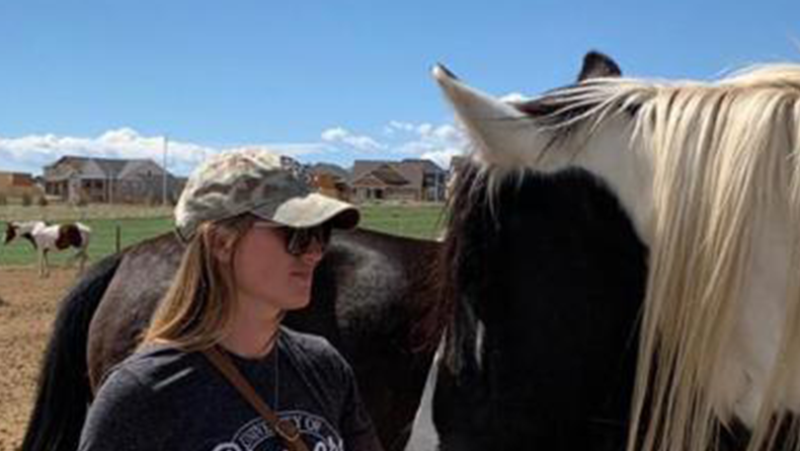 Each year, around 70 MSW students flock to the Graduate School of Social Work (GSSW) for one certificate program in particular: the master's certificate in Human–Animal–Environment Interactions in Social Work (HAEI-SW). Offered by GSSW's Institute for Human–Animal Connection (IHAC) as part of the school's MSW program, the certificate is the first of its kind in the nation and is the school's top draw for master's students. 
The certificate "helps students recognize the importance and impact of human–animal–environment interactions in a number of areas. The interactions touch all populations in all settings in various ways, whether it's the pets we keep close to us, the animals that are part of therapy services, or our interactions with nature," says certificate coordinator Nina Ekholm Fry, director of equine programs at IHAC. "Interactions with other species and the environment are central to how we understand ourselves and the world." 
Ethics and social justice are a central part of the HAEI-SW certificate, which focuses on human-animal interactions in clinical and community social work settings. The certificate also highlights intersectional systems of oppression, speciesism and violence, Ekholm Fry notes. "We are strengthening understanding of the intersections of violence and harm directed at people, other animals and the environment." Students engage in difficult discussions about how privilege impacts how individuals relate to animals and how racism and inequities show up together in human-animal-environment interactions. For instance, she says, people experiencing poverty may be barred or discouraged from having pets. "It's important that we don't separate all these health experiences from humans-only social work." 
Open to both Denver Campus Advanced-Standing MSW Program and Denver Campus MSW Program students enrolled in the Denver Campus MSW Program, the certificate (which replaced the Animal Assisted Social Work Certificate) can be paired with any of eight concentrations. Students complete the certificate as part of their MSW, taking three sequential certificate courses in their concentration year. Students can also pursue optional 1-credit elective courses to deepen their knowledge in areas such as canine or equine interactions and nature-based work. 
The program prepares students for careers incorporating human–animal–environment interactions in therapeutic settings and in community practice, such as proving supportive services in schools or in shelters for people experiencing homelessness. 
Although the certificate emphasizes clinical and community practice and many of its students are enrolled in the Mental Health concentration, students with macro-level interests are pursuing the certificate, too. Advanced-standing MSW student Kaity Brookes is one of those. She is pursuing the MSW concentration in Ecological Justice and sees the HAEI-SW certificate as a natural fit. Together, the concentration and certificate give her a full view of the complex systems and dynamics involved in human, animal and environment interactions, from the micro level to the macro. 
Brookes is interested in influencing policy and practices around human-animal-environment interactions. For instance, planning for the controversial Thirty Meter Telescope being constructed on Mauna Kea on Hawai'i considered environmental impacts, but not the cultural and human impacts of construction on land considered sacred by Native Hawaiians. "What is the cost to communities, especially BIPOC communities that haven't had a voice?" she asks. "As social workers, we can look at things through a different lens. I want to give light to those situations and advocate."